A Look Back At Tom Petty's Complicated Relationship With His First Wife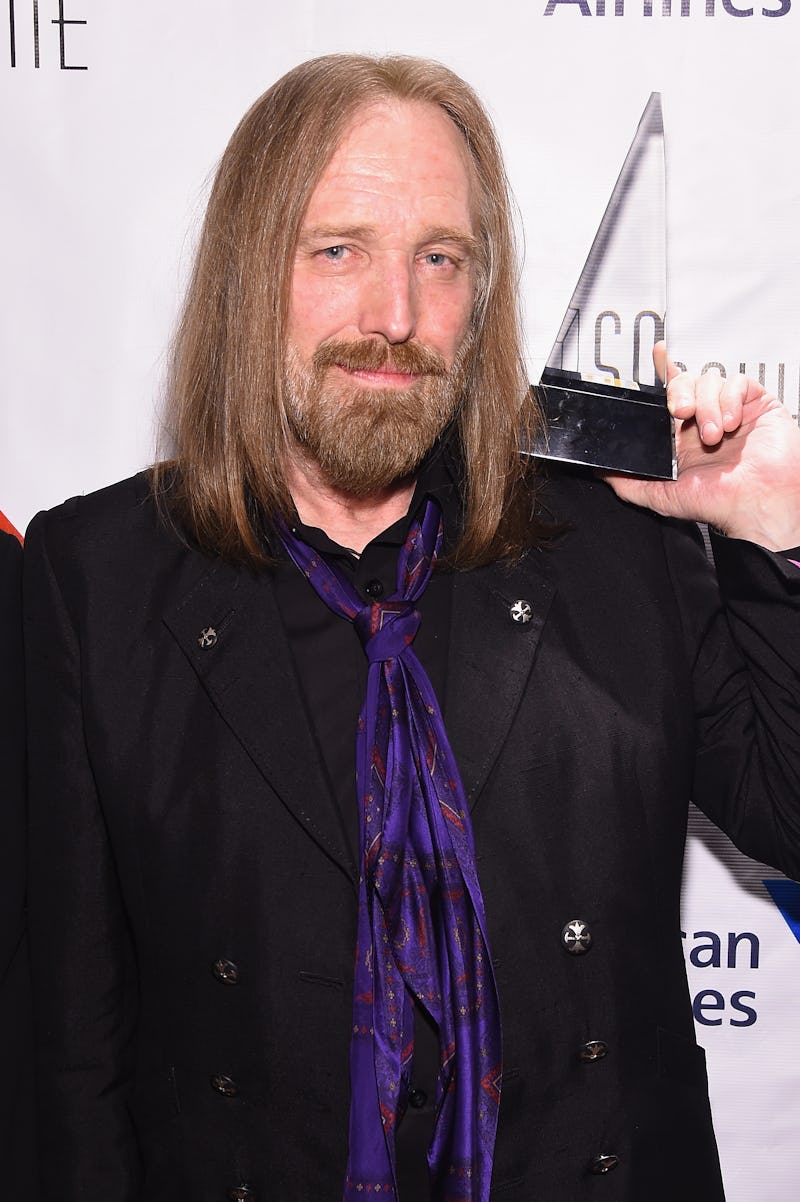 Larry Busacca/Getty Images Entertainment/Getty Images
On Monday, the music world was rocked with heartbreaking news. Tom Petty passed away at age 66. And now, looking back at his life, it's interesting to see who the people closest to him were and what roles they played — like his first wife. But, who is Jane Benyo? As it turns out, Petty had a very complicated relationship with the woman he married before he was famous.
According to The Sun, Petty and Benyo were longtime friends before they tied the knot in 1974; they were 24 years old at the time. They reportedly met in their hometown of Gainesville, Florida, marrying before they moved to Hollywood so that Petty could try to make it in the music industry. Fans all know how that story ended, but the beginning of Petty's journey to fame could have been a lot different. The Daily Mail adds that although Petty reportedly didn't want to marry Benyo at the time, his mother encouraged him to do "the right thing" and he ended up following her advice.
But how long did they know each other before they decided to tie the knot? The answer to that question comes with a pretty interesting story from another rock legend: Stevie Nicks.
In a 2014 interview with Billboard, Nicks revealed that one of her biggest hits, "Edge of Seventeen," was inspired by her first meeting with Benyo. Nicks said that she asked Benyo when she met Petty, and Benyo replied, "I met him at some point during the age of seventeen." Nicks thought she said "the edge of seventeen," and that gave her the idea for a song title.
And Benyo's inspiration went even deeper than that. As Nicks tells it, part of the song is about their marriage as well. She told the magazine,
"'Edge of Seventeen' is also a little bit about Tom. 'He seemed broken hearted/Somethin' within him,' that was Jane talking about Tom. I bet a lot of people thought I was talking about me, but I was chronicling their relationship as she told it to me."
Together, Benyo and Petty had two kids — AnnaKim Violette, who is now 35, and Adria, who is now 42. In a 1991 interview with Rolling Stone, Petty credited Benyo with keeping their family together while his career kept him away from home and his family. Petty told the publication,
"There were a lot of years when I just wasn't really around. And fortunately Jane was strong enough to basically run the whole show by herself for a long time."
But Benyo and Petty's relationship wasn't perfect, and in Petty: The Biography, author Warren Zanes wrote (with the help of the singer) that eventually, things between them took a turn for the worse. In Zanes' book (via The Daily Mail), he claimed that Benyo would call Petty "regularly, obsessively, and threaten suicide if he said he was hanging up." And in the aforementioned Rolling Stone interview, Petty mentioned how much they fought, saying,
"I'm still thrilled about her. She's the most honest, frank person I've ever met... But there were times when we definitely were not getting along, when we fought like f*cking Apaches, you know."
Petty and Benyo's relationship came to an end in 1996, after 22 years of marriage and a separation while the singer was touring and living in a home away from Benyo. And when Petty passed away, he was still married to his second wife, Dana York, who he met at one of his concerts in the early '90s.
And as for Benyo herself? So far, she has yet to issue any type of statement on her ex-husband's death, although that's not too surprising, considering they've been divorced for more than a decade.
Although there was initially some confusion over the circumstances surrounding Petty's death on Monday night, an official statement posted on his Twitter account later confirmed the news.
Petty might be gone, but his music will certainly live on through his family, friends, and fans, and the ways he changed the world and the music industry while he was here.