This 'Stranger Things' Hint Spells Trouble For Will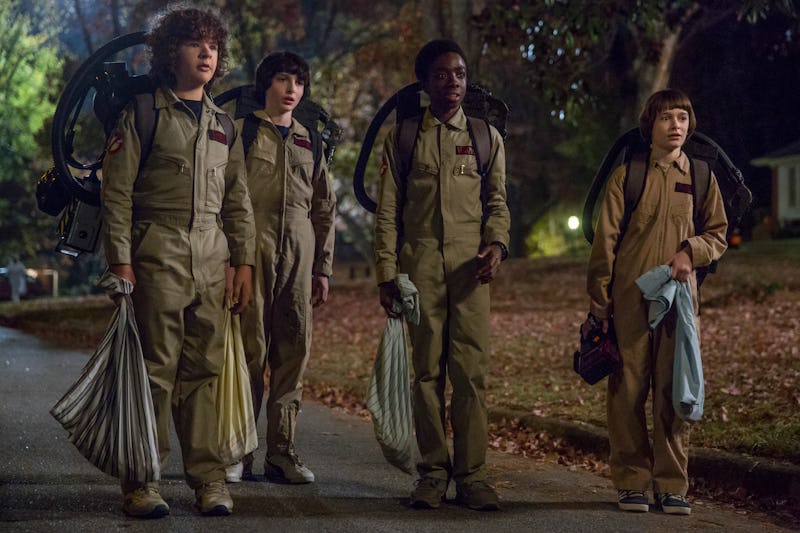 Jackson Lee Davis/Netflix
Attention, Stranger Things fans: I have some sweet Season 2 details that will leave you feeling fired up. The Stranger Things composers hinted the Upside Down will have a larger role in Season 2, and it means that there's literally a ton of chaos awaiting the residents of Hawkins, Indiana. The composers, Kyle Dixon and Michael Stein, recently guested on a live Spotify podcast for South By Southwest. During their discussion of the music from Stranger Things, Dixon and Stein were able to chat about Season 2 and what to expect in terms of plot, characters, and interesting new locations (pay attention to that last part). Dixon said,
"There are new characters, fun, and the Upside-Down will be more of a place… you'll spend more time. So we'll make a lot more weird music this time around."
So, the biggest hint we have at the trajectory of Season 2 comes from the reveal that the Upside-Down is actually going to be a major set piece. That actually makes a lot of sense, considering what we know from the Season 2 teaser trailer. We've already gotten glimpses of the very spooky things to come, thanks to the Stranger Things Season 2 Super Bowl trailer. The trailer even featured the phrase, "The world is turning upside down," which hints that the overlap between the world we know and the otherworldly dimension of the Upside-Down will keep growing.
The Upside-Down bleeding into Hawkins indicates the chance for viewers to get a better idea of how the Upside-Down came to exist, how it was discovered by those ominous scientists, and just how deeply it may have imprinted on Will Byers.
Fans know that Will is probably suffering from a PTSD-like trauma following his rescue from the Upside-Down. Will he be able to control the after-effects of the Upside-Down on his mind and body, or will the Upside-Down's growing presence in Hawkins awaken something that was planted in Will while he was there? Strange, indeed.