The 'This Is Us' Cast Just Scored A Major Pay Raise Ahead Of Season 3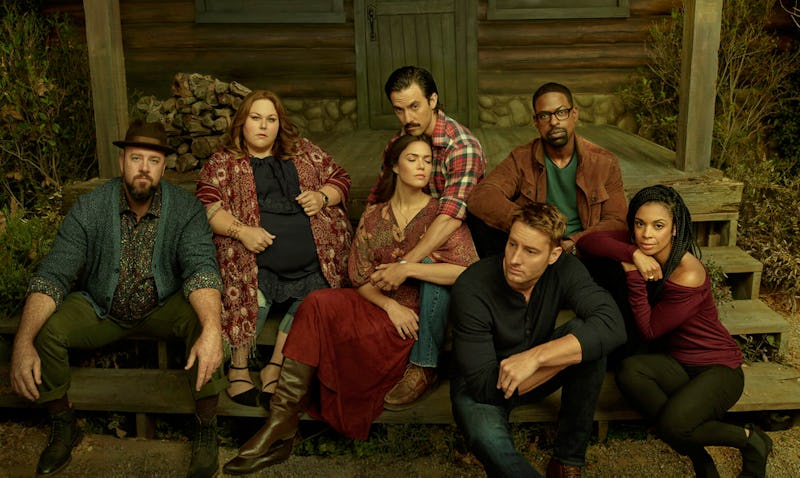 NBCUniversal
As their show enters its highly-anticipated third season, the central cast members of This Is Us will receive pay raises which amount to equal pay for them all. The Hollywood Reporter indicates that the talented ensemble renegotiated their contracts with 20th Century Fox Television for a salary of $250,000 per episode, once their respective signing bonuses are calculated for the upcoming season. The season, which returns to NBC on Tuesday, Sept. 25, will consist of 18 episodes, meaning that all of the show's stars will now earn a total $4.5 million a piece for their work on Season 3.
THR further revealed that the cast members did not initially sign-on with the same starting salary, pointing out that Milo Ventimiglia, who plays the show's patriarch Jack Pearson, was making $115,000 per episode, while Justin Hartley, earned about $75,000. At the time, Chrissy Metz pulled in considerably less, making only $40,000 per show. Meanwhile, according to Variety, Mandy Moore previously earned $85,000 per episode, and Sterling K. Brown earned $75,000 per episode for his portrayal of Randall Pearson. Both Moore and Brown will receive the same additions to their respective salaries. However, it is not known if Susan Kelechi Watson (Beth) and Chris Sullivan (Toby) were included in the newly-implemented salary increase.
A separate article from Variety notes that the cast was rewarded with $250,000 cash bonuses after the show's breakthrough performance in its first season, but it's currently unclear if they took home anything extra after Season 2. Although, it would seem only right. In its two seasons, This Is Us has become one of the biggest dramas on television. The show was notably called-out as one of the most successful new shows of 2016 by The Washington Post just weeks into its first season after it garnered 10 million same-day viewers, and 14.6 million with DVR viewing added in, for the series premiere. Following the huge success of its inaugural installment, the premiere of This Is Us Season 2 topped itself by becoming the show's most-watched episode ever, according to Refinery29.
With last season's cliffhanging finale, which left many puzzled about a potentially troubling mystery for the Pearson fam, Season 3 could break some records of its own. During the show's final scene this past March, there was an emotional moment shared between Randall and a future version of Tess that seemed to hint at the fate of one of the female characters on the show. The cryptic conversation left many to speculate that Beth's well-being may be in jeopardy, and that her time on the show could be coming to an end. However, Watson later dispelled those rumors, telling the LA Times, "I don't think I'm dying. That's a rumor." She later added that Beth would actually be getting more screen time in the show's return.
While the show itself seems to have plenty more life left, E! News reported back in May that the show had already filmed some of the scenes for its series finale. The outlet referred to comments from the show's creator, Dan Fogelman, which were shared during the 2018 For Your Consideration Emmy event. While he didn't give an exact timeline for the show's ending, Fogelman revealed that he "already shot pieces of the final scene of the series" and went on to explain:
"We're pretty far out. Our writers and I are kind of to the end. We know where it ends and we have a path for each season of the show. We've always had a plan. We didn't want to get stuck. We had the kids and the timelines, and had to have a plan."
Although its unclear how many more seasons the show has left, it's great to hear that the cast members are finally getting fair pay across the board.