Just TRY Making It Though This 'This Is Us' Video Without Crying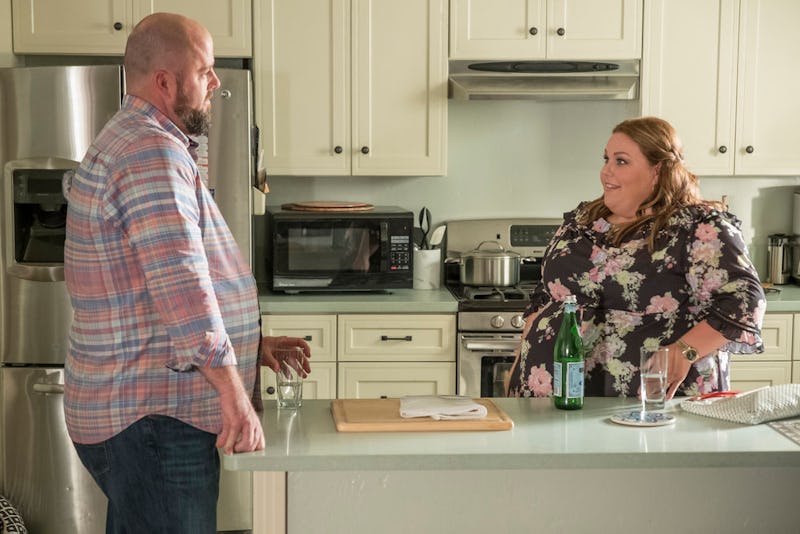 Ron Batzdorff/NBC
It's been far too long since This Is Us viewers have curled into a ball, surrounded themselves with boxes of tissues, and ugly-cried into their pillows over the show's latest heartbreaks. That's all about to change — the third season of the NBC drama airs on September 25th — and luckily, NBC has the most perfect This Is Us recap of Season 2 to get you staunchly in your feels once more.
In case you've somehow forgotten, Season 2 was just as much of a sobfest as the show's debut batch of episodes, if not somehow more heart-wrenching. More was revealed about Jack's struggle with alcoholism. Rebecca and Jack's journey to adopt Randall was expanded upon, and there was also Beth and Randall's own path to parenthood and fostering Deja. Kate and Toby dealt with pregnancy and subsequent miscarriage. Kevin messed up his relationship with Sophie and struggled to come to terms with how he left things with Jack before he died.
And on that note, of course, no one has forgotten the tragic arc of the Pearson's house fire, which Jack initially escaped, but then ultimately lead to his demise. Honestly, I'm surprised we're all still standing after the rollercoaster of emotion we've been riding these two seasons. Can someone pass the tissues?
Fans can't be totally sure of what's going to happen in Season 3, but given Mandy Moore's frequent Instagram Stories of her crying while reading future scripts, I think it's safe to say it's time to buckle up. That's not the only signal from the cast that new episodes are going to be nothing anyone can prepare for. "I've spoken a lot with Dan [Fogelman] and the writers before we had our hiatus," star Milo Ventimiglia told Gold Derby. "And what I've heard of what the third season is, people have an idea and they think they do but man, you have no idea. You won't see what's coming."
But it's not all doom and gloom. Co-showrunner Elizabeth Berger said at a press panel that this season would be "hopeful," according to Variety. "We felt like at the end of Season 2 our family had grieved and processed the loss of Jack at a deeper level than they ever had before," she said. "So I think this is a hopeful season, and it's a season about new beginnings for everybody."
In the spirit of refreshing your memory while mentally preparing for future ups and downs with the Pearsons, here's an exclusive clip of some of Season 2's most heartfelt moments. I dare you not to cry.
So many feelings. And if that recap wasn't enough, it may be time for a full-fledged rewatch. Every episode is available to stream on NBC's website with a cable log-in, Hulu offers the series on its platform, and Season 2 of This Is Us is now out on DVD. There's really no excuse to be behind on the Pearson family drama.
Even though the mystery surrounding Jack's death has been solved, the Season 2 finale still left viewers with plenty of questions the show has the opportunity to tackle moving forward. Why is Kevin going to Vietnam, and what's his relationship with Beth's cousin? Who were Tess and Randall talking about in that cryptic flash-forward? Will Kate and Toby finally successfully start a family? What happened to Jack's brother in Vietnam? Every morsel of information seems to lead to more speculation.
This Is Us is a show that pulls you in and allows you to experience the tumultuous journeys right alongside its characters, and it does it so well that it's hard to believe we've only been watching for two seasons of TV. The Pearsons are basically everyone's family at this point, and fans will be on the edges of their seats to see what milestones they take on next.