The 'Time' Most Influential On The Internet List Is Missing A MAJOR Social Media-Savvy Celeb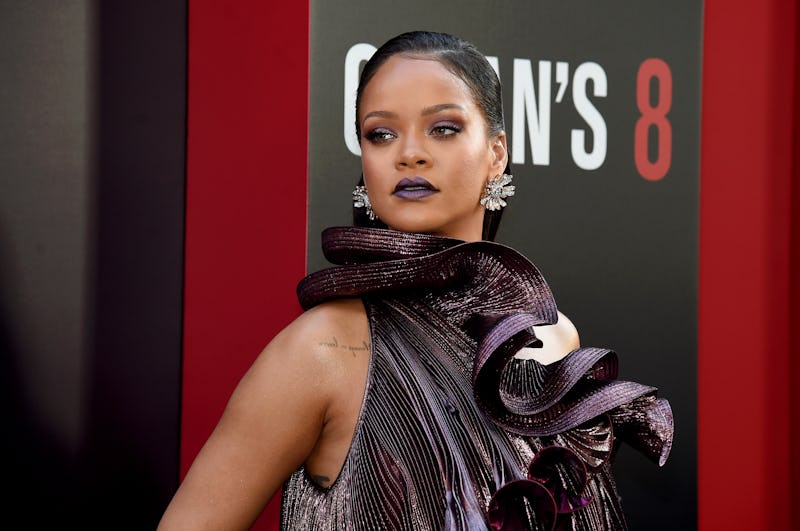 Jamie McCarthy/Getty Images Entertainment/Getty Images
On June 28, Time magazine just revealed its list of the 25 "most influential people on the internet" list, and it includes some big-name women making waves. There's Rihanna, Kayla Itsines, Kylie Jenner, and Busy Philipps, among other leading ladies — but there's a key one missing from the pack.
It's no surprise why these awesome women made Time's list. The magazine notes that when Rihanna called out a controversial Snapchat ad, Snap Inc.'s value depreciated. And with more than 63 million Instagram followers, Rihanna is definitely one of the internet's most influential people. Plus, Time notes, Rihanna has used social media to a huge advantage when marketing her Fenty Beauty products.
Like Rihanna, Kayla Itsines and Kylie Jenner have used the internet to build their own empires. Itsines' Sweat app is expected to bring in $77 million this year, Time noted. The magazine also points out that Jenner might be the "highest-paid celebrity on Instagram" — apparently, each of her sponsored posts is worth a cool $1 million. And as with Rihanna, Jenner's comments about not being as interested in Snapchat caused the app to lose value. Time notes that Jenner could well become a billionaire by the time she's 25, and the internet will have played a huge role.
Still, it's a little baffling why Chrissy Teigen isn't on the list. Her tweets consistently go viral — you'd be hard-pressed to find many Twitter users who haven't come across at least a few of her jokes. (In fact, her tweets are so popular that Teigen herself requested that journalists stop writing articles about them.) And when Teigen left Snapchat in March, her departure was felt the world over.
Teigen doesn't have her own app, and the creation of her cookbooks is a decidedly offline endeavor. But she's a huge presence on sites like Instagram and Twitter, and her absence from the list is noteworthy.
Other celebrities on the Time list, like Busy Philipps, are noteworthy for using social media to show honesty and vulnerability. As Time points out, Philipps' Instagram stories, which give a behind-the-scenes look into her everyday life, are sometimes funny and sometimes moving. She's not afraid to talk about mental health and her own struggle with anxiety. And her Instagram feed isn't always the perfectly-curated version of life you'd expect on social media.
"People really feel like they know me on a deep level — and they do to a certain extent," Philipps told Time. "I really put a lot out there." And in a world of over-filtered and seemingly perfect Instagram photos and videos, her social media strategy is a refreshing change.
The list isn't only filled with celebrities, either. The students at Marjory Stoneman Douglas High School in Parkland, Florida, also made Time's roundup. The magazine credits the student survivors of a mass shooting as using Twitter to their advantage to speak out about gun control. Plus, the students used social media to spread awareness about the March for Our Lives, an event they organized, Time points out. The women behind the activist hashtag #BabaeAko, which translates to "I am woman," also made Time's list. The hashtag came as a response to Philippine President Rodrigo Duterte said that the country's next chief justice should't be a woman.
Even without Teigen, the Time list recognizes plenty of people who are making real differences in their community and the world, thanks to the internet. Women like Itsines and Jenner are game-changers in the tech world, and people like Philipps are redefining what social media looks like. Hopefully Time will consider Teigen for future lists of internet influencers, but this year's list is still super noteworthy.