'Vanderpump's Kristen Is Growing Up, But She Still Knows How To Find Your Ex's iTunes Password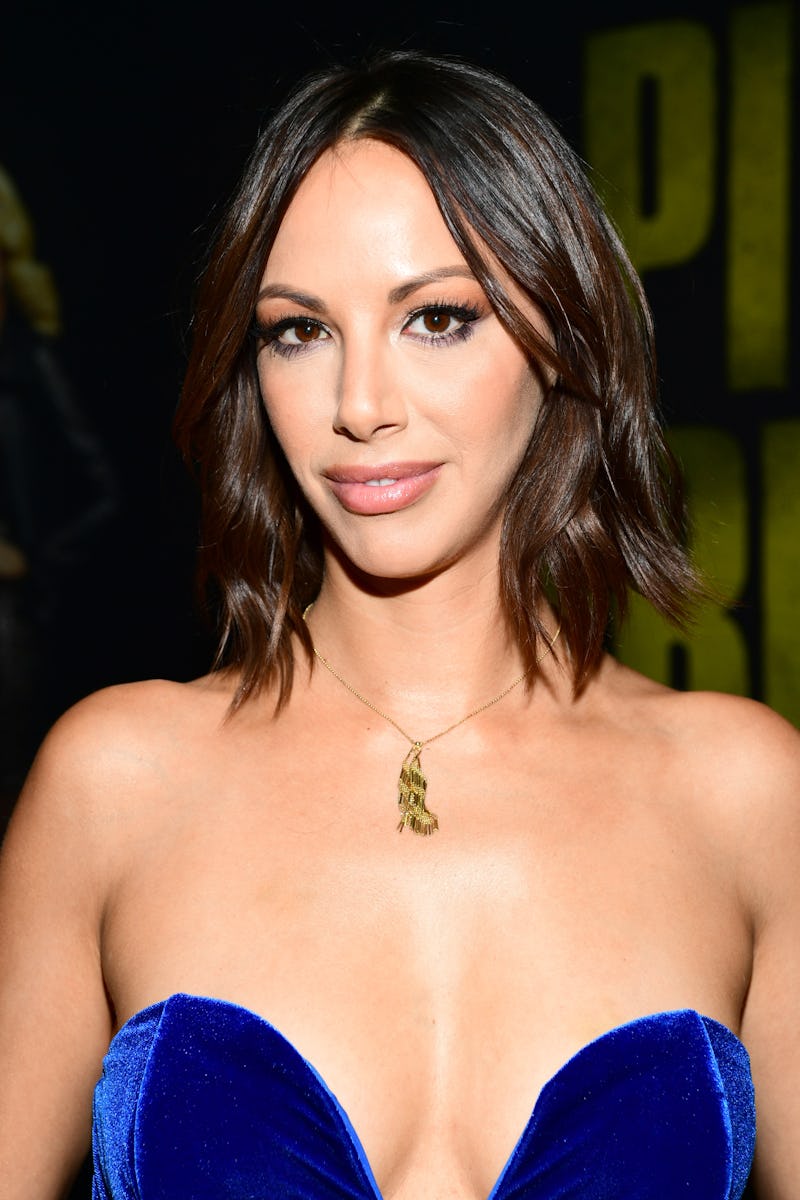 Emma McIntyre/Getty Images Entertainment/Getty Images
A lot has changed since Season 1 ofVanderpump Rules. Hairstyles have come and gone, plastic surgeries have been discussed and documented, and the stars have gotten and removed or covered up numerous tattoos. But the most surprising lasting change in the past five years has been in the temperament of Kristen Doute. The Vanderpump Rules star, who started as a party girl with a fixation on an ex-boyfriend, is much kinder and gentler these days — though she still has the skills to find out absolutely anything about you on Google.
But while she's mellowed out quite a bit, don't cross Doute when it comes to her friends, because she's a loyal BFF (and, okay, she still can't resist a little bit of drama). After consoling Brittany in the aftermath of her boyfriend Jax's cheating scandal with fellow SURver Faith, Doute saw an opportunity to both support her friend and get another dig in at Jax by offering to fly Brittany's mom Sherri out to Los Angeles to cheer Brittany up. But while some found it odd that Doute would go to such great lengths for her friend, she insists the gesture was totally natural.
"Everyone thinks it's so bizarre that I have this relationship with Brittany's mom, but these are my best friends, and I think any group of girlfriends probably has a relationship with their best friends' parents," Doute says. "And so Sherri was constantly texting me, just asking me for updates on Brittany and how she was hanging in there, and I was being honest with her that she was sad." She adds that Tiffany, Brittany's sister, didn't know about Jax's cheating and Brittany was going to tell her in person. "When [Tiffany] found out that Brittany's mom was coming, she was like, 'Well, I want to come, too.' And I was like, yes, bring the big dogs in!"
Needless to say, Jax wasn't enthused about her inviting Brittany's family to Los Angeles. And "not enthused" is an understatement. "Honestly, up until about a month ago, [Jax and I] had not spoken, really since we filmed the finale. Like, he blocked me on social media, he blocked my phone number…" Doute says, explaining that she didn't want Brittany to not be able to talk to her. Unfortunately, Jax's father passed away in December 2017, which led to their détente. "At the end of the day, [Jax is] family," she says. "So since then, I've definitely taken it easy on him, but it doesn't mean that he just gets off with his dirty hands."
And while Kristen's relationship with Jax may have had its issues, her friendships with cast members Stassi Schroeder and Katie Maloney-Schwartz have only gotten stronger. "We've grown up. We've all been through something separately that's been really hard on all of our friendships… and I think just with age and maturity we're just learning that every friendship needs something different, and that we're not going to react the same way," she says, citing an "honesty-only" policy she has with her girlfriends. "It may not be the answer we always want to hear from each other, but it's legit."
In fact, Kristen's relationships on Vanderpump Rules are better in general, and Brittany is the joining factor. Funnily enough, having to be there for Brittany has made everyone else unite against a common enemy: Jax. "Once we are all around each other, some of us start realizing like, it doesn't have to be bad," Doute says. "Maybe it isn't as bad as it was a few years ago, so there's no reason to keep holding on to these grudges, which I think is just happening with our old age." If you're wondering why Doute is mighty introspective and forgiving these days, she says with a laugh that it's because she's been through "literally hitting rock bottom." The cameras don't lie, and Doute has done her share of screaming and fighting and getting herself in trouble on Vanderpump Rules. But she says that seeing herself acting terribly on television has been a tremendous growing experience.
"There was a moment where I was like, 'Am I gonna leave L.A.?' And I didn't want to run from it. And everyone knows I'm a huge therapy advocate, so I've been in therapy for three years, which is awesome, because now I'm not taking it out on my boyfriend, everything that's going on in my life," she says. "I can take it out on my therapist. I think it's just kind of all of those things combined. Really, watching yourself on camera is a very emotionally sobering moment because you always feel right in your own mind and so when you're watching it, you're like, maybe I wasn't so right."
"Watching yourself on camera is a very emotionally sobering moment because you always feel right in your own mind. So when you're watching it, you're like, maybe I wasn't so right."
Self-reflection and a new relationship and therapy are never a bad thing. But, just in case that paranoia comes creeping back in, Doute can still track anything down on the internet. So does she have any tips for online sleuthing? "I mean, Google. You can find anything. Even if its kind of a private person, there is a way to figure it out," she says. "If they're on Instagram and they're private, they're probably on LinkedIn and they don't know it." And don't forget about the iTunes and iCloud rule. "If you have a cheating someone, the old go-to is the iTunes password because that's how you locate them," she says with a laugh. "And guys aren't that smart. Figuring out security questions… for iTunes, 99 percent of the time it's their first concert, and even if it's a new guy you're dating, [you can ask], 'What was your first concert?' Who cares, but you know now, and that's probably their password."
No longer working at SUR, Doute is out on her own, working on her blog, Vegiholic, and writing a book. She couldn't spill too many details, but she said that it was "kind of like a not-self-help-self-help in relationships book. Just about guys thinking you're crazy and calling you crazy and maybe it wasn't your fault, it was theirs."
As for Season 6 of Vanderpump Rules, there's so much more to come. "I feel like we've barely scratched the surface!" she says. "There's a lot more Jax and Brittany drama. It's going to be a big rollercoaster. I won't say that Brittany's just given in completely to him yet." She also didn't shy away from commenting on one of its biggest moments thus far — James and Lala arguing about "pasta," which many on the internet took as a euphemism for drugs. Like many other cast members, Doute adamantly denies that's the case.
"It was about the pasta. I almost ate the pasta — I was there that night, and that pasta was sitting in front of me, too! The angel hair checca is the best. It's not about cocaine," she says. She chalked the drama of the moment up to James and his theatrics. "James was trying to make some big analogy about Lala taking advantage of his girlfriend's kindness by eating her food, but you know what? The pasta was going to go to waste. We don't waste food," said Kristen.
Speaking of pasta, Doute may be adding some to a menu in the near future. "There are things [this season] with my blog. I had a dinner party because I'm trying to convince Tom and Tom to let me help them with their menu at the new restaurant," she says. Tom and Tom and Kristen? How about that? "Ariana has opinions about that. The boys have opinions. Lisa has opinions. But I can't stop, won't stop." At least some things haven't changed.