A Confederate Statue Toppled By Protesters At UNC May End Up In A Brand New Building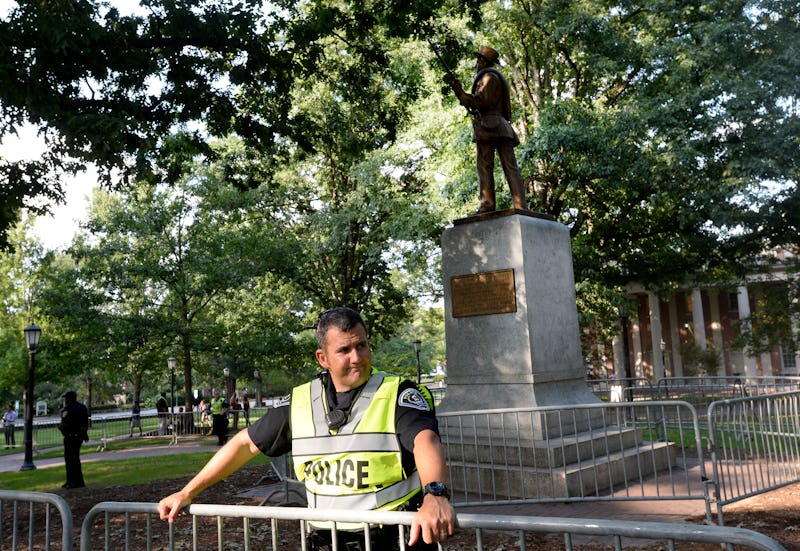 Sara D. Davis/Getty Images News/Getty Images
When protesters toppled a Confederate statue known as Silent Sam at the University of North Carolina's Chapel Hill campus last August, they'd hoped it would be the end of the statue's presence on campus. But Silent Sam may rise again following a recommendation from the university's board of trustees. Chapel Hill officials recommended Silent Sam be re-erected indoors in a new on-campus building designed to preserve the university's history.
Although university officials told The News And Observer that their first preference was to move the school's Silent Sam statue to a location off campus, UNC Chancellor Carol Folt said that state law prohibited them from doing so. Instead, UNC-Chapel Hill's Board of Trustees voted Monday to pass a recommendation for a new building to be erected on campus that can house Silent Sam as part of a display on the university's history.
According to The News And Observer, Chapel Hill officials recommended the building be built somewhere near where the Odom Village Apartments are currently being torn down. But Silent Sam's new recommended home wouldn't exactly come cheap. According to the paper, construction of the new building is estimated to cost $5.3 million. Another $800,000 was estimated to be needed annually for the new building's operating costs.
Not everyone was pleased with the Board of Trustees' recommendation. Student body president Savannah Putnam told The News And Observer the statue "does not belong" on campus and thus she did not support a recommendation that allowed it to remain, albeit in a different location.
Hundreds of faculty members have also urged university officials not to return Silent Sam to a position of "prominence" on campus. "We have witnessed a monument that represents white supremacy in both the past and present be venerated and protected at the same time that we have been asked to serve as examples of diversity and inclusion," a letter published in September by the university's black faculty members read. "That is a demoralizing burden."
Silent Sam's origin story is indeed one steeped in racism and controversy. According to CNN, the statue was erected at the entrance to UNC-Chapel Hill in 1913 after the United Daughters of the Confederacy requested it as a means of remembering the "sons of the University" who died fighting in the Civil War. At its dedication ceremony, Civil War veteran Julian Shakespeare Carr reportedly credited the Confederacy with "[saving] the very life of the Anglo Saxon race in the South," CNN reported UNC's archives noted.
Last year, faculty within the university's department of history claimed the Silent Sam statue was, "from its inception ... exclusionary," offering "a highly selective interpretation of the nation's history" in a statement adopted by the department. Shortly after protesters toppled Silent Sam in August, the department wrote to UNC's chancellor to urge university officials not to re-erect the monument.
"Now that Silent Sam has been removed from his pedestal on our campus, let him remain on the ground," their letter read. "He should be displayed as a contextualized, historical artifact within an appropriate educational space, not in a position of honor. The monument is undeniably a part of UNC's past, but he no longer needs to be part of UNC's future."
UNC's Board of Trustees will now pass their recommendation on to the university system's board of governors, who are expected to make the final decision on Silent Sam's fate later this month.