Yes, The U.S. National Soccer Team Can Still Go To The World Cup — Just Not The Men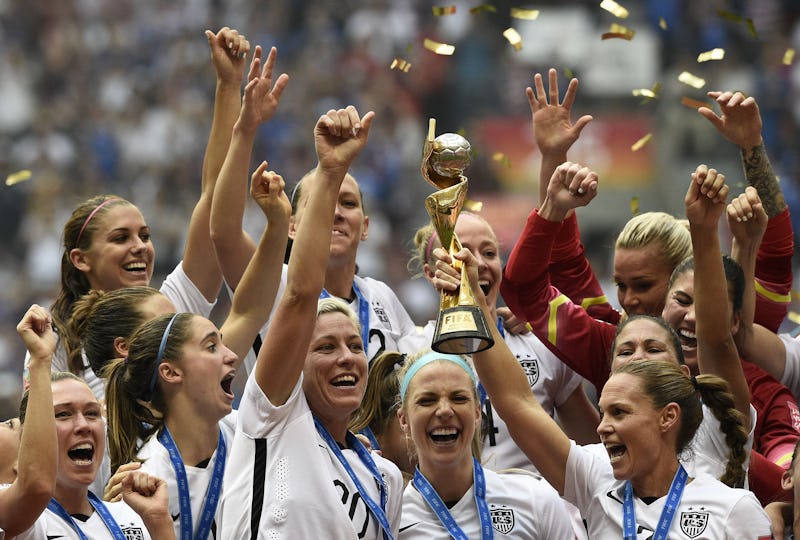 FRANCK FIFE/AFP/Getty Images
After an unexpected defeat to Trinidad & Tobago on Tuesday, the U.S. men's national soccer team is no longer eligible for the 2018 World Cup. It's already being called one of the most stunning losses in U.S. sporting history, and people are devastated by the loss. The official U.S. soccer Twitter account tweeted one word after the game: "Heartbreak." It's understandably upsetting to realize your home country isn't eligible for one of the most important sporting events in the world, but that, as people on Twitter were quick to point out, isn't actually the case. The U.S. women's team still has a shot at the World Cup after its qualifying matches next year, and it's expected to make it to the 2019 Women's World Cup in France. Americans do have a team that may compete on an international stage, so all of that mourning may be kind of excessive.
Additionally, the women's team is ranked No. 1 in the world by the Fédération Internationale de Football Association (FIFA). But none of that seemed to matter to men's soccer fans. Of course, seeing your favorite team lose is discouraging, and Twitter is full of sports writers and fans who are devastated. Did the men's team even deserve to make it to the World Cup? Soccer analyst Alexi Lalas called out players by name and asked if they'd continue to be "soft, underperforming, tattooed millionaires." Former U.S. men's player Taylor Twellman went viral after an eight-minute rant where he dragged the men's team and called the U.S. vs. Trinidad & Tobago match "an utter embarrassment," and calling them out for not doing "good enough job of getting this team ready to play."
Current and former players from the women's national team offered condolences to the men's team after Tuesday's defeat.
But fans of the women's team weren't here for the hand-wringing, and turned to Twitter to make sure people knew the women's team still has a (pretty good) shot. After all, if the sadness is about not seeing the U.S. on a world stage, that's an inaccurate thing to say. The U.S. women's team won the last World Cup tournament they competed in and are arguably more popular than the men's team, even though they make less money than their male counterparts. Last year, several players filed a complaint with the Equal Employment Opportunity Commission (EEOC) alleging pay discrimination.
Consider this: After Germany's mens team won the 2014 World Cup, the team made $35 million. When the U.S. women's team won the World Cup the next year, they were awarded $2 million from the same governing body. Per CNN, that works out to six cents on the dollar, which is a staggering discrepancy. Get this: The U.S. men's national team came in 11th place during the last World Cup and got $9 million. Even with the challenges facing the women's team, the squad managed to win eight of its last nine games. Basically, soccer fans should take some time to grieve. It's only natural to feel disappointment after your team loses a game that pretty much everyone expected them to win. But there's a bright side, at least according to fans: Perhaps the U.S. women's soccer team will finally get the attention it's always deserved.
Female athletes are historically underrepresented and sexualized in media coverage, and women still aren't taken seriously for having the same athletic aspirations as men. With the men's World Cup no longer an event of interest for many American fans, it may be time for soccer lovers to look ahead to 2019 and root for one of the best teams in the world. You don't have to wait for France, either — the National Women's Soccer League championship game is this weekend.