Uh, The Vans Warped Tour Is Coming To An End Super Soon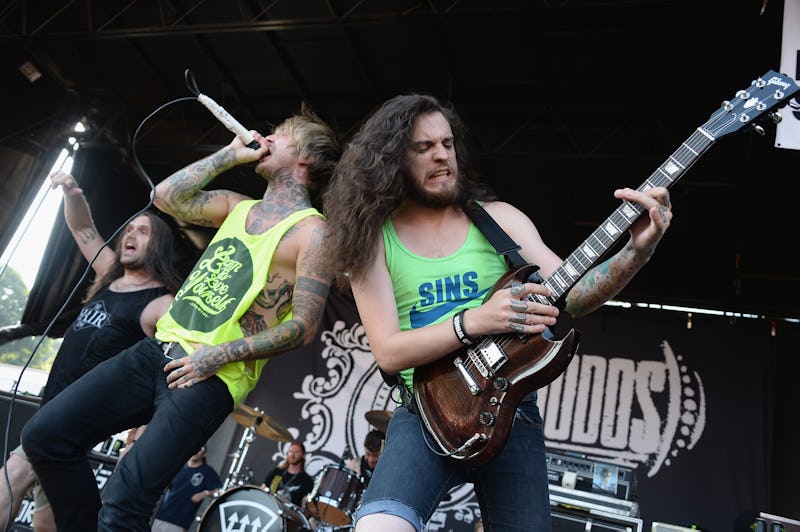 Theo Wargo/Getty Images Entertainment/Getty Images
You know it's inevitable, but that doesn't stop the end of an era from stinging any less. Founder of the legendary Vans Warped Tour Kevin Lyman announced that summer 2018 will be Vans Warbed Tours last year, and fans on Twitter are super upset about it. Many shared reactions of both sadness and gratitude for all the festival has done, and it's all understandable. The Warped Tour provided a safe space for emo kids all over the country to just be, and that's a feeling that could never be trumped.
In a statement shared on the Vans official website, Lyman wrote:
"I have been a very lucky person to have traveled across the country and sometimes around the world as one of the founders and producers of the Vans Warped Tour. Today, with many mixed feelings, I am here to announce that next year will be the final, full cross-country run of the Vans Warped Tour."
In an exclusive interview with Billboard detailing why he decided to put an end to the iconic festival, Lyman revealed that the event has certainly taken a toll on him physically throughout the years. "But the biggest thing is, I've put my body and soul into this thing." Lyman said. "I've had a knee replacement. I've had an ankle rebuilt. I'm going to beat the hell out of myself working in this business for 37 years." And seeing as the tour has had a heavy hand in creating the emo culture known today, it'll be impossible for his hard work to be forgotten.
The news definitely rocked its core audience, but many refused to wallow in misery for too long. Instead, fans took to Twitter to share just how much the Warped Tour meant to them, and how the entire movement impacted their growth for the better.
Along with celebrating emo culture, the Warped Tour also offered a platform for bands like Panic! At The Disco, New Found Glory, and Blink 182 to build their core following — before eventually breaking into mainstream. For decades Warped help to shape everything from the most classic tour fashion, to a safe environment for misfits to launch business ventures.
Warped has also provided a platform for attendees to get involved on a community level. Non-profits focusing on bringing awareness to sexual assault, voters registration, and even blood drives, were able to spread notable information to younger generations, and in turn, they worked seamlessly with Lyman's passion of giving back.
Lyman also revealed to Billboard that though the ending to Warp's cross-country tour is near, he has no intentions on stopping his philanthropic endeavors. "Education, philanthropy, and music are important to me," Lyman said. And as of now, his biggest task will more than likely be finding another platform to further dive into these passions, but seemingly on a smaller scale.
In the Vans website statement, Lyman continued to say: "I sit here reflecting on the tour's incredible history, what the final run means for our community, and look forward to what's to come as we commemorate the tour's historic 25th anniversary in 2019."
And with that, it doesn't sound like summer 2018 will be the last of the Warped Tour brand. Sure, another cross-country music tour is off of the table for now, but there's no doubt that Lyman won't plan something special for the movement's 25th anniversary. Maybe a mini reunion event with some of the bands Lyman and his team helped to bring to the limelight? It certainly could be a possibility.
As far as summer 2018's tour, fans will definitely be in for some magical experiences. Special surprises have yet to confirmed, but knowing that this will be the tour's last, full hoorah, fans will totally show up to help put Warped to rest, the right way.