This Throwback Video Of Pharrell Being Interviewed By A 7-Year-Old Will Make Your Heart Burst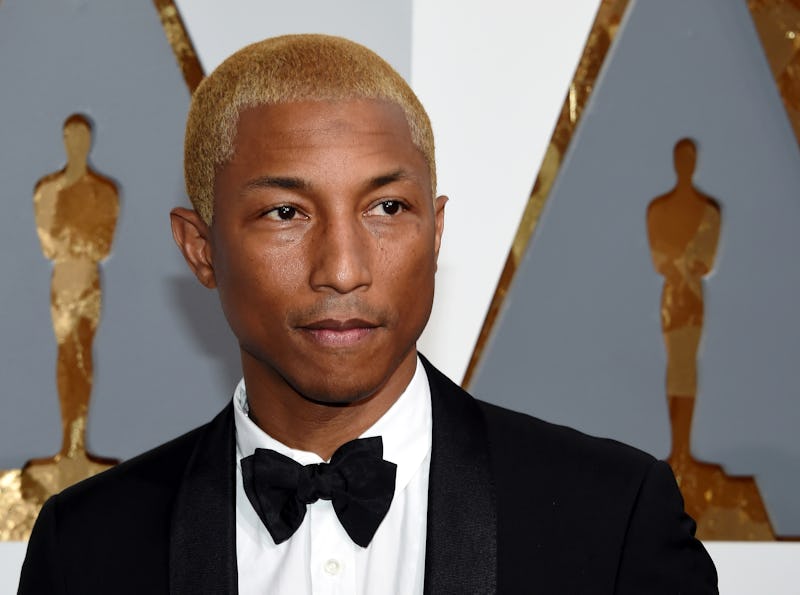 Ethan Miller/Getty Images Entertainment/Getty Images
It's officially Throwback Thursday all over social media. And in case you're in the search of something to lift your spirits, this video of Pharrell Williams being interviewed by a seven-year-old for W Magazine will totally do the trick.
Where as most interviews conducted by adults cover career and relationship status updates, the folks over at W Magazine had something far more interesting in store for the "Happy" singer. In an interview published Oct. 2017, Pharrell sat down with seven-year-old Poppy Browne to discuss the important things in life. You know... like, the top five things that make you happy, how old you were when you first got your ears pierced, and what your childhood favorite songs were. The former The Voice coach was totally in his element, however, and gave Poppy, as well as those tuning in, one of the best interviews living online. And it's so good that you'll wonder to yourself how you managed to overlook this adorable social media moment.
Seemingly in honor of #TBT, W Magazine posted the clip on their Twitter page Thursday, Aug. 7, and you can go ahead and prepare yourself for this cuteness overload.
As you would expect anything involving Pharrell to begin, the interview opens with the muscian and the young reporter jamming to the hook of his ever-so-popular and catchy 2013 hit "Happy." And after impressing Pharrell with her awesome singing skills and professional journalism, the pair ended their time together with the cutest usie photoshoot on Poppy's Polaroid camera.
Sure, the interview might have introduced the audience to a few facts about the lowkey celebrity that they didn't know prior (like how seeing other people happy, in turn, makes Pharrell happy, and that one of his kids is on the Libra/Scorpio cusp). But overall, seeing Pharrell being interviewed by a seven-year-old totally highlighted his soft spot for children and the arts.
Those keeping up with Pharrell may know that the muscian has been rather vocal about the importance of embracing one's identity (hence his self-love promoting YouTube platform I Am OTHER) and arts education in the public school system. On Monday, Sept. 10, the artist will host the inaugural Yellow Ball gala in partnership with American Express to raise money for and bring awareness to Young Audiences Arts for Learning — which is said to be America's largest network for arts-in-education advocacy.
While speaking with Billboard about the event (including the special celebrity performances and surprises in store for attendees), Pharrell talked about arts education being so near and dear to his heart, saying,
"I want all children to have access to that kind of creative growth, access and support. All kids, not just my own. We just want to do what we can to balance the odds so that as many kids as we can afford, or help and assist in whatever ways, get this access and support."
Most known for his Grammy award-winning tracks, iconic musical collaborations, Pharrell's push to make the world a much better place for everyone, especially children, should totally be celebrated. And his work is bound place him in the running of all of the humanitarian honors possible.
Anyone who places "seeing other people happy" in their top of things that make themselves joyous deserves their own holiday, and his 2017 interview with W Magazine is the perfect reminder of this.