Watch Sufjan Stevens Perform At The Oscars So You Can Cry Along With Twitter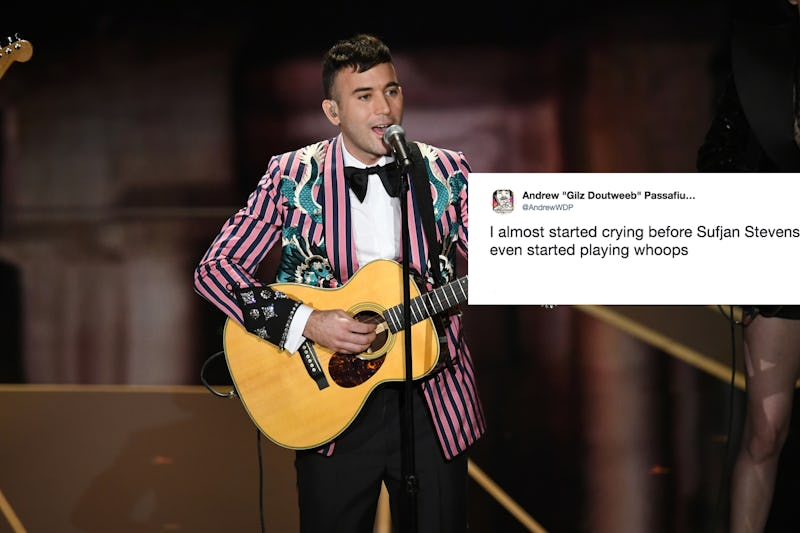 Kevin Winter/Getty Images Entertainment/Getty Images
There was a lot to look forward to when it came to the 90th Academy Awards, but let's be real. Many people only tuned in to see Sufjan Stevens perform at the 2018 Oscars. Though he did only a very short rendition of "Mystery Of Love" from the Oscar-nominated film Call Me By Your Name, the anticipation was real and the hype was so worth it. Suffice it to say, this performance gave fans all the feels, and of course they hopped on social media to scream about it. And by scream about it, we really mean cry about it, because that was just kind of the mood, you know? Of the song. Of the film. Of the moment. And the video of Stevens' Oscars performance will prove that.
The singer was introduced by presenter Daniela Vega, shortly after Coco won for Best Animated Feature. His performance of "Mystery of Love" had people in tears before he'd even begun singing, either because they are huge fans of Stevens, because they watched Call Me By Your Name, or both. The soulful performance by the singer was done alongside St. Vincent, among others, which added an extra flair to the song and the moment. (Not that the moment needed any extra flair, considering the amazing suit that Stevens was wearing while he broke a million hearts with his voice alone.)
Just try and get through this video without sobbing.
Of course, even if you managed to keep a dry eye, many people on Twitter couldn't. And their reactions are as good as the song itself.
1. This Is An Accomplishment In More Ways Than One
What else would you watch the Oscars for if not for Stevens?
2. Thanks A Lot
He knows what he did. They all know what they did.
3. Nostalgia Alert
His music is the perfect soundtrack to your inner sadness, and that feeling that no one understands you but someone will love you one day.
4. Why Else?
There are loads of reasons to be a fan of someone, but this is, perhaps, the best one there is.
5. It's Basically Like Meditating
He sounds the way that rainy days feel — moody, calm, brooding, and strangely optimistic.
6. This Truthbomb
Honestly, the great thing about this tweet is that it basically says what we were all too afraid to admit.
7. Just Gonna Leave This Here
Yeah.
8. Understandable
Again, what is this music for if not to take you back to the time in your life when you were young, in love, misunderstood, and waiting for that great romance?
9. We Want More
It was a blink-and-you-miss-it performance that left many satisfied fans unsatisfied. How are you going to have Stevens on the Oscars stage and not have him just perform uninterrupted for an hour?
10. The Metaphors Are Too Good
Or maybe it's not a metaphor. Actually, when you watch that video again, that sounds kind of nice.
11. Facts On Facts On Facts
Sorry, Beyoncé, but, for this fan, Stevens has taken your crown as the creator of all things good in music right now.
Basically, Stevens' music calls to something primal within all of us, something small and sad that is waiting to evolve. His voice and his music lifts us up, mainly because it gets that innate sadness so well. So, whether you've seen Call Me By Your Name or not, you probably found yourself sniffling during the 2018 Oscars because of Stevens. And that's OK, because, as you can see from these tweets, there were many, many fans who were right there along with you.