The 'Hamilton' Cast Won The Super Bowl, Hands Down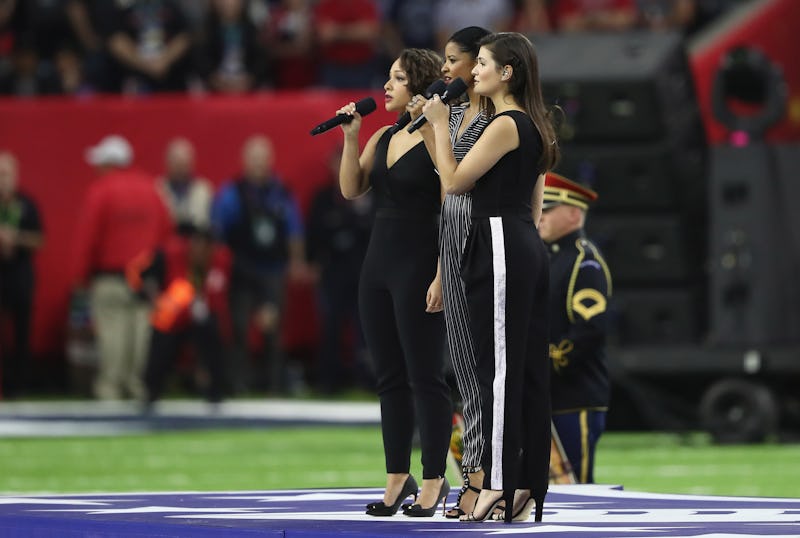 Elsa/Getty Images Sport/Getty Images
I don't know about you, but from the moment I heard that Hamilton's Schuyler sisters would perform at the Super Bowl, I was freaking out. Not as much as, say, Lin-Manuel Miranda did in a FaceTime call to Renée Elise Goldsberry (Angelica), Phillipa Soo (Eliza), and Jasmine Cephas Jones (And Peggy), but enough that it was one of the things that I was looking most forward to when it came to Super Bowl LI. And, obviously, the original Hamilton cast members did not disappoint. Just watch this video of the Hamilton cast singing "America the Beautiful" and tell me that they didn't crush it. You can't.
I'll be the first to admit that I'm not much of a football person. When I tune in to the Super Bowl, I'm there for the performances. Yes, the performances, not even the commercials. I'm here for Lady Gaga's rooftop stunt and, yes, for the Schuyler sisters lighting up the stage like Destiny's Child for the new generation. No matter which sister is your favorite, or which performer, you can't deny that they work so well together. Their chemistry is undeniable, their voices are incredibly, and I'm not saying that I cried, but I definitely teared up a little watching this.
I spent basically the entire time crying and screaming, "YASS QUEEN," which gives you an approximate idea of how much I love these three women. When they looked at each other and smiled before harmonizing "above the fruited plain," I may have screamed. When they changed the lyrics to "crown that good with brotherhood and sisterhood," I cried, "Work!" Angelica did, after all, say that she was going to compel Thomas Jefferson to include women in the sequel, right guys?
Basically, this performance was everything that I wanted and more. Can we get the Schuyler sisters to perform at every ceremony ever until they retire? Goldsberry, Soo, and Jones clearly love working together.