This IRL Hitmaker Helped Natalie Portman Convincingly Play A Pop Star In 'Vox Lux'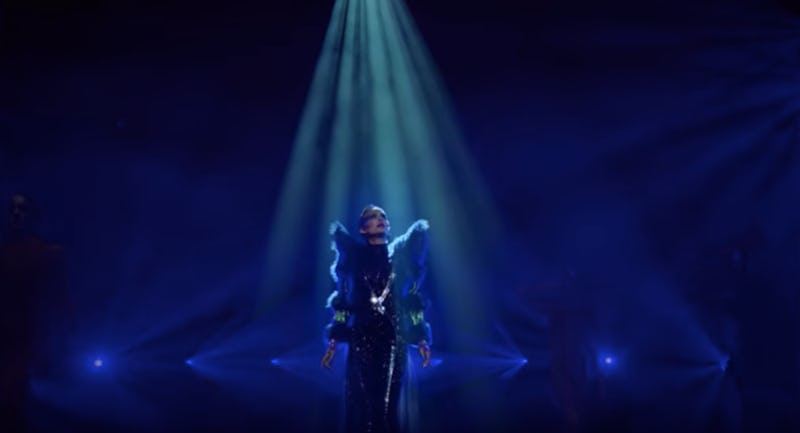 NEON
In the new drama Vox Lux, out Dec. 7, Natalie Portman portrays fictional pop star Celeste Montgomery, sharing the role with Raffey Cassidy, who plays her as a teen. Sporting a flamboyant glam stage persona, a gruff Staten Island accent, a complicated and tragic life history, and a rough attitude, the adult Celeste makes for quite the intriguing character. And one aspect of the pop star that especially shines is the music she performs in the film. The Vox Lux soundtrack is shaping up to be one of the best movie soundtracks of the year, and the reason why has everything to do with the woman responsible for crafting the film's catchy pop songs.
The songs in Vox Lux were written by pop superstar Sia specifically for the film, while the film's score was composed by singer-songwriter Scott Walker. The soundtrack is set to be released on Dec. 14 according to Billboard, exactly one week after the movie makes its debut in theaters. But while it's clear the soundtrack will be outstanding thanks to Sia's involvement, fans unfortunately don't know what it will consist of just yet. That's because the track list for the album hasn't been announced, leaving fans to speculate as to its contents. However, some educated guesses can be made. For instance, IMDb lists four tracks that appear in the film. Two of these songs, "Bang Bang" and "Dance All Night," are by electronic pop duo Sunrise in the Desert and were not made specifically for the film; they were licensed, according to the band's website. Therefore, it seems unlikely that they will appear on the movie's soundtrack album.
The other two songs, however, are a different story. They were both penned by Sia and her longtime collaborator/producer Greg Kurstin, and are performed on screen by Natalie Portman's Celeste. They are "I Crumble" and "Wrapped Up," and both seem like surefire inclusions for the movie's soundtrack. "Wrapped Up" can actually be partially heard in the film's second trailer, which you can listen to below (the song comes in around the 0:25 mark being performed by Cassidy as young Celeste; Portman's version starts at about 0:45).
Even though it's Portman singing, "Wrapped Up" has the same haunting lyrics and catchy melodies that are the hallmarks of many of Sia's other hits, and it's not hard to imagine the singer herself belting it out. And while Sia has become a huge star in recent years on the backs of hits like "Chandelier" and "Elastic Heart," she was previously mainly known as a songwriter who penned tunes for other artists, according to The New York Times. She co-wrote "Diamonds" for Rihanna, "Pretty Hurts" for Beyonce, "Titanium" for David Guetta, as well as tracks for Flo Rida, Christina Aguilera, and more. So the singer/songwriter was more than qualified to craft songs for Vox Lux's soundtrack to be performed by Portman in order to convince you that she's a real pop star.
The Vox Lux soundtrack remains mostly a mystery, but if all the songs are as good as "Wrapped Up" — and there's no real reason to think they won't be — then Sia fans are in for a big treat.