Rick Grimes Won't Return To 'The Walking Dead,' But That Doesn't Mean He's Gone For Good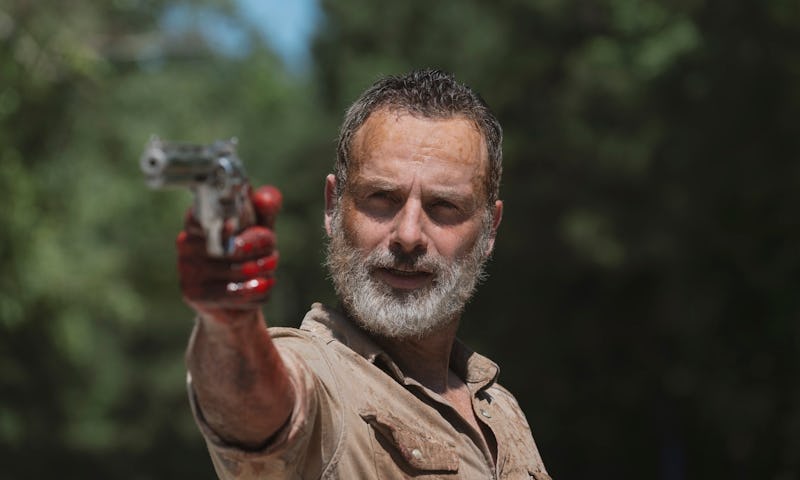 Jackson Lee Davis/AMC
So, Rick Grimes is still alive. What happens now? Walking Dead fans who had been dreading the character's impending departure from the show (originally expected to play out by way of Grimes' fictional demise) will be excited, and probably a little relieved, to learn that Andrew Lincoln will return as Rick Grimes for the Walking Dead original movies, according to a handful of reports, the first of which came from Entertainment Weekly.
On Sunday night, Nov. 4 — not long after the current season's fifth episode, appropriately titled, "What Comes After," aired on AMC — the network announced that it's developing a series of Walking Dead spinoff movies, according to Entertainment Weekly's new report. And, for all those Walking Dead audiences who weren't ready to say goodbye to the show's time-honored lead character: You're in luck. Per EW's conversation with the Walking Dead's chief content officer, Scott Gimple, the films will see Lincoln's Grimes in the starring role once again, so it sounds like fans won't have to worry about farewells for at least a few years yet.
"We are telling Rick's story in another medium, and it's going to be these AMC Studios original films," Gimple told EW, adding that the upcoming spinoff projects are "going to tell the story of what happens after that big helicopter flight."
Viewers watched that helicopter take off with Grimes in tow Sunday night, wrapping up the Walking Dead's most recent episode. (Which, for the record, also wrapped up Lincoln's nine-season stint on the series.) Most fans were expecting Grimes' departure from the series to go hand-in-hand with the character's onscreen death. Of course, a little more than 12 hours later, those fans know Grimes didn't actually die during Sunday night's Walking Dead episode.
And, after parsing through Gimple's recent comments on the Walking Dead spinoff movies, it sounds like the networks' decision to hang onto Lincoln's character a little bit longer was for good reason. But, while Grimes clearly still has a ways to go before his turn at AMC is through, Gimple emphasized to EW that the character's inclusion in the upcoming spinoff films still doesn't mean audiences should expect to see his return to the Walking Dead. He told the outlet,
"It is really important for the audience to know that we are going to be continuing to tell the story of Rick Grimes in these AMC Studios original films. We don't want this thing to be like, 'Oh, well, he'll be back on the show any moment now.'"
Again, like Gimple explained in his conversation with EW, AMC's upcoming spinoff films will focus primarily on Grimes' independent journey through the Walking Dead universe, rather than depending on those narratives established by the TV series. (Think: Better Call Saul format, just not a prequel.) And, according to a similar report from Variety, published Sunday evening, the network will have lots of time to develop those newfangled Grimes-centric storylines. Why? Per the magazine's report, Lincoln has been contracted to reprise his role as Grimes in "multiple" feature-length spinoff films currently in development at AMC.
As Gimple told Variety for its Sunday report, the first of these original Walking Dead spinoff films could enter its production stages as early as next year. (Though, as he told EW, "[The films] are going to be big, so they're going to take a minute to make.) Gimple explained to Variety that each forthcoming film will build upon the narrative established by the previous installment, hopefully in an effort to "break new ground with different, distinct stories, all part of the same world that's captured our imagination for nearly a decade of the Dead."
Gimple went on to say that, while the films will see an influx of new characters and "yet-unseen" worlds within the Walking Dead universe, the spinoff series' first installment will center on "the continuing story of Rick Grimes." So, whenever that first iteration eventually comes to fruition, it seems most Walking Dead fans (especially those who've been longstanding fans of Lincoln's character, in particular) will be duly eager to find out how the rest of his story unfolds.