'The Walking Dead' Released 3 Wines Inspired By Badass Women On The Show — And One Is Rosé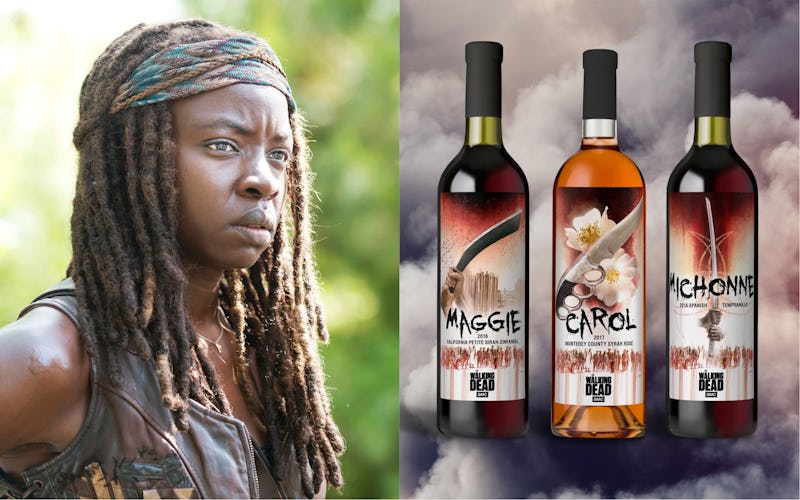 AMC, The Walking Dead; Lot 19
Whether you're looking to pour one out for your favorite fallen characters or you're simply seeking a particularly ~*undead*~ way to get tipsy, the new The Walking Dead-inspired wines are for you. In partnership with AMC, Lot18 has created three wines paying homage to three of the most badass women from The Walking Dead TV series: Carol, Maggie, and Michonne. And if you know or care very little about the show, perhaps you will be spiritually awakened by the word "rosé." What I'm saying is one of the wines is a rosé and if you say "rosé" at least three times, it brings a millennial to life.
The trio of wines is available for $59 on Lot18's website or $19.67 if you just want one of the three bottles. While perhaps a little pricier than your Trader Joe's $2.99 pinot grigio, these limited-edition wines are perfect for any die-hard (pun fully intended) fan of The Walking Dead. Plus, is your grocery store red designed to fill you with the strength and valor of Michonne's katana? Probably not.
Lot18 describe's Michonne Spanish Tempranillo's as "vibrant and gutsy," adding that the drink is as badass as the character it's named after. The Maggie California Petite Sirah-Zinfandel is described as "robust, dependable and easy to love, much like Maggie herself." Finally, the Monterey County Syrah Rosé named after Carol is designed for "quenching your thirst and sense of adventure." Or, if you know very little about wine, there's a red one, an even redder one, and a pink one. They will likely pair well with your favorite cheese or pizza and binge-watching the most recent season of The Walking Dead.
While you await the season nine premiere of The Walking Dead in the fall, there are plenty of zombie-inspired food, drink, and decor to keep you company. Perhaps you can sip on your Carol Rosé while cooking something out of The Walking Dead cookbook. Released in fall on 2017, The Walking Dead: The Official Cookbook and Survival Guide boasts as many meat-inspired recipes as you might expect from a show about people eating people. However, you can also chow down on recipes like Maggie's Forkless Apple Pies, which I'm guessing it's safe to assume pair well with Lot18's red blend named after Maggie.
You can also sip on your Spanish Tempranillo in honor of Michonne while paging through The Zombie Survival Guide: Complete Protection from the Living Dead. Listen, I'm not saying the zombie apocalypse is for sure, for sure a thing. But if it is, I want to go into it fully prepared and also probably a little bit tipsy. Do zombies dislike the taste of drunk human? Probably, right?
There are also plenty of other The Walking Dead-themed gifts and goods to keep you company while you await the return of the series.
Who's to say whether wine will be beneficial in a zombie apocalypse—again, I'm going to lean toward "yes." However, some research suggest wine has health benefits for our non-zombified brains. In addition to tamping down inflammation, low levels of alcohol consumption can "[help] the brain clear away toxins, including those associated with Alzheimer's disease," according to one study published in February of this year. Another study suggests that red wine may help slow down the aging process, keeping our hearts and brains young.
Wine keeps our brains healthy and young? While I'm no doctor or expert of the undead, I'm interpreting those results to mean that wine is either the perfect zombie repellent…or it's what's making our us delicious to zombies. I'm leaning toward the former.
And if you can keep your brain healthy and do it in a way that channels Michonne, Maggie, and Carol? All the better.