These Are The 4 Women Kim Jong Un Brought To The Summit With Trump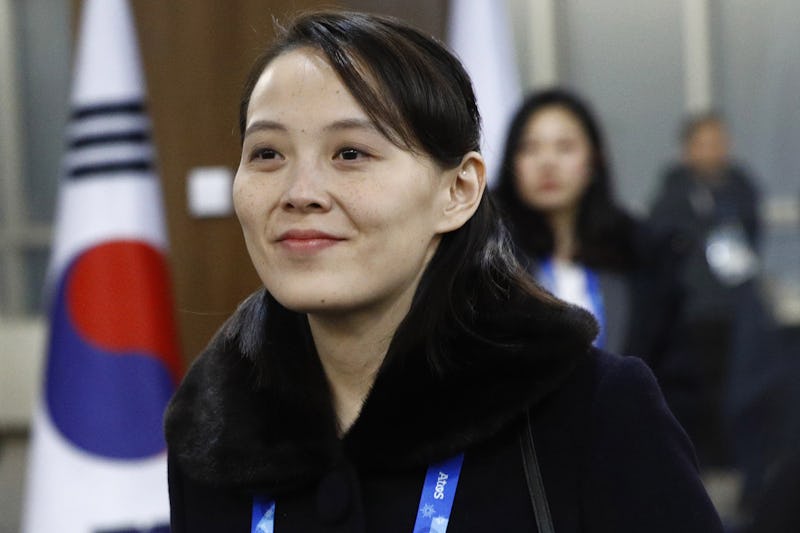 Pool/Getty Images News/Getty Images
The historic summit between North Korea and the United States is under way in Singapore. And while much fanfare was paid to the initial handshakes between President Donald Trump and his counterpart, they're not the only ones at the summit. As both sides approach the negotiating table, North Korean leader Kim Jong Un brought at least four women, including his own sister, to bolster his side.
Kim brought his sister Kim Yo Jong, diplomat Choe Son Hui, singer and politician Hyon Song Wol, and United Front Department director Kim Sung Hae, according to the Associated Press. The presence of these four women is intriguing, but some speculate that their participation could be a strategy primarily intended to impress other world leaders and change how they perceive North Korea.
"One thing the casual observer of North Korea sometimes forgets is that the North Korean regime does have a genuine desire to be seen as a legitimate player within the international community," Sarah Son, research director of Transitional Justice Working Group, an NGO based in South Korea, tells Bustle in an email. "Gender balance in national politics is of growing importance in many countries throughout the world and North Korea does want to be seen as keeping with the times."
Kim Yo Jong is the North Korean leader's younger sister (and one of at least four but maybe six siblings). She works as an official in the Workers' Party office responsible for propaganda, according to wire service. Because the country's line of succession is clouded in secrecy, it's not official, but the Associated Press reported that some experts think she is second in command in the country. The wire service reported that she even took a separate transport from her brother to the Sentosa Island summit in case of an accident.
Kim Yo Jong was also her country's public representative at the Winter Olympics in South Korea in February. NBC News reported that she delivered an invitation of detente to South Korean President Moon Jae-in while at the Olympics. And in April, she was the only woman at the North and South Korea summit.
As for Choe Son Hui, she's the highest-ranking female diplomat in the country, according to the Associated Press. She's also worked as an English-language interpreter for a delegation at previous nuclear disarmament talks, according to the wire service. She was tasked with meeting with senior American diplomat Sung Kim at the Ritz-Carlton hotel on Monday to finalize the summit's preparations.
Hyon Song Wol, meanwhile, is a singer and politician. She's the leader of Moranbong, North Korea's immensely popular girl group, and was also the leader of an art troupe sent to the Winter Olympics in February, according to the Associated Press. In fact, Hyon Song Wol's appearance at the Olympics caused quite a stir for a pretty wild reason. A 2014 report from The New York Times said there were rumors that Hyon Song Wol had been executed by the state, which by that time was led by Kim, who is supposedly her ex-boyfriend. But when she turned up at a performance to honor Kim for his "heavenly trust and warm care" for performing arts, everyone acknowledged that the musician was alive.
Kim Sung Hae, the fourth woman who accompanied Kim at the summit, works as a department director at the United Front Department in North Korea, the Associated Press reported. The department handles relations between the two Koreas. She also attended the Monday planning meeting at the Ritz-Carlton.
At first glance, North Korea looks progressive for including significantly more women in the summit than even the Trump administration did. But some Korea policy experts are far from convinced.
"Women are still discriminated against in North Korea, despite North Korea's claims to the contrary," Amanda Mortwedt Oh, a project manager with the Committee for Human Rights in North Korea, tells Bustle in an email. "We can look to the numbers of North Korean escapees, approximately 80% of whom are women, as an indicator that women are the ones having to flee the regime."
According to USA Today, the South Korean government put that number of female escapees even higher, at 85 percent as of 2017. Women are also reportedly significantly lower in social status, USA Today reported, and in November 2017, a United Nations group revealed that women are deprived of education and work opportunities. Ultimately, Mortwedt Oh points out, "I think it's important to note that no matter the number of women we see at the summit, they are there for the sole purpose to support the Kim regime."
Angela Chen contributed to this report.