There Has Been Almost One Mass Shooting Per Day This Year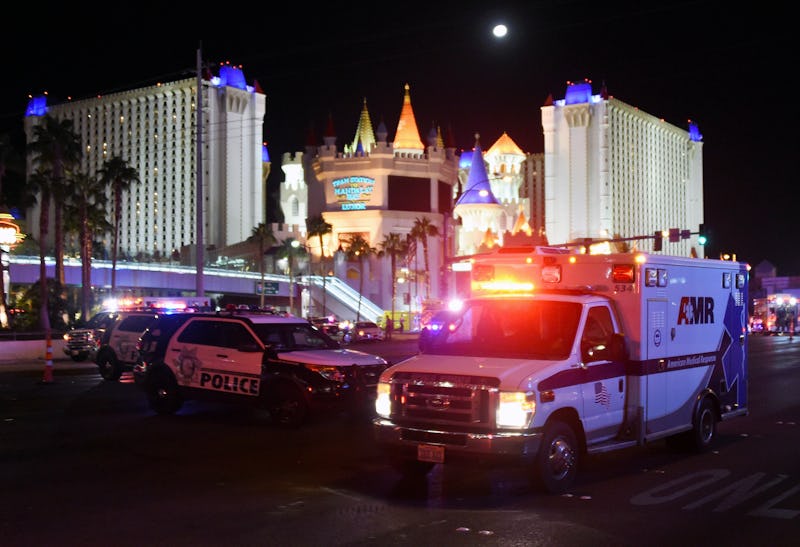 Ethan Miller/Getty Images News/Getty Images
If it feels as though 2017 has been stuffed with headlines reporting tragic events at the hand of a gun, that's because it unfortunately has. The latest shooting in Nevada raises the tragic number of mass shootings in America to 273. To put that number in horrifying perspective: We're currently at 275 days into 2017.
Since the massacre at Columbine High School, which claimed the lives of 13 people, the media has been quick to detail mass shootings as they unravel. And with every new shooting in a public forum, another location once perceived as a safe place is tarnished by an evil, thoughtless act. Going to high school, sending your child off of the school bus, attending a movie, participating in your church, walking to class on your college campus, and embracing a night out with friends are a few examples of normal social practices that are now accompanied with second thought.
In the late hours of Oct. 1, 2017, 22,000 innocent concert goers at the Route 91 Harvest festival along the famed Las Vegas strip were victim to a shower of bullets raining from the 32nd floor of the Mandalay Bay Hotel. The shooter claimed a reported 58 lives and caused injury to over 500 people.
The harrowing statistic was tweeted earlier today.
While the term "mass shooting" is defined differently across organizations, the Gun Violence Archive reports shootings considered as mass where four or more people involved have been inflicted. The archive describes itself as a "not for profit corporation formed in 2013 to provide online public access to accurate information about gun related violence in the United States." The data they have collected so far in 2017 alone takes up 11 pages and starts on Jan. 1 with a shooting injuring seven in Miami, Florida.
The FBI has no official definition of "mass shooting," instead defining "mass murder" as "generally ... described as a number of murders (four or more) occurring during the same incident, with no distinctive time period between the murders," under their Stats & Services section of a Serial Murder. Mother Jones operates on a looser definition of the term which doesn't include, "crimes that are primarily related to gang activity, armed robbery or domestic abuse," as reported by the Huffington Post. That would bring their data of mass shootings in 2017 to seven.
Regardless of the official or unofficial definition of a "mass shooting", there have been approximately 273 shootings in which four or more people involved in the incident have been affected in 2017 alone. That should be an unimaginable reality to all of us. It is an unacceptable number.
According to the Law Center to Prevent Gun Violence, 117,000 Americans are shot every year. And it costs our economy $229 billion dollars a year, "including $8.6 billion in direct expenses such as for emergency and medical care," as reported in Mother Jones in 2015. We can work to make sure that by the 365th day of 2017 there is no number of shootings that numerically matches.
Nobody should fear a proposed date out to the movies or choose not to attend a party or any rendezvous in a large, public space for that matter. It won't be enough to promise that an event as nauseating as this won't happen again.
Condolences don't bring people back. It's action that will keep the number of shootings rippling through the United States in recent years significantly lower than the days they tend to match.
In an effort to make change, Democrats have quickly called for tighter gun laws. The Brady Campaign is an organization with a mission to "create a safer American by cutting gun deaths in half by 2025." You can learn how to donate to their cause and take action against gun violence through their website. You can also learn how to donate to reputable organizations working to decrease violence caused by guns here.