These 2018 Christmas Movies Are Pure Magic — Literally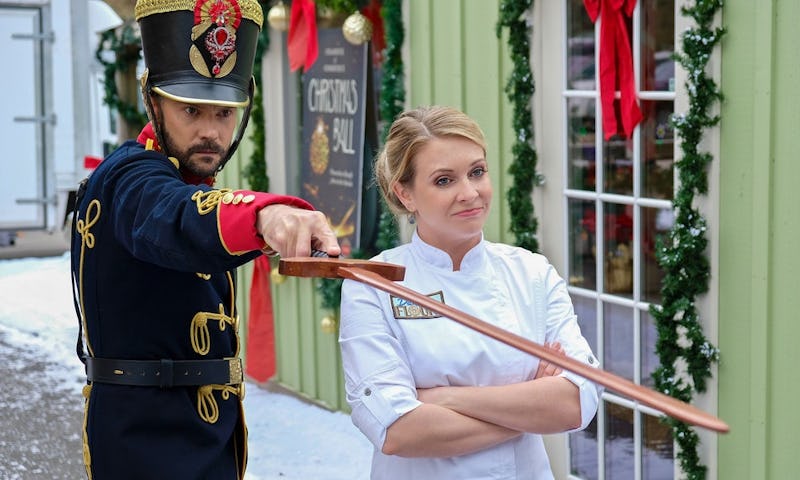 Lifetime
One of the great things about any given holiday season is hunkering down with some delicious hot cocoa and watching a wide range of Christmas movies. Of course, there are the usual classics to look forward to, such as It's A Wonderful Life and How The Grinch Stole Christmas, but there are also a handful of new movies this year that are well-worth your time — especially the ones that involve a magical aspect to the story. Because let's face it, Christmas movies with magical plots are especially fun to watch during this time of the year, and 2018 did not disappoint with delivering some truly magical gems to add to your list of holiday movie staples.
Whether you're a lover of all things Netflix or prefer to spend your time on cable networks such as Lifetime or Freeform, these platforms have done an excellent job in providing top-notch Christmas entertainment this year with a few magical twists thrown in for good measure. So if you're in need of a little extra holiday cheer or just a reminder of how truly magical this time of the year can feel, check out these must-see movies below that are guaranteed to lift your spirits and make you believe that anything is possible.
A Very Nutty Christmas (Lifetime)
Melissa Joan Hart definitely has some experience dealing with magic after her many years of playing Sabrina Spellman in Sabrina the Teenage Witch, which is why she was practically destined to star in this new Lifetime Original. Hart plays bakery owner Kate Holiday (you know, in case you couldn't already tell this is a Christmas movie), who is so worried that she won't be able to complete all of the Christmas cookie orders this year that she makes a wish on a magical ornament (as one does), asking to be sent some help. The next morning Kate awakens to find her wish has been granted in the form of a handsome nutcracker named Chip (played by Barry Watson) who is ready and willing to get to work. Could love potentially bloom between these two? What kind of Christmas miracle would it be if it didn't?
The Holiday Calendar (Netflix)
When Abby (Kat Graham), a struggling photographer inherits an antique Advent calendar that once belonged to her grandmother, she soon realizes that there's more to this thing than meets the eye. In fact, the calendar seems to predict her future, which could very well include an epic romance.
Every Day Is Christmas (Lifetime)
Inspired by the Charles Dickens classic A Christmas Carol, Toni Braxton plays money manager Alexis Taylor, who is a total "bah humbug" when it comes to love. That is, until she gets paid a visit by the spirit of Christmas, who takes her on a journey through her romantic past, present, and future to help remind her that love is the richest gift of all. (Sadly, it doesn't look like Tiny Tim will be making a cameo.)
The Santa Chronicles (Netflix)
Kurt Russell as Santa Claus? Need we say more?
No Sleep 'Til Christmas (Freeform)
Real-life married couple Dave Annable and Odette Annable star as two strangers who quickly come to realize that the best night's sleep that they can get is with each other. But will this platonic sleeping arrangement eventually morph into something more? You'll just have to tune in to find out.
Life-Size 2 (Freeform)
This follow-up sequel to the original Life-Size movie is just as magical as the first. That's mostly due to Tyra Banks and the magical touch she brings to everything she's involved in.
Ready for some Christmas movie magic? Then grab your cuddliest blanket and queue up one of these new classics.