This Lifetime Christmas Movie Stars A '7th Heaven' Alum & A Former Teenage Witch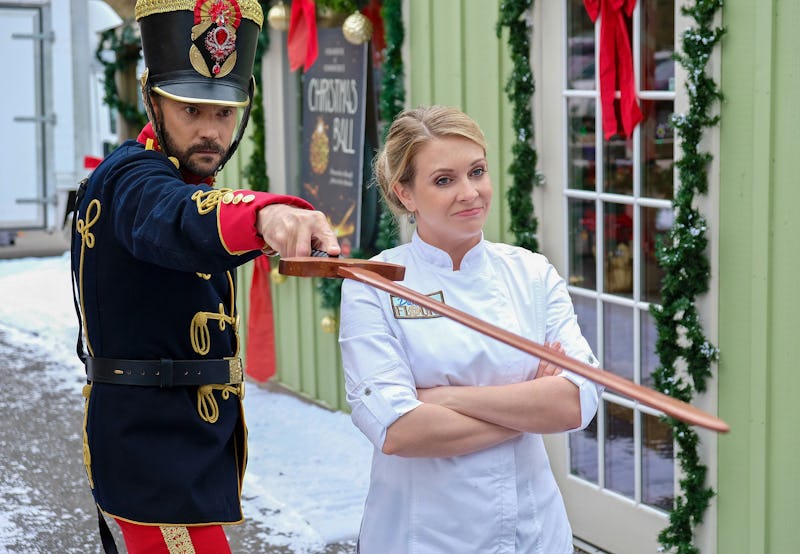 Lifetime
Take Disney's Enchanted, but instead of a fairy princess make it a fashionable Nutcracker who comes to life, and instead of inspiring true love, make it helping a frenzied baker get through the holidays. Put that together, and you've got Lifetime's A Very Nutty Christmas starring Melissa Joan Hart and 7th Heaven's Barry Watson. Not only is the Holiday movie perfect '90s nostalgia, based on the trailer, it has got to be one of the weirdest Christmas movie of 2018.
Like so many Christmas movies, A Very Nutty Christmas begins with a wish and then a little magic. Hart plays bakery owner, Kate Holiday — yes, that is her real name — who is worried she won't be able to fill her Christmas cookie order, so she wishes on a nutcracker. You know, like one is wont to do around the holidays. The next morning, Chip (Watson), a handsome nutcracker, shows up very much alive and ready to work.
"Christmas is magical," Chip proclaims in the trailer. "It's a time where anything can happen." Including a love affair between a baker and an actual nutcracker that is head to toe dressed in a toy soldier's uniform like it's totally normal.
Now, most Christmas movies ask you to suspend all disbelief in hopes of getting in the holiday spirit, but A Very Nutty Christmas wants you to believe that Kate falls in love with Chip, who again, is a nutcracker come to life. And not just any nutcracker it turns out, but possibly the Nutcracker Prince from Tchaikovsky's The Nutcracker. So he's kind of a famous nutcracker, which I guess ups his cache? IDK, it's kind of hard to wrap your head around this one.
It's safe to say this movie is nuttier than a fruitcake, but let's bet that when it premieres on Friday, Nov. 30, there's a whole lot of people who will be happy to sit down and watch this Lifetime holiday movie. Honestly, I'll probably be one of those viewers who's got this flick on repeat for all 25 days of Christmas. Based on the trailer, it definitely has the potential to be this year's Christmas Prince, a Twitter sensation that was so bad it was good. (Yes, A Very Nutty Christmas could even take the crown from a new Christmas Prince sequel coming to Netflix the very same day.)
Honestly, this new Lifetime Christmas movie seems like the perfect watch of the season, and here's why: 2018 has mostly been trash so why not try and enjoy what's left of it with what has to be the most bonkers Christmas movie of the year. "I'm here because we need each other," Chip tells Kate in the trailer, and perhaps, us, the viewers, who maybe also need a nutcracker boyfriend to help them get through this terrible, horrible, no good, very bad year. Plus, who doesn't want to watch two '90s television icons fall in love and bake cookies?
If you're looking for your holidays to get a little more fun, then A Very Nutty Christmas is the movie for you. And while it's definitely a tough nut to crack, you're gonna want to try. Likely with a hot chocolate that's been heavily spiked so that you can let yourself fall in love with this Nutcracker Prince just as Hart does.