These Aretha Franklin Lyrics Will Help Fans Remember Her Iconic Spirit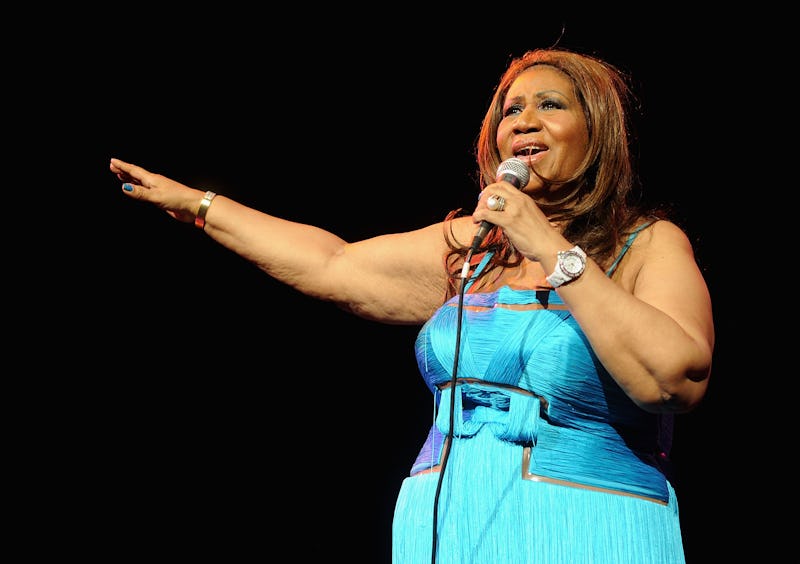 Jamie McCarthy/Getty Images Entertainment/Getty Images
Following the upsetting news that Aretha Franklin has died at age 76 there has been an outpouring of appreciation for the singer on social media — and understandably so. And if you're a fan searching for Franklin's best lyrics to remember her by, there's no need to look any further. Granted, this list only encompasses some of Franklin's most-standout verses, since there have been so many throughout her over 50-year career in the music industry. During the past five decades, Franklin, who has long been dubbed "the Queen of Soul" earned 18 Grammys, and was nominated for 44 in total due to her contributions to music. Her undeniable talent, which was showcased on classics hits such as "Think," "(You Make Me Feel Like) A Natural Woman," "Until You Come Back to Me (That's What I'm Gonna Do)," "I Say A Little Prayer," and "Chain of Fools," quickly turned her into a household name as she broke into the music scene during the late '60s and early '70s.
Amidst her long career, Franklin had over 100 singles to appear on the Billboard charts, including 77 Hot 100 entries, 17 Top 10 pop singles and 20 No. 1 R&B hits, making the most-charted female artist in the listing's history, according to The New York Times. The singer made strides in entertainment for both women and African-Americans in general. "Respect," which arguably became her most-popular song, turned her into a champion for women's rights while also helping to shape the civil rights' movement of the 1960s. Elle notes that Franklin had it written into her contract that she would never perform for a segregated audience. Continuing to carry a torch for female empowerment, Franklin teamed up with British music duo Eurythmics in 1985 to release the feminist anthem, "Sisters Are Doin' It For Themselves." And just two short years later, she would become the first woman inducted into the Rock & Roll Hall of Fame in 1987.
As the diary of her many accolades, Franklin's extensive music catalog shares the lifelong tale of a people's champion, who through her music inspired and helped many along the way. Her story, told through many of the lyrics listed below, will undoubtedly remain engrained in the hearts of fans around the world forever.
1. "For five long years / I thought you were my man / But I found out I'm just a link in your chain"
In her 1967 classic "Chain of Fools," Franklin realizes that she, for far too long, has been in an unfaithful relationship and needs to break the cycle.
2. "R-E-S-P-E-C-T / Find out what it means to me / R-E-S-P-E-C-T / Take care, TCB"
Franklin was absolutely no nonsense in "Respect." The anthem, which debuted in 1967, became a huge symbol for both the women's and civil rights movements. The strong lyrics reminded the world how all people deserve to be treated and quickly turned the Detriot native into a household name.
3. "Looking out on the morning rain / I used to feel so uninspired / And when I knew I had to face another day / Lord, it made me feel so tired / Before the day I met you / Life was so unkind / You're the key to my piece of mind / Because you make me feel / You make me feel / You make me feel / Like a natural woman"
On "(You Make Me Feel Like) A Natural Woman" the singer shared the inspirations of falling in love and how it brought her peace in life.
4. "The moment I wake up / Before I put on my makeup / I say a little pray for you / While combing my hair now / And wondering what dress to wear now / I say a little prayer for you"
Franklin returned to her gospel roots on "I Say a Little Prayer," belting out a rendition of Dionne Warwick's classic in which the lyrics speak of praying for the love of her life above all else.
5. "Now this is a song to celebrate / The conscious liberation of the female state / Mothers, daughters and their daughters too / Woman to woman, we're singin' with you / The "inferior sex" got a new exterior / We got doctors, lawyers, politicians too / Everybody - take a look around / Can you see, can you see, can you see / There's a woman right next to you"
In her duet with Eurythmics singer Annie Lennox "Sisters Are Doin' It For Themselves," Franklin celebrated the power of women.
6. "A rose is still a rose / Baby girl, you're still a flower / He can leave you and then take you / Make you and then break you / Darlin', you hold the power"
Franklin's "A Rose is Still a Rose," which debuted more than 40 years into her career, offered a bit of feminist advice to younger women, reminding them that they ultimately hold the "power."
7. "When the river was deep I didn't falter / When the mountain was high I still believed / When the valley was low it didn't stop me / I knew you were waiting / Knew you were waiting for me"
"Knew You Were Waiting (For Me)" was a Grammy Award-winning hit that became one the biggest successes of Franklin and the late George Michael's respective careers. While the lyrics were written back in the late '80s, they seem to feel extremely appropriate today as we mourn the loss of Franklin, who had reportedly been battling an illness for quite sometime before her death.
While she may no longer be present on earth, Aretha Franklin's spirit, soulful artistry and musical messages will live on for eternity.