These Atlanta Falcons Memes & Other Funnies Will Get You Ready For The 2017 Super Bowl
Tom Pennington/Getty Images Sport/Getty Images
Super Bowl 51 is going to grace your TV screen's this Sunday, Feb. 5, from the NRG Stadium in Houston, Texas. One of the best parts of the Super Bowl is the mad trash-talking and team camaraderie that takes place, perfectly celebrated by these Atlanta Falcons memes, GIFs, and videos. (Another awesome part of this epic day is the Super Bowl halftime performance, and Lady Gaga is SO going to crush it — again.) This week, the Falcons will face off against the New England Patriots in what's sure to be a nail-biter.
Falcons fans are feeling confident this year, and they have a good reason to be. The team is considered by many to have the best offense in the NFL, both currently and ever in history. They've led the NFL in scoring this season, with about 33 points per game. Coach Dan Quinn is a risk-taker and knows how to play his team's strengths and weaknesses. While his gambling leaves some people nervous, he does have certain advantages over more conservative and traditional coaches.
The Falcons have seen a lot of success over the years, but the Patriots are sure to put up a good fight. To get you in the Super Bowl mood and celebrate your Falcons fandom, here are some humorous memes and whatnot to honor Atlanta's pride and joy.
1

That Time The Falcons Beat The Seahawks

Atlanta went up against Seattle and won 36-20. Ouch.
2

... And The Panthers

Carolina lost 33-48 back in October. That one hurt so good.
3

Get It?

Because Steve Harvey announced the wrong Miss Universe? Hardy har.
4

When The Falcons Brought The Buccaneers Down To China Town

'Twas a good day.
5

Would You Like Some Salve For That Burn?

Bye-bye!
6

Not A Funny Meme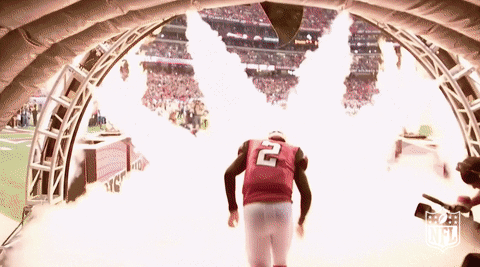 Just cool as heck. I want this kind of entrance every time I walk into the kitchen to do dishes.
7

The Tiniest Falcons Fans Of All

Check out that little girl who makes her way to the front, like, "I GOT THIS."
8

You Wish You Had Moves Like This

So jealous. Falcons owner Arthur Blank has some serious rhythm.
9

You Will Never Be Arthur

A valiant effort, friends, but there can only be one.
10

Loyalty To Your Team

You know things are serious when they stop selling certain brands of beer.
9

And Finally...

It's a joke. Relax.