These Tributes To Toni Morrison Are A Reminder Of How She Inspired So Many People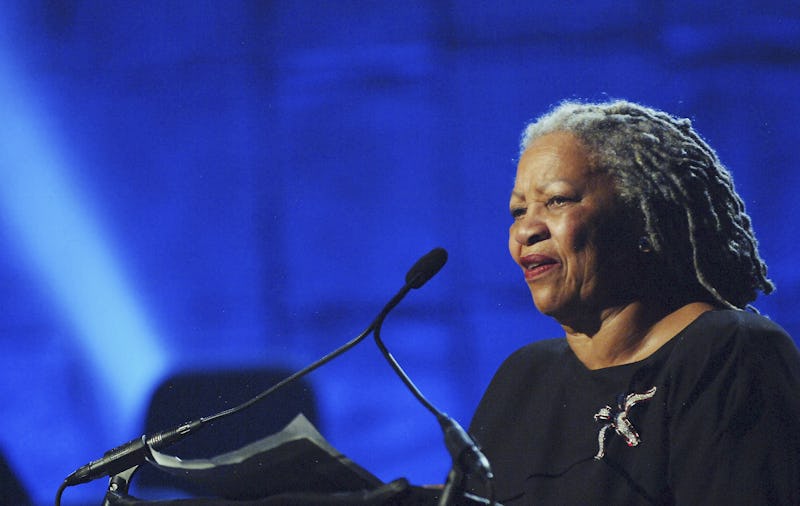 Brad Barket/Getty Images Entertainment/Getty Images
Nobel Prize and Pulitzer Prize winning author Toni Morrison has died at the age 88. Her work spanned decades and produced 11 novels — her first novel, The Bluest Eye, was published in 1970 when Morrison was 39 — and other works, including her 2019 collection of essays and criticism, The Source of Self-Regard. Throughout Morrison's prolific career she garnered many prestigious awards including the Nobel Prize, the Pulitzer Prize, the National Book Foundation's Medal of Distinguished Contribution to American Letters, the Presidential Medal of Freedom, and the American Academy of Arts and Letters Gold Award for lifetime achievement.
But beyond these accolades, Morrison has gained a long list of devoted readers who have long considered her one of America's greatest writers. Her work, which was known for centering Black people, and in particular Black women, has inspired generations of writers and creatives who look to Morrison's words of wisdom and her unapologetic takes on racism and inequality in America to fuel their own creativity and activism. When news of the beloved author's death spread on social media, many public figures and writers — including Barack Obama, Beverly Jenkins, Jason Reynolds, Hanif Abdurraqib and Danez Smith — shared tributes to the woman who has given them, and all of us, so much.
Author Roxane Gay, known for books including Bad Feminist and Hunger took to Twitter to speak on Morrison's incredible contributions to literature, writing, "RIP Toni Morrison. This is a devastating loss to the world of words, to our understanding of power and it's reach, to the cultivation of empathy, to rich, nuanced, elegant storytelling. Her work was a gift to every one who had the pleasure of reading her."
While author Angie Thomas, known for massively popular YA novels The Hate U Give and On the Come Up, spoke to Morrison's legacy as a powerful figure of hope and inspiration. On Twitter she writes, in part, "There are some people we assume are immortal. But the truth is their spirits are so powerful, this world can't fully recognize them."
It is clear from the outpouring of remembrances and tributes that Morrison will remain an eternal figure of literary excellence, creative inspiration, and hope in the face of darkness.
As Ashley C. Ford, author of the upcoming memoir, Somebody's Daughter, wrote on Twitter, "That was the gift. Her writing spoke to the potential of any writer in any language. If her books could make you feel the way they made you feel, then surely, there must be others out there somewhere. A spark of curiosity grown to an ultimate creative flame. She set me on fire."