Why 'Bachelorette' Fans May Want To Be Wary Of Rooting For Colton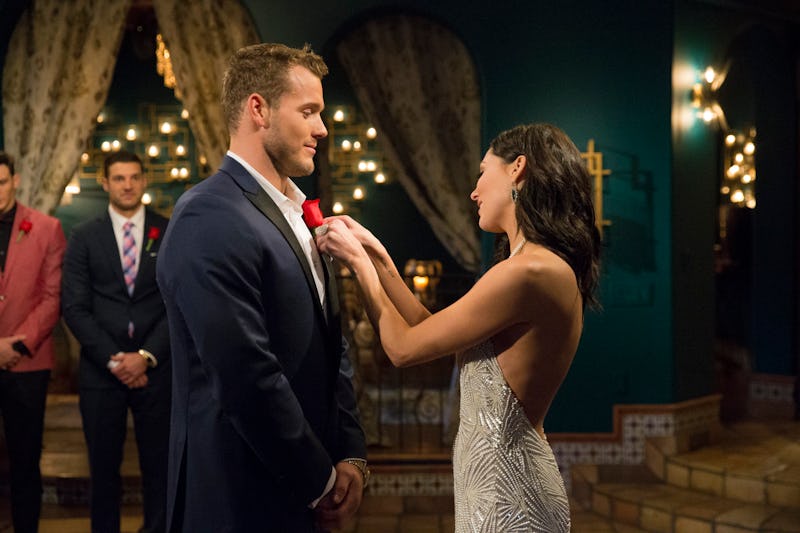 Paul Hebert/ABC
Becca is halfway through her #journey to find love, and the competition is getting fierce. When the two-on-one is over on Monday, most of the "just here to make drama" contestants will probably be but distant memories. But does Colton still fall into that group, or has he been able to shake his past with Tia and really make a play for Becca's heart? The clues that Colton wins The Bachelorette are definitely out there if you look for them, but don't get your hopes up too much.
The biggest clue that Colton wins is that Becca kept him at all. After he revealed to her that he'd had a brief relationship with her friend Tia, Becca was unsure if Colton was really there for her or if he'd joined the show hoping Tia would be the Bachelorette. After chatting with both Tia and Colton about the situation, Becca decided to stick things out.
If I found out that my suitor had previously dated one of my friends, I would have cut him loose FOR SURE, but to each their own. It shows how strong Becca's feelings are for Colton that she was willing to let his past go to further explore their relationship. If they can overcome something like that early on in their relationship, they can certainly go the distance.
In her Bachelorette blog for People, Becca further explained her intense attraction to Colton.
"The first thing I wanted to do [when I found out about Tia] was send him straight home. But the fact of the matter is I was really drawn to Colton for reasons other than just our chemistry and how impressed I was with his charity for Cystic Fibrosis. I felt like there was an invisible pull, something that in my gut told me to not discount our spark."
That unexplainable attraction and pull is actually what Arie kept saying he felt with Lauren last season. He couldn't explain or make sense of his feelings, but he knew it was right. As Arie once wrote in his own People blog: "In life, sometimes you're just pulled to certain people ... Even if I couldn't quite explain why, I was falling in love with Lauren."
Let's just hope if Becca feels herself continuing to feel that way for Colton, she chooses him the first time around and saves someone else from the post-show dumping she got.
As for other clues that he can go the distance: Becca has talked again and again about how impressed she is by Colton's charitable ventures. She told Entertainment Tonight:
"Colton, night one, I remember thinking how big of a heart he had. What really drew me to him that first night was the fact that he had started a nonprofit [for Cystic Fibrosis], and that's something near and dear to my heart because two of my cousins have it. So night one, I felt like we really connected over that"
She added, "And he's easy on the eyes." Clearly Colton had the heart (and looks) to draw Becca in. It remains to be seen if that will be enough to carry him through to the end. But it certainly can't hurt.
Additionally, her words about Garrett's Instagram scandal can also be applied to Colton's history with Tia. Becca told ET: "I want viewers to be open to everyone, and I want them to go through this season with me, and watch my love story unfold with all of these men, because that's how I went into this journey."
Sure, he may have dated her friend, but as he claimed, that was one weekend in January — his heart could really be in it for Becca.
Unless, you know, something goes terribly awry...
Potential Spoilers Ahead, Proceed With Caution:
On June 15, former Arie contestant (and Becca's friend) Bekah tweeted a picture allegedly taken from the filming of this season's Bachelor in Paradise. It appeared to show Tia sitting in Colton's lap.
Reality Steve also tweeted that picture (plus some snaps of Tia's friend Raven joining Colton and Tia) claiming that they were taken during a June 13 date on Paradise.
This came right after the episode where Colton assured Becca he was over Tia, so if the pictures indeed come from a post-Bachelorette date, that makes what he told Becca at best a mistake and at worst pretty shady. Perhaps he was eliminated from Becca's season and only then realized he still had feelings for Tia. Maybe he had feelings for her all along.
Whatever the case, it doesn't really seem like Colton wins Becca's season if it's to be believed that this photo was snapped during Paradise. Bachelorette winners don't just hop on over to the next show if they're happily in love with the leading lady.
So, sorry Colton/Becca believers, their love just doesn't seem to be in the cards. But hey, you can always root for Colton and Tia!