Sorry 'Bachelorette' Fans, All These Clues Point To Garrett Winning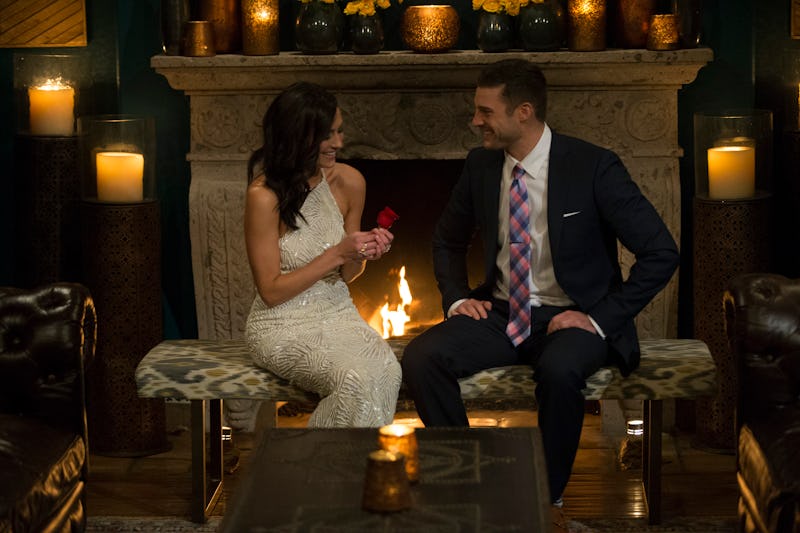 Paul Hebert/ABC
There have only been three episodes so far this season, but since fans already know Becca gets engaged at the end of The Bachelorette, everyone has been eagerly trying to guess who she picks to be her fiancé. Things quickly got complicated when Garrett became a Bachelorette frontrunner, since he's come under fire for reportedly liking several offensive Instagram posts. (They ran the gamut from anti-feminist to transphobic to speculating about school shooting conspiracies.) He's since apologized in a lengthy Instagram post, but many fans haven't forgiven him. So, they may be disappointed to see all the clues that Garrett wins The Bachelorette (and Becca's heart).
This far into the season, the competition has really started to heat up. We're already down from 28 men to 17, and viewers can see more clearly who Becca is really drawn to (and who she isn't feeling so much). Both she and the audience have had time to get to know the men and make some judgements about whether they're a good fit for her. People have picked favorites and are waiting to see if their choice is Becca's as well. How does Garrett stack up? Instagram posts aside (because she probably didn't know about those while filming), these eight signs point to Becca picking Garrett in the end...
1. She Loved His Limo Exit
Technically, Garrett showed up in a minivan, not a limo — packed full of toys for his future kids — in an attempt to show Becca that he would one day be a great dad. And she was all about it, both in the moment and when looking back on it. She told Entertainment Tonight, "It reminded me a little of what I did last year, making Arie get down on one knee and joking about getting engaged. I liked that Garrett could be lighthearted and laugh about the future about being a dad and having the minivan."
If she's still that enamored with his entrance, that's a good sign for him.
2. She Also Loved His Fishing Tutorial
Later in the evening, Garrett appealed to Becca's midwest nature-loving self and gave her a fly fishing tutorial. "It reminded me so much of home and it reminded me of my dad," Becca said of the moment to ET. That sense of comfort she gets from Garrett could mean she picks him in the end.
3. He Got The First Impression Rose
That all-important first rose went to Garrett, and Becca reflected on the moment in her People magazine blog, writing, "I really wanted it to go to someone special and who not only made the night fun, but who I could potentially see a growing relationship." She added: "I knew he'd be someone I hoped would be around for a while." Perhaps "a while" ended up being the whole season?
4. He Got The First Impression Rose... After She Learned How Much It Means
Not only did Garrett score the first rose, but Becca knew the weight of that rose since she'd met with former Bachelorettes JoJo, Kaitlyn, and Rachel earlier in the premiere. They told her that all three of their first impression rose winners went on to win the whole thing — so Becca knew going in that it was way more than just a rose. It's likely she gave it to someone she saw potentially ending up as her husband.
5. They're About To Have A Date
A preview clip of Monday's episode makes it seem like Garrett's about to have his first one-on-one, and Becca speaks so highly of him. "He just makes me feel like I can be me and be my goofy self ... because he's kind of the same way." If Becca's recognizing similar traits in herself and in him, that bodes well for his future.
6. She Had An Interesting Response To His Instagram Scandal
According to ET, Becca's response to Garrett's Instagram likes was to plead for viewers to "be open to everyone." This is a marked difference to how Rachel responded when Lee had an offensive social media presence — she totally called him out. Instead, Becca is letting Garrett off pretty easy.
"I can't fault anyone for what they believe, and who's to say that anything that anyone likes is truly what they believe in if they just double tap?" she told ET. "I can't speak to that because it's not me. I am a strong woman and I do believe in certain things, but again, that's what's so great about our country is that everyone is entitled to their own opinions."
She added:
"I want viewers to be open to everyone, and I want them to go through this season with me, and watch my love story unfold with all of these men, because that's how I went into this journey. People say and do certain things. I've done things in the past that I'm sure it wasn't the best thing."
This is publicist Becca in motion, trying to get everyone to watch without clouded judgement. Why would she care if she didn't pick the person everyone is upset about?
7. Jimmy Kimmel Picked Him
As The Hollywood Reporter noted, Kimmel has correctly picked The Bachelorette winner four out of the last six seasons. His pick this time? Garrett. "Becca said, 'I could see Garrett fitting in with my friends and family,' which means she already sees a future with him," Kimmel stated as his reasoning, per THR. "Becca will go with Garrett — until she finds out about all the terrible stuff he posted online. Then they will break up, but until then it will be Becca and Garrett and may God have mercy on us all."
We'll have to see if both parts of Kimmel's prediction comes true.
POTENTIAL MAJOR SPOILER BELOW — PROCEED WITH CAUTION
8. TMZ May Have Already Spoiled The Ending
The site posted photos reportedly from Becca's engagement filming that show her kissing someone... who looks an awful lot like Garrett.
So, fans may not like him or agree with his social media behavior — but it's too late to change the past, and Becca could be engaged to him right now. The only question then is — will they last?