These Fairytale & Unicorn-Inspired Flower Crowns Are Perfect For Summer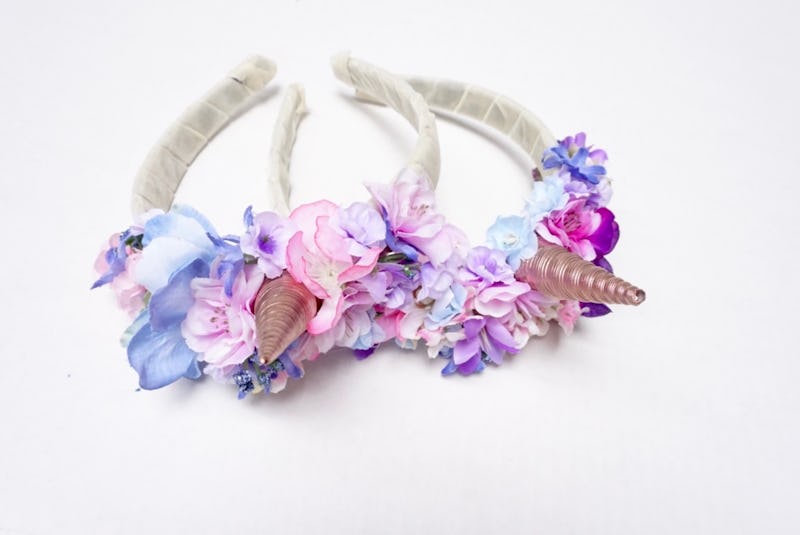 Crowns by Christy
Whimsy seems to be the biggest trend in style and beauty lately. With makeup brands releasing unicorn-themed products and flower crowns being so popular that they've crossed over into wedding wear, whimsical styles are in. These fairytale and unicorn-inspired flower crowns from Crowns by Christy are going to help you bump up your love of all things whimsy this summer.
Flower crowns and floral accessories are no stranger to warmer weather. If you're a festival attendee, headed to a wedding, or in a wedding party, there's a good chance you'll either see or rock a flower crown at some point this summer, and why not? The feminine florals can be as dramatic or delicate as you'd like, and if you DIY a flower crown, you can totally customize the look to suit whatever affair you're attending.
Now, flower crowns have taken on a new life with the booming popularity of unicorn everything. From Starbucks drinks to makeup, you can't escape the unicorn trend, and if you don't want to, Crowns by Christy's flower and unicorn crowns are about to be your new favorite thing. From the addition of butterflies to a true unicorn horn, they're the whimsical crown you need all summer long.
If you've always wanted to be a unicorn, you can shop the crowns right now over at the Crowns by Christy website, and they range in price from $65-$100 for fresh flower crowns.
If you're looking for something personal, though, Crowns by Christy can personalize your very own unicorn headpiece. While Coachella may be over, there's still plenty of summertime fun to be had, and why not do it with a unicorn horn?
The brand also features the opportunity to get a custom designed faux flower crown as well. Basically, if you want it, Crowns by Christy can make it.
If you want to see more of Crowns by Christy's designs or if you want your very own unicorn flower crown, head over to the site now. After all, we could all us a bit more whimsy in our lives.