These Aretha Franklin Quotes On Feminism Are A Reminder That "Diva" Isn't A Dirty Word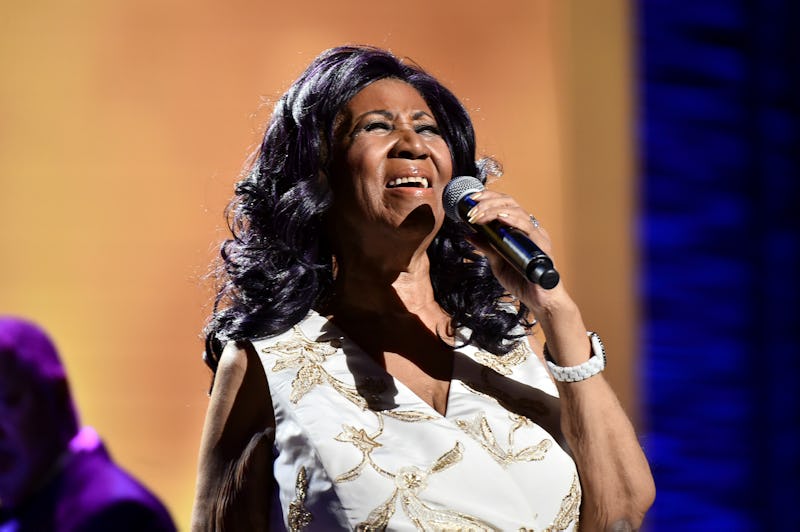 Theo Wargo/Getty Images Entertainment/Getty Images
Aretha Franklin was an icon and a trailblazer in more ways than one. Her incredible voice and powerful lyrics gained her accolades and fans that spanned across the United States and transcended generational divides. But it was also her presence and contributions to the world that earned her everyone's respect, too. Franklin's powerful advocacy for the rights of women, especially women of color, has made her a feminist icon as well as a musical one. Franklin died on Thursday at the age of 76, but these feminist quotes from Aretha Franklin will ensure that her legacy as a feminist pioneer lives on through her words and lyrics.
Gwendolyn Quinn, Franklin's longtime publicist and friend, released a statement on Thursday morning saying that her official cause of death was "due to advance pancreatic cancer of the neuroendocrine type," as reported by the Associated Press. Quinn added in her statement:
"In one of the darkest moments of our lives, we are not able to find the appropriate words to express the pain in our heart. We have lost the matriarch and rock of our family. The love she had for her children, grandchildren, nieces, nephews, and cousins knew no bounds."
Franklin was not just the "Queen of Soul," she was also the first woman to ever be inducted in the Rock & Roll Hall Of Fame in 198. Her version of the song "Respect" became a veritable feminist anthem, celebrating women from all walks of life, and she famously stood up for marginalized women, including civil rights hero Angela Davis. Franklin made her feminism known through her actions, but she also used her words to express it. Here are just a few of her best quotes about being a woman and fighting for gender equality.
It's Pretty Simple
We all require and want respect, man or woman, black or white. It's our basic human right.
She knew that women's rights were human rights.
Diva Isn't A Dirty Word
Being the Queen is not all about singing, and being a diva is not all about singing. It has much to do with your service to people. And your social contributions to your community and your civic contributions as well.
And Franklin taught us that being a "diva" isn't a bad thing at all.
She Always "Said It Loud"
Daddy had been preaching black pride for decades, and we as a people had rediscovered how beautiful black truly was and were echoing, 'Say it loud, I'm black, and I'm proud.'
She reminded us that real feminism is intersectional.
She Was Part Of A Movement
"['Respect' reflected] the need of a nation, the need of the average man and woman in the street, the businessman, the mother, the fireman, the teacher — everyone wanted respect. It was also one of the battle cries of the civil rights movement. The song took on monumental significance."
And she knew that everyone, regardless of their gender or racial identity, deserves respect.
She Wanted Us To Learn From Each Other
"I didn't think my songs would become anthems for women. But I'm delighted. Women probably immediately feel compassion and relate to the lyrics. We can all learn a little something from each other, so whatever people can take and be inspired by where my music is concerned is great."
She knew that both women and men would be stronger if they worked together and listened to one another.
Women Are Moving Forward
I don't think women need to do anything other than what they're doing right now, and that's moving forward. Moving to the forefront. Moving into the executive offices. Moving into the areas that men have held captive. We're coming.
She encouraged women to become leaders in every field.
Above All, She Wanted To Be A Role Model
Hopefully I have presented myself on a level that any young lady would be delighted to follow.
She was truly someone all women could look up to and take inspiration from. For her feminism, her music, and so many other reasons, Franklin will be deeply missed.