These Harry Potter Freakshakes Taste Like Butterbeer & It's Magical AF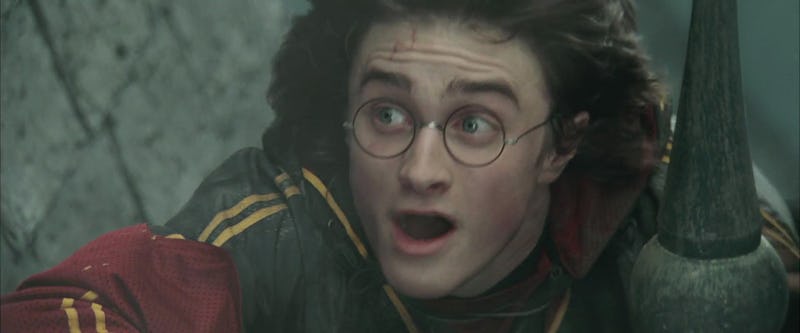 Warner Bros.
Just when you thought the oversized-milkshake trend was dying out, Harry Potter Freakshakes have finally arrived to shake up — pun definitely intended — the dessert landscape. Bristol's Beehive Coffee House specializes in ridiculous beverages and confections, from unicorn cupcakes to hot-chocolate freakshakes. Now, the eatery has added four Harry Potter-themed items to its menu, and the sight of them will have you Apparating to the U.K. before you can say "Quidditch."
Now, I'm sorry to disappoint you, but The Beehive Coffee House does not, unfortunately, have Hogwarts House-themed milkshakes on its menu. As much as I was hoping to get my hands on a mint-chocolate Slytherin shake, that's just not an option at this time. In fact, a cursory Google search reveals no one who has made such a thing, which honestly makes me pretty sad inside.
With that being said, the Harry Potter Freakshakes are available in everyone's favorite Potter flavor: BUTTERBEER. From now through Nov. 4, visitors to The Beehive Coffee House can purchase one of four ~luxe~ milkshakes, which range from classic-but-delightful to OH DEAR LORD WHAT IS THIS MONSTROSITY. And believe me, I mean MONSTROSITY in the best sense of the word, like an Erumpent, or an Occamy.
All of The Beehive Coffee House's Harry Potter freakshakes are available in kids and adult sizes, which means they're full of fun for the whole family. If you just want a simple Harry Potter shake, get the Butterbeer Milkshake or Butterbeer Hot Choc, both of which come with "whipped cream, butterscotch pieces, . . . and a chocolate wand," according to the menu. The Butterbeer Milkshake is topped with sprinkles, while the Butterbeer Hot Choc sports a sprinking of "magic gold dust."
For those of you who want to get a little bit freakier, there's the Butterbeer Freakshake and Deluxe Butterbeer Hot Choc, which add your favorite Harry Potter confections to the mix, including Chocolate Frogs and Every-Flavour Beans. The giant shakes also come with a Galleon, "sparkly sprinkles," and a pair of — inedible — Harry Potter glasses that you can actually wear.
The Beehive Coffee House's prices make this deal truly sweet. The adult-sized freakshakes are priced at £6.95, or $9.25 U.S., which means they are more affordable than most of the oversized shakes you can get in the states — but, sorry, not so much that they'll offset the cost of a trans-Atlantic flight.
'Scuse me. I need to go scour the Internet for freakshake-building instructions.