All The Details We Know About 'Pump Rules' Stars Jax & Brittany's Wedding So Far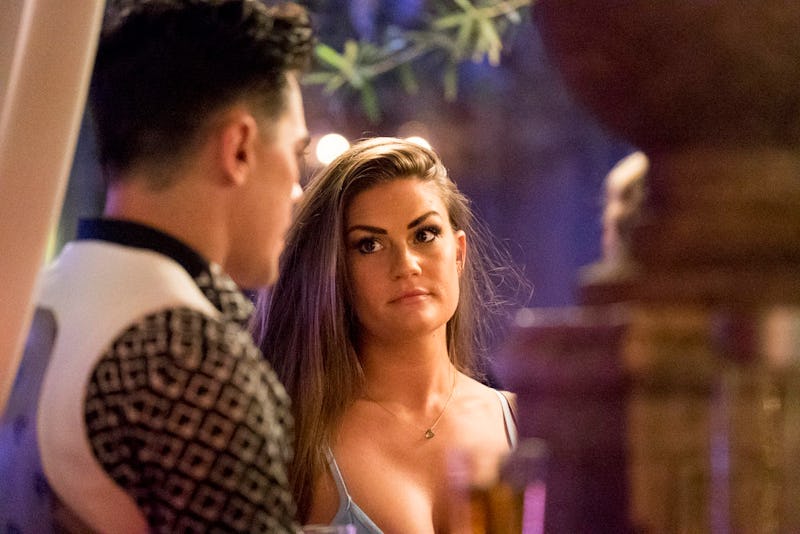 Nicole Weingart/Bravo
It's finally happened! As seen in the Season 7 premiere of Vanderpump Rules, Jax Taylor and Brittany Cartwright are finally engaged after years of turmoil and drama. And Vanderpump Rules fans can bet their bottom dollars that every aspect of their wedding will be televised, just as it was for Scheana and Shay and for Schwartz and Katie. In real life, they've already been engaged for a few months,and Brittany and Jax's wedding updates show that this train of everlasting love won't be slowing down any time soon.
Jax has managed to mess up a lot of things in his life, but his proposal was actually quite cute. He was a nervous, jittery mess, and he couldn't fit the ring box in his pocket without it being obvious that there was a ring box in his pocket — so he put it down his pants (w). In front of a cotton candy-colored Malibu sky, complete with trays of crab legs and oysters, Jax asked Brittany to be his wife, and she sobbed and said yes. Scenes from the next episode show that there may be a surprise engagement party waiting for the pair at their apartment, and overall, it looks like it was the couple's best night together so far.
Now, though, it's time to make some decisions. Brittany has always said she's had a clear vision of how she wanted her wedding to go, so as you can imagine, Brittany and Jax's wedding is damn near planned. Here's everything we know so far.
The Dress
According to an interview with Entertainment Tonight, Brittany has indeed found the dress! "I did not mean to, but the very first place I went to I actually found a dress," she said. "I'm not gonna just announce the designer and stuff just yet because I don't want [Jax] to know anything about it. Whenever I walk down the aisle, that's gonna be the first time he sees it or knows anything about what it looks like."
The Location
Vanderpump Rules is a very Los Angeles show, but Brittany and Jax will not be saying their "I do's" in California. Us Weekly originally reported that Jax and Brittany would be getting married during the summer of 2019 in Malibu, but due to the fact that Brittany's whole family lives in Kentucky, they reportedly figured it would be easier just to do the whole thing there! Enter Kentucky Castle, in Versailles, Kentucky. A recent Instagram post shows that these two have signed and sealed the estate as their venue, and boy, is Brittany excited.
The Officiant
Yes, Lisa Vanderpump did marry Katie and Schwartz in their elven wonderland wedding in Season 5, but she will not be doing that again for Brittany and Jax. In an interview with Entertainment Tonight, Brittany said it was important for them to be married by someone from the church. "We love Lisa, so it's not like we would be like, 'No, wouldn't want that!'" she explained. "It'' very important to my family that we have somebody from the church." The officiant the pair are thinking of has known Brittany her whole life, so it will mean a lot to her family.
The Wedding Party
As a shock to, uh, no one, the Vanderpump Rules cast will be featured heavily in Jax and Brittany's respective wedding parties. According to Bravo, Scheana announced on Instagram that she was tapped to be a part of the wedding, as were Kristen Doute, Jax's sister, and a few other friends. And obviously the Toms will show up on Jax's side. I don't think those guys can go anywhere without being together.
The wedding is just over six months away, and from all of these updates, it seems like Jax and Brittany have it all under control. Of course, Vanderpump Rules fans will mostly likely see it all unfold on-screen.