Over 200 Journalists Wrote An Open Letter Calling Out Trump — And It's A Must-Read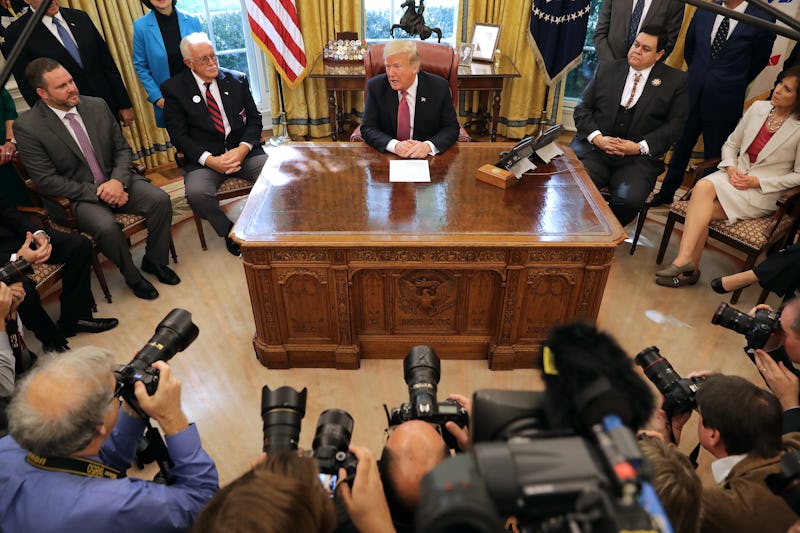 Chip Somodevilla/Getty Images News/Getty Images
The president's relationship with the press has always been tense, and following his response to the disappearance of journalist Jamal Khashoggi, a group of mostly retired reporters chose to speak out. On Thursday, more than 200 journalists wrote an open letter to Trump, calling him out for his attacks on the free press and for apparently inciting violence, among other things.
The letter was organized by a retired ABC News producer named Meredith Wheeler. "On the heels of the recent brutal murder of a Washington Post journalist Jamal Khashoggi," it began, "President Donald Trump chose to celebrate the assault of The Guardian reporter Ben Jacobs by an American congressman — an attack that occurred while the journalist was simply doing his job, posing questions to a politician."
Khashoggi was a Saudi Arabian journalist residing in the United States and writing for The Washington Post. He was reported missing after entering the Saudi consulate in Turkey on Sept. 28, and Turkish officials allege he was brutally murdered by Saudi operatives seeking to silence a critical voice (Saudi Arabia has denied the allegations). In turn, Trump has appeared hesitant to condemn the Saudi government. And just weeks after the journalist's disappearance, the president praised a Montana politician for body-slamming a reporter back in 2017.
At a rally in Missoula, Montana, last week, Trump said Republican Rep. Greg Gianforte was a "tough cookie" for the way he treated Guardian reporter Ben Jacobs. "Any guy that can do a body slam, he's my kind of guy," Trump said to a cheering crowd. "I had heard that he body-slammed a reporter ... and he was way up, and I said, 'Oh, this is terrible, he's going to lose the election.' Then I said, 'I know Montana pretty well,' and I said I think it might help him. And it did." It's worth mentioning that following the incident in 2017, Gianforte pleaded guilty to misdemeanor assault and was fined $300.
On Wednesday, Trump continued his streak of bashing the media, accusing it of "endless hostility," "fake news," and a lack of civility on the same day a pipe bomb found in the CNN offices' mail room forced the entire building to evacuate. This pattern of behavior has had journalists and others concerned from day one, but Thursday's letter put the danger of attacking a free press in especially clear terms.
"Trump's condoning of political violence is part of a sustained pattern of attack on a free press— which includes labeling any reportage he doesn't like as 'fake news' and barring reporters and news organizations whom he wishes to punish from press briefings and events," it read.
The letter adds that Trump is "utterly failing" to uphold the free press, "one of the pillars of a free and open democracy," and instead is "actively working not simply to undermine the press, but to incite violence against it as well."
Also mentioned in the letter is a lawsuit, filed earlier this month by PEN America, a national writers' organization, against Trump, alleging First Amendment violations. According to the letter, the journalists who signed on fully support the lawsuit. "We denounce Donald Trump's behavior as unconstitutional, un-American and utterly unlawful and unseemly for the President of the United States and leader of the free world," it says.