These Justin Timberlake Memes Will Keep You Amused 'Til His New Album Arrives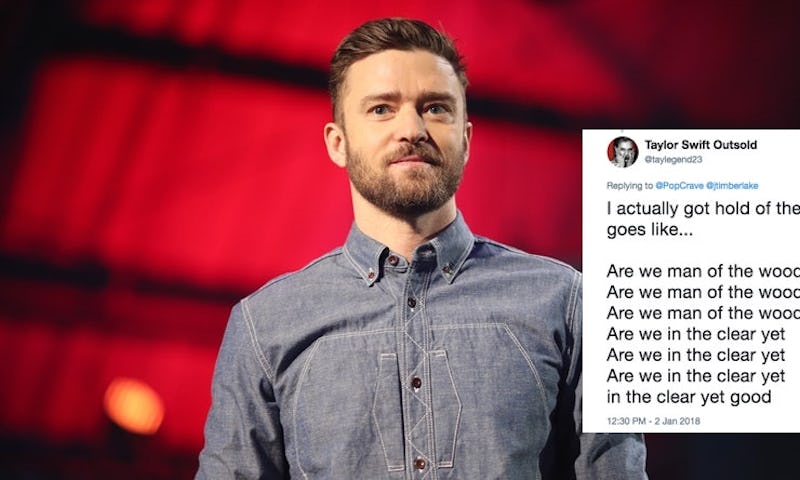 Christopher Polk/Getty Images Entertainment/Getty Images; taylegend23/Twitter
LIs it tearin' up your heart to say bye, bye, bye to the long holiday weekend? Well, the Justin Timberlake Man of the Woods memes and tweets that hit the internet on Tuesday may be just the pop you need. On Jan. 2, he offered up a delightful morsel of news: Timberlake is releasing a new album titled Man of the Woods on Feb. 2. The former Mickey Mouse Club star has posted a minute-long YouTube video to tease his next album's release, as well as a tweet about something happening this Friday (the first single, perhaps?). And Twitter has taken to the Man of the Woods announcement like a man of the woods would take to the woods.
In the preview, snippets of to-be-unleashed music play as Timberlake meanders around in a cornfield, stands in a body of water while fully clothed, and stares at an enormous bonfire. Oh, and there are lots of horses, too. In a voiceover, he calls the forthcoming record "personal." "This album is really inspired by my son, my wife, my family, but more so than any other album I've ever written, where I'm from," he shares. Later on in the trailer, Jessica Biel says the collection of tracks feels like "mountains, trees, campfires, like wild west," and then legendary producer Pharrell Williams calls one of the album's songs "a smash." You hear that? We're in for a Pharrell-produced wild west smash.
J.T. fans have been waiting quite some time for this moment. Though he did put out a single last year for the Trolls album, it has been a while since Timberlake dropped a full-length record: Man of the Woods will be his first album since 2013's The 20/20 Experience — 2 of 2. The Oscar-nominated artist will release his fifth solo album just two days before he's slated to headline the halftime show at Super Bowl LII. It sure looks like the month of February is going to be a great time to be a J.T. fan.
Until Timber-uary rolls around, let the mighty fine memes hold you over.
Always Love A Phyllis Nefler Reference
The Woman of the Woods, the Woman of Beverly Hills, the Woman of the Wilderness Girls.
He's Bringing Toadstools Back
Them other fungi don't know how to act. Take it to the foliage.
Even Taylor Swift References Popped Up
Good luck getting that one out of your head.
Star Search Called It
It's really like looking into a crystal ball.
Can't Wait To Hear Justin Timberwoods's New Record
"Brawny paper towel it up" is a direction for the ages.
If "Brawny Paper Towel It Up" Doesn't Work?
There's always "Paul Bunyan it up."
J.T. Should Link Up With Another Man Of The Woods
Could you imagine that Ocarina duet/duel? It'd be nothing short of life-changing.
Why Hello There, Jonah Timberlake
So nice to see you. That sure is a snazzy vest.
You'll Want To Buckle Up For This One
Yeah. Yeah. Yeeeah.
If There Was Ever A Reason To Bring Back The Denim Cowboy Hat...
...It's probably Man of the Woods.
Oh, wait. You're right. Any time is a perfect time to bring back the denim cowboy hat. It's an iconic article of clothing that will always been en vogue.
Hey, Speaking Of Britney Spears
Ahem.
You can watch the announcement that launched a pile of memes below.
So mark your calendars for Friday, Feb. 2, J.T. stans. (Er, mark your sundials? What does a man of the woods use?) In just a few short weeks, Man of the Woods will be here in all of its denim cowboy hat-riffic glory.