Mail-In Ballots Recently Found In Florida Reportedly Won't Be Included In The Recount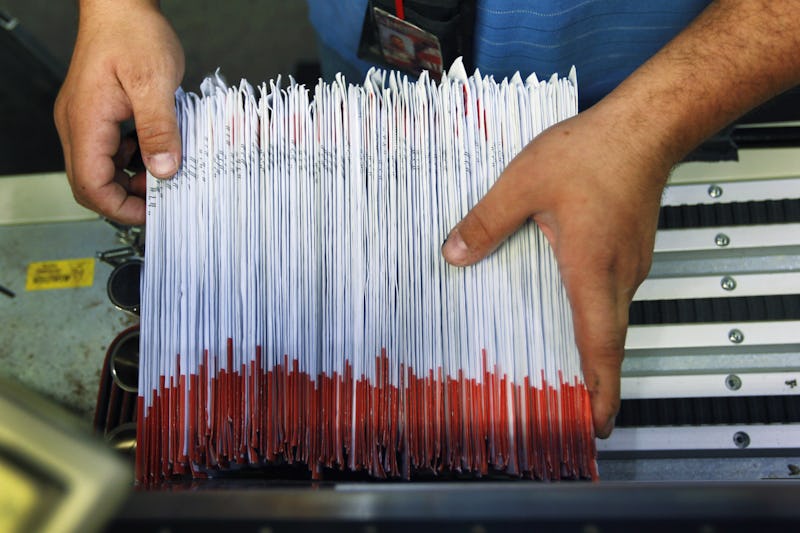 Joe Raedle/Getty Images News/Getty Images
As Florida moved closer and closer toward a recount in three highly-contested statewide elections, more and more questions cropped up about ballots that had reportedly been found in Miami-Dade County. Now, county election officials have said they won't count the ballots found at a Florida mail facility.
Miami-Dade County Supervisor of Elections spokesperson Suzy Trutie told both CNN and The Miami Herald that they had recently received a total of 266 mail-in ballots, which had reportedly been kept at a mail sorting facility in Opa-locka. The ballots are believed to be mail-in or absentee ballots that were mailed too late. According to Trutie, those ballots will not be counted in the recount currently taking place across the state as they had not arrived at the election facility by 7 p.m. local time on Election Day, as required by Florida state law.
Earlier in the week, reports ballots were still sitting in the Opa-locka facility spurred the U.S. Postal Service to investigate its own role in handling the ballots. At the time, a spokesperson in USPS' South Florida District said they had "no information to suggest any ballots were not properly handled and provided to local election officials, per our established process," The Sun Sentinel reported.
The office of the Miami-Dade County Supervisor of Elections also said there was "zero" chance that ballots were made invalid via the USPS, The Miami Herald reported earlier this week when reports of the ballots first surfaced. The Miami-Dade County Supervisor of Elections also said they collect all ballots, including those mailed past the deadline.
But even though the ballots recently received from the Opa-locka mail facility won't be counted, they won't be thrown away — yet. According to CNN correspondent Ryan Nobles, Miami-Dade elections officials said the uncounted ballots would, like all ballots, be preserved for up to 22 months. The ballots' preservation, as Nobles pointed out, means they could potentially come into play in a lawsuit should one be brought forth.
On Saturday, Florida's secretary of state ordered machine recounts for three statewide election races, forcing county election officials to recount votes in the state's U.S. Senate race, gubernatorial race, and agricultural commissioner race. Florida state law states that machine recounts are mandatory when there is a margin at or below 0.5 percentage points between candidates.
Unofficial results reported after all 67 counties in Florida had finished counting showed margins under .5 percent in all three races. While the race for agriculture commissioner was the narrowest, with Democrat Nikki Fried holding a .06 percent lead, it was the state's Senate and gubernatorial races that drew the most chatter. In unofficial results, Republican Gov. Rick Scott was reported to have a 0.15 percent lead over Democratic Senate incumbent Bill Nelson while Republican Ron DeSantis was reported to have a .41 percent lead over Democrat Andrew Gillum.
In one of the state's more contentious races, Scott's campaign appeared to welcome the recount Saturday although a spokesperson for the campaign also urged Nelson to opt out and concede. "It's time for Senator Nelson to accept reality and spare the state of the Florida the time, expense, and discord of a recount," CNN reported Scott spokesperson Chris Hartline said.
Nelson, however, has shown no interest in conceding. "We have every expectation the recount will be full and fair and will continue taking action to ensure every vote is counted without interference or efforts to undermine the democratic process," he said in a statement issued by his campaign on Saturday. "We believe when every legal ballot is counted we'll win this election"
Meanwhile, in light of the recount, Gillum has revoked his earlier concession and called for every vote to be counted.