People Can't Stop Tweeting About "Melanie" After Trump Misspelled His Wife's Name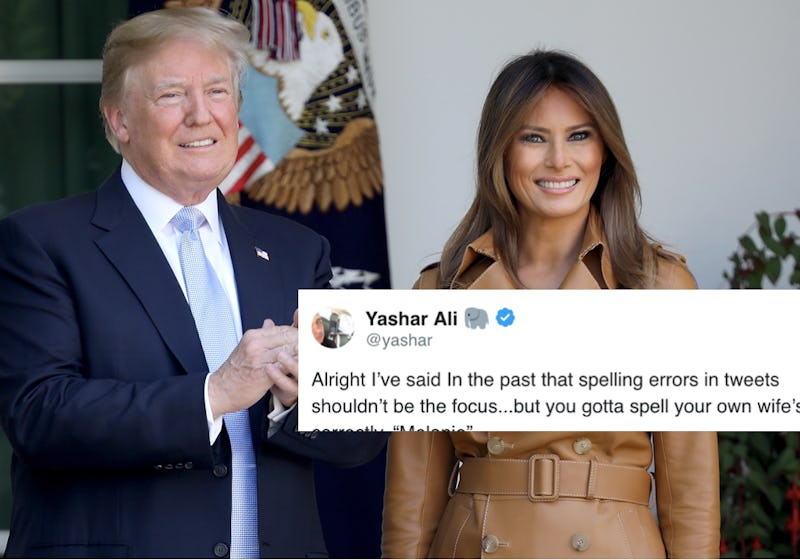 Win McNamee/Getty Images News/Getty Images
First lady Melania Trump has returned to the White House after her recent hospitalization, and it looks like someone else has, too. President Donald Trump welcomed Melania back by misspelling her name in a tweet, and Twitter immediately jumped on the president's latest gaffe.
"Great to have our incredible First Lady back home in the White House," he tweeted initially on Saturday. "Melania is feeling and doing really well. Thank you for all of your prayers and best wishes!" His "Melanie" tweet was fixed within a few minutes.
Melania was hospitalized for a "benign kidney condition" on Monday at Walter Reed National Military Center. "The procedure was successful and there were no complications," the White House statement after the hospitalization said on Monday. President Trump appeared to not accompany her to the hospital, and delayed tweeting about her condition.
This is not the first time President Trump's misspelling have caused a commotion. He's indiscriminate in his misspellings; it can be words or names. After all, who can forget the infamous "covfefe" tweet?
President Trump has also misplaced his homonyms. For example, when former acting Attorney General Sally Yates was about to testify in front of Congress. "Ask Sally Yates, under oath, if she knows how classified information got into the newspapers soon after she explained it to W.H. Council," Trump wrote on Twitter. The correct word is "counsel" and it was replaced two hours later.
But with regards to names, it's hard to forget the three times Trump misspelled Prime Minister Theresa May's name before her official visit in May 2017.
But his latest misspelling might be the most widely circulated yet. The jokes started off rather benign. In fact, it seemed that many Twitter users just wanted President Trump to spell his own spouse's name correctly.