These 'Bachelor' Stars Should Head To 'Paradise'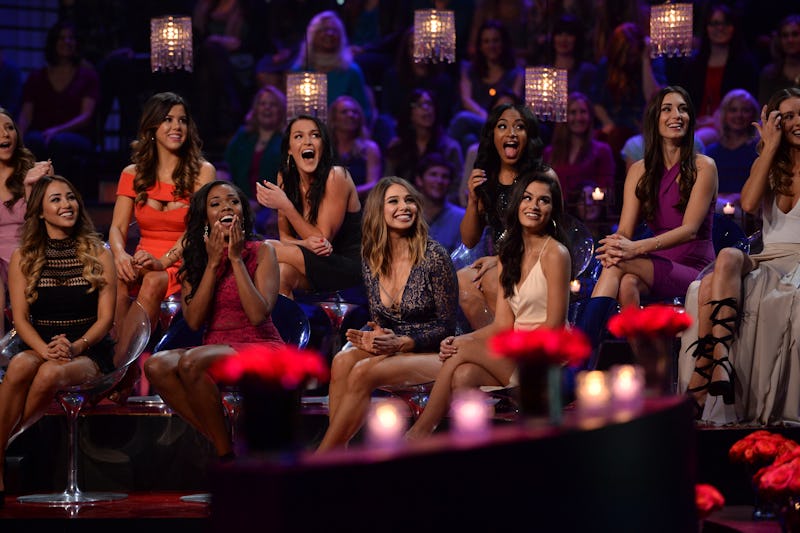 ABC/Michael Yada
I'm excited for Rachel Lindsay to be the Bachelorette, but I am counting down the days until the Bachelor in Paradise Season 4 premiere. There is literally nothing better than watching a bunch of drunk people trying to find love and strategically get roses. The big question is, who from Nick's season is going on Bachelor in Paradise this year? No one has been confirmed quite yet, but I expect they will announce the first round of people soon enough, and there's sure to be lots of familiar faces from this most recent Bachelor run.
Some of the women from his season have already spoken out about being on the hit spin-off. "Hell yeah, I'm so down for it. I want to do it so bad. But we'll see if I'm still single," Alexis told E! News. Career-focused Danielle M. said, "I don't know if the hospital will let me take off more time. My job is everything to me and they are so good to me ... so I don't know. I don't want to do anything that would put my job in jeopardy. It would depend on the caliber of men." And Kristina is interested as well, saying, "I'm open to it, but I'm not relying on that to find a person for me."
And, here's who else should join the cast this summer.
Corinne
Let's be honest, who doesn't want to see Corrine in Paradise this year? She was the breakout star of Nick Viall's season and we could use more of her outrageous antics and cheese pasta in Mexico. I am also crossing my fingers they let her bring Raquel along for the trip.
Alexis
You know her better as dolphin/shark girl and she was amazing from the first moment she showed up at the mansion in costume. She's afraid of Nicolas Cage and believes that aliens are real. Alexis would make a great addition to the crew in Mexico. She would have all sorts of amazing drunk adventures.
Christen
Overshadowed by the drama between Nick and Liz during the first few episodes of the season, Christen deserves a second chance at finding love. She was adorable and also seemed like a great narrator. Christen could be the new Carly and we need a Carly in our lives.
Kristina
I actually feel like Kristina deserves a season as The Bachelorette to find love, but since that doesn't seem like an option at this moment, I am adding her to the list. As Tanner and Jade proved, Bachelor in Paradise can work if two people are actually there to find love. I hope Kristina goes and is one of the lucky ones.
Danielle M.
Danielle M. seems like she genuinely wants to find someone. Given the right group of guys from Rachel's upcoming season, she could be one of the people who ends up with a ring in the end.
Jaimi
If memory serves, Jaimi is the first bisexual contestant that The Bachelor has ever had. It would be great to have her in Paradise to shake things up. Who knows, maybe she could find a girl while she's down in Mexico.
Jasmine G.
Jasmine G. had a rough time on Nick's season. It's hard to be a person who still hasn't had a 1-on-1 date watching people going on their second 1-on-1. Jasmine G. might have better luck in Paradise.
Taylor
I have to be honest, I wouldn't mind Taylor vs. Corinne part two. Taylor was too focused on her drama with Corinne to put real effort into dating Nick. She deserves another chance to try and find love.
Whitney
Whitney was relatively quiet until that super awkward 2-on-1 where Nick sent her home, but, before she left, she told him Danielle L. wasn't ready to be in a relationship. It was pretty weird, but she was cute and sweet and I'm sure she'd make an excellent addition to Paradise. Maybe she'd stir up some 2-on-1 drama there too.
August cannot come soon enough.