These Nymeria Reddit Theories Tease How The 'GoT' Favorite Could Return In Season 8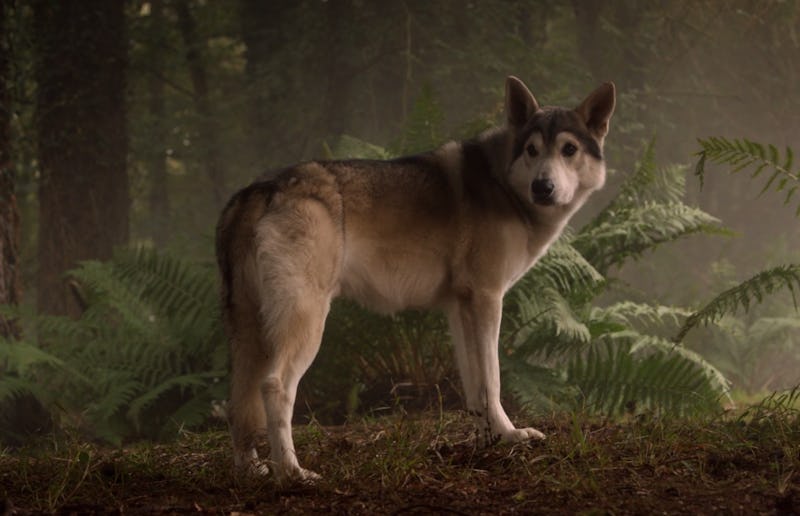 Screenshot via HBO
Back in the Game of Thrones pilot, each of the six Stark children were given a direwolf puppy when their mother was found killed in the forest outside Winterfell. Robb got Grey Wind, Jon named his Ghost, Sansa got Lady, Arya adopted Nymeria, Bran received Summer, and in a stroke of genius, Rickon named his Shaggydog. Much like the majority of the Stark family, most of the direwolves have died, except for Jon and Arya's. And while it's too soon to tell what will happen in the Battle of Winterfell — or the rest of the season, for that matter — there are some compelling Reddit theories about Nymeria.
In Season 7, Episode 2, "Stormborn," Arya came face-to-face with her old direwolf after she tragically shooed her away in Season 1. After being surrounded by wolves, Arya realized that the largest one and leader of the pack was her childhood pet. "I'm heading north, girl," she told Nymeria. "Back to Winterfell. I'm finally going home. Come with me." However, it became clear that Nymeria was no longer a domesticated animal, and while her expression softened, she turned away from Arya and left.
Still, the fact that there are two direwolves running around Westeros (and perhaps even more half-direwolves, if she's had any puppies) should not be taken lightly. After all, the residents of Winterfell will need every resource imaginable to protect themselves, and who could protect them better than their own sigil? Here are a few predictions as to how — or if — Nymeria will return in Game of Thrones Season 8.