People Want Obama To Run For French Prez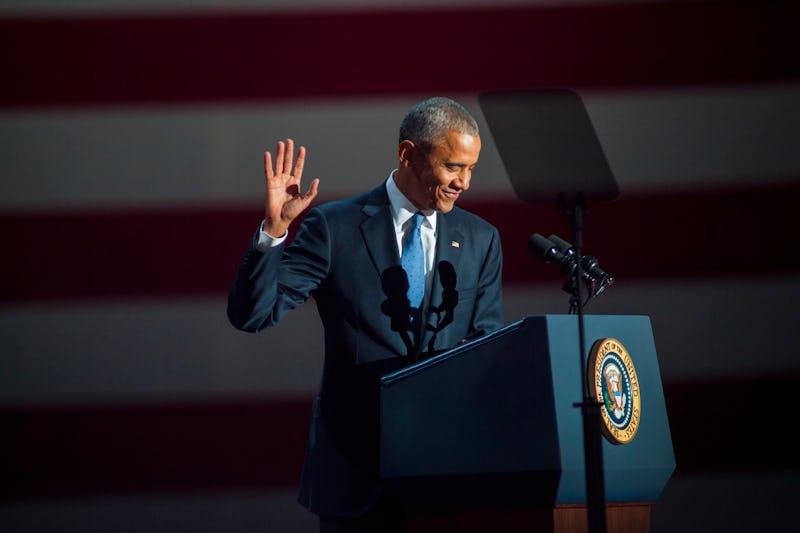 Darren Hauck/Getty Images News/Getty Images
Remember how the U.S. used to have a president who was a source of pride for the country all around the world? Yeah, me neither. The past month has just been too taxing. But wait — someone in Franch does. There are apparently French voters who want Obama to run for president, and it's the perfect story to put a smile on your face and start your weekend out on the right foot.
As you may or may not have been following, France is having a presidential election this year. It's a bit of a tense situation too, as the far-right nationalist candidate, Marine Le Pen, appears to have a fair amount of support. Not enough that the polls predict that she'll win the election, but I'm sure you remember how that went back in November.
There's an organization with a solution, however. "At a time when France is about to vote massively for the extreme right, we can still give a lesson of democracy to the planet by electing a foreign French President," they say on their website. The organization in question is Obama17, a website attempting to collect 1 million signatures in an effort to convince Barack Obama to run for president of France in 2017.
Their tagline? "Oui on peut" — which means, as you might have guessed, "Yes we can." Posters with Obama's presidential portrait have started showing up in Paris, and pleas to the 44th POTUS have started turning up on Twitter. And why not? As they say, he "has the best resume in the world for the job." And he's done with this job as U.S. president, so why not?
There is, unfortunately, a pretty significant reason why not. For whatever reason, France requires its presidential candidates to actually be French. What gives, right?
It's a nice thought, at least. "We dreamed about this possibility to vote for someone we really admire, someone who could lead us to project ourselves in a bright future," said a spokesperson for Obama17 to ABC News. "We thought, whether it's possible or not, whether or not he is French, we have to do this for real, to give French people hope … Vive la Republique, Vive Obama, Vive la France and the U.S.A."
Obama seems to seriously be enjoying his free time, though, so it seems doubtful that a million French people could convince him to step into the presidency of a new country even if it was legal. But if there's a world where Hillary is president, why shouldn't there be a world where Barack Obama can run for president of France? Let this be a reminder of happier days, and a symbol of hope for the future.