These Personalized Face Magnets Let You Hang Your Whole Squad Up On The Fridge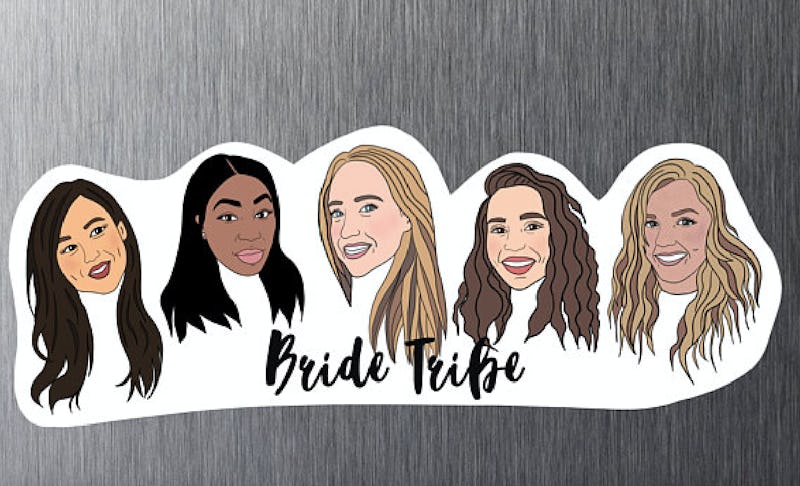 Jeana Chavez Art/Etsy
Putting your best friends' faces on commonly used, everyday items has very much become A Thing recently, so let's add another to the list: Thanks to the wonders of Etsy, you can now get a magnet with all your friends' faces on it. In fact you can get a bunch of magnets with all your friends' faces on them, and then give them to those friends, ensuring that they'll always think of the squad whenever they go to get something out of the refrigerator.
Created by San Diego-based artist Jeana Chavez, who sells her wares at her Etsy shop, Jeana Chavez Art, these particular magnets differ from some of the other face-adorned items we've seen lately (air fresheners, bed sheets, etc.) in one major way: They don't feature photographs of your pals, but rather illustrations of them drawn in Chavez' signature style. After you place your order, you send photographs of the folks you want the magnets to depict to Chavez; then, based on those photographs, she creates beautiful, digitally illustrated portraits which are then colored, printed, attached to a magnet, and sealed with a protective coating.
Although Chavez's Etsy shop markets the magnets as a bridal party gift (which they would certainly work for!), you're by no means limited to bridal party designs; indeed, the text at the bottom of the magnet reading "Bride Tribe" is optional. If you do want a saying accompanying your pals' lovely faces, though, you'll be happy to know that it's both free and personalized — that is, it won't cost you anything extra, and you've got free reign when it comes to choosing the phrase. If "Bride Tribe" does it for you, awesome — but if it doesn't, anything you can dream up instead is fair game.
Custom Face Magnets, $25 and up, Etsy
You've also got two options for the style of magnet: You can either get them featuring you and all of your besties, or you can get personalized, one-on-one magnets featuring you and individual pals. This second option might come in handy if you're using the magnets as a bridal party gift; that way, you can gift each of your attendants a magnet featuring just you and them. It makes the gift a little more personal, especially if your bridal squad members aren't all friends themselves. (Because, I mean, you might be super close to both your cousin from Michigan and your college roommate… but had they ever met each other before the wedding festivities began? You would not be alone if you said, "Nope. Not once.")
When you order, Chavez asks that you let her know which option you'd like to go with via Etsy's "Conversation" tool. The magnets are priced according to the number of faces depicted on them, starting at $25 for one face and going up in $5 increments for each face added (so, a magnet with two faces is $30; one with three faces is $35; etc.).
Oh, and in case you happen to like pets more than people, no worries — that can be arranged, too. If you provide a photo of your favorite furry pal (or feathered pal, or scaly one, or whatever), Chavez can put that on a magnet instead:
Custom Face Magnets, $25 and up, Etsy
And, honestly, I don't know about you, but I kind of want Things With You Pets' Faces On Them to become more of a trend than Things With Your Friends' Faces On Them. Then again, I definitely prefer pets to people, so… maybe that's just me.
Like the idea of a personalized gift featuring illustrations of your favorite people, but aren't into magnets? Good news: Various other Etsy sellers have plenty of options. Try one of these on for size:
Custom Portrait Vases
Custom Portrait Vases, $40 and up, Etsy
These ceramic creations from Etsy seller Clay Tangerine are kind of like a classier version of those "family" decals you see in the rear windshields of so many cars.
Personalized Portrait Mug
Personalized Portrait Mug, $33, Etsy
Is your best bud always complaining about people stealing their coffee mug at work? Get them this one from the Etsy shop Ink Lane Design and they'll never have that problem again.
Custom Portrait Stamp
Custom Portrait Stamp, $73, Etsy
Etsy shop Cookillu recommends using these customized stamps as wedding favors. That seems a little… odd to me (why on earth would my wedding guests need a stamp with my partner's and my faces on them? Like… seriously, what would you even use that for once the wedding is over?) — but that's just me. I do like the overall idea, though; stick your bestie's and your faces on it and give it to them as a gift so you'll always be together, even if you live on opposite sides of the world.
Personalized Bauble
Personalized Bauble, $17, Etsy
These ceramic ornaments from Etsy seller Loopsy's Art will brighten up your home at any time of year.
Custom Portrait Tattoo
Custom Portrait Tattoo, $70, Etsy
Remember these temporary tattoos from Lili Mandrill? They're still a thing. And I still love them.
So, hey, the good news is that, no matter what your personalized illustrated gift needs might be, there's probably an Etsy shop that will get the job done and then some. Now if you'll excuse me, I have some… uh… planning to do.