These Carly & Evan Wedding Photos Are Just What Fans Need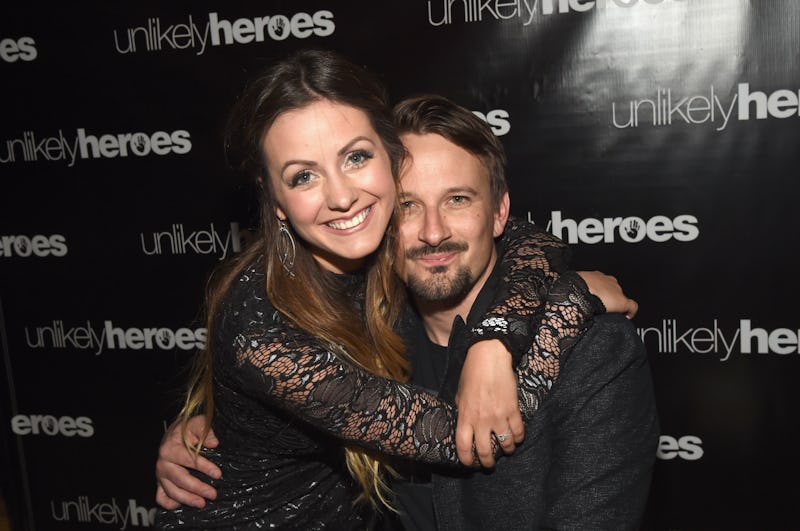 Rick Diamond/Getty Images Entertainment/Getty Images
As many fans know, Bachelor in Paradise's Evan Bass and Carly Waddell's wedding officially happened. The pair met while filming the show's third season, and according to TMZ, exchanged vows in an intimate beach ceremony in Puerto Vallarta, Mexico. And given all the drama that's surrounding Bachelor in Paradise at the moment, fans of the franchise need something positive to look to right now. Luckily, Carly and Evan have our backs.
The duo may have initially seemed like an unlikely pair. They are both silly, a bit unconventional, glass-half-full type people. They stood out in the world of Paradise, both alone and together. Given all the factors working against them (time, cameras, etc.) it's incredible these two found each other and fell in love. But perhaps that's why fans adore this coupling so much. And Waddell seems to think that everything that happened on her season of BiP was exactly as it was meant to be.
"Everything happened for a reason," Waddell told PEOPLE in September. "It's been a long journey for me in Bachelor Nation, but I would do it a thousand times again. Because the next part is going to be bliss."
The wedding comes just one week after Warner Bros. suspended production on the fourth season of Bachelor in Paradise due to allegations of a non consensual encounter involving two of the season's contestants, Corinne Olympios and DeMario Jackson. After news of the incident came out last week, Olympios released a statement to Bustle that read,
I am a victim and have spent the last week trying to make sense of what happened on June 4. Although I have little memory of that night, something bad obviously took place, which I understand is why production on the show has now been suspended and a producer on the show has filed a complaint against the production.
Shortly after, Jackson followed that up with a statement of his own.
It's unfortunate that my character and family name has been assassinated this past week with false claims and malicious allegations. I will be taking swift and appropriate legal action until my name is cleared and, per the advice of legal counsel, will be seeking all available remedies entitled to me under the laws.
On Tuesday morning, Warner Bros. announced that the studio had wrapped the investigation into the incident and that they'd found no evidence of sexual misconduct. The production company also announced that filming will resume, though it's not entirely clear whether Jackson and Olympios will still appear on Season 4 of the series.
And Tuesday afternoon, Olympios' attorney, Martin Singer, released this statement:
It needs to be made crystal clear that production of "Bachelor in Paradise" was shut down because of multiple complaints received from "BIP" producers and crew members on the set. It was not shut down due to any complaint filed by Corinne against anyone.
It's been a tough time for fans of the show, so these wedding photos — a taste of the wedding special that ABC still plans to air — is a nice break from the rampant allegations. While ABC has not announced when Carly and Evan's special will air, there is one light at the end of the messy tunnel: A few photographs of the pair getting married — with a ceremony officiated by none other than Bachelor series host Chris Harrison, of course.
It's sweet to see the pair enjoying their special day in the place where it all started — paradise.