All The Rom-Com References In Hulu's 'Four Weddings & A Funeral' Show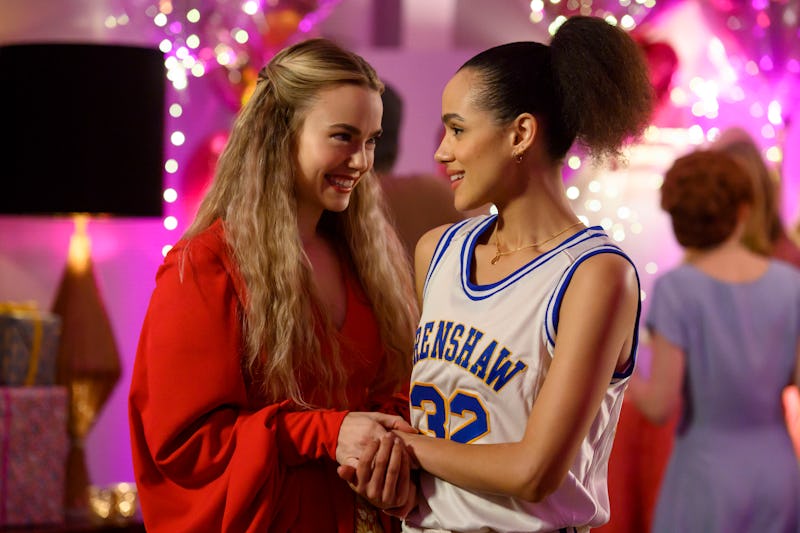 Jay Maidment/Hulu
Spoilers ahead for Four Weddings and a Funeral Episodes 1-4. Considering Hulu's Four Weddings and a Funeral is itself based on a '90s rom-com, it only stands to reason that the series would reference other classic movies within the genre. And boy howdy, does it! Not only does Ainsley (Rebecca Rittenhouse) throw herself a rom-com-themed birthday party in the pilot episode, but the show itself has several callbacks to the Richard Curtis film it's based on. In fact, there are so many rom-com references in Four Weddings and a Funeral, it's like one big love letter to the genre.
It's no secret that Mindy Kaling (co-creator of the Hulu reboot alongside Matt Warburton) is a fan of rom-coms. In fact, the opening scene of her comedy series, The Mindy Project, shows her protagonist watching When Harry Met Sally, You've Got Mail, and Notting Hill at different stages of her life while quoting them all word-for-word. Kaling's brought that same unbridled enthusiasm to her Four Weddings and a Funeral adaptation, which follows Kash (Nikesh Patel) and Maya (Nathalie Emmanuel) as two potentially star-crossed lovers. But despite their obvious chemistry and growing attraction, Kash is about to tie the knot with his American girlfriend, Ainsley, when they meet...although the wedding ends disastrously.
So far, only four episodes of the show have been released, but they're each chock-full of rom-com references — see for yourself.