You Can Buy Spicy Reaper Pickles With Legit Ghost Peppers In Them Now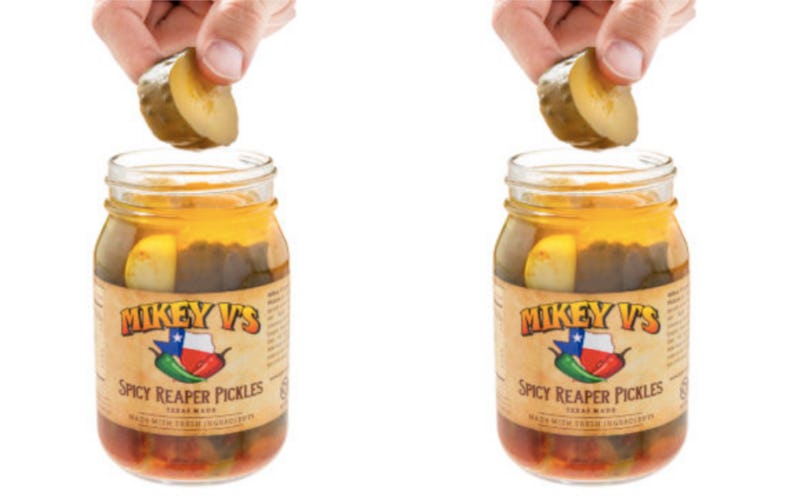 Vat19
All things considered, pickles aren't for the faint of heart (or mouth). Whether sweet, sour, or anything in between, the pungent vinegar-based snack is hardly mellow. Animals recoil at the whiff of them, and picky eaters scoff and the thought of them. But that hasn't deterred devoted fans of the dill. Pickle lovers looking to take their consumption to the next level need not look far, as online oddities retailer Vat19 is selling Mikey V's Spicy Reaper Pickles, which are guaranteed to excite and ignite your tastebuds.
Mikey V's Spicy Reaper Pickles are just about the hottest pickled snack you can find that isn't a pepper. Per the product's description on Vat19, "Spicy Reaper Pickles fuse the flavor of delicious dill with salivating spices to create the ultimate pickle. Just on the border of manageable, these pickles have a scrumptious flavor that's complemented without being overpowered by a combination of habanero, ghost, and Carolina Reaper peppers." Yes, you read that correctly — these pickle chips are flavored with not one, not two, but THREE different spicy peppers. Plus, if you didn't already know, the Carolina Reaper, according to Pepperhead.com, currently holds the title of hottest pepper in the world. With an average level of 1,641,000 Scoville heat units, the Carolina Reaper is 200 times as spicy as your run-of-the-mill jalapeño.
The pickles are the masterwork of the folks at Mikey V's, a Texas-based food company that specializes in the spiciest selections. In addition to reaper pickles, the retailer offers an array of hot sauces with flavors like peach habanero, as well as salsas. jerky, spice mixes, and even a dried Carolina Reaper in its purest form.
Mikey V's emphasizes the importance of freshness as it relates to flavor. The company "...us[es] only the freshest all-natural ingredients with no artificial preservatives," and "...View[s] [them]selves as partners with our clients, and our community." You can find Mikey V's products at any number of specialty food retailers in the Southern United States (and at one shop in Rhode Island) but people outside of those boundaries will want to stick to ordering online.
There has been no shortage of pickley snacks and drinks to choose from as of late. Fast food chain Sonic started a trend with the release of its Pickle Slush. Since then, many other retailers have put their own personal spins on the unexpected drink flavor. In a way, pickles became an unlikely contender for biggest (and briniest) trend of the summer.
In fact, you know what Mikey V's Spicy Reaper Pickles would be perfect for? Garnishing a pickle-y cocktail. Washington, DC-based craft pickle shop Gordy's Pickle Jar recently released cans of cocktail brine for purchase. Add some vodka (or get really adventurous and add some Pickle-flavored vodka like that from Chilled Dills) for the most lip-puckering sip you can imagine. Then add a few pickle chips to the side of the glass and you have a sip sure to make your mouth water.
A 16-ounce jar of Mikey V's Spicy Reaper Pickles retails at Vat19 for $8.99 plus $4.99 flat-rate shipping. It's a small price to pay for the forthcoming party in your mouth.