These Details From Aubrey O'Day's Latest Insta Story Might Point Right To Don Jr.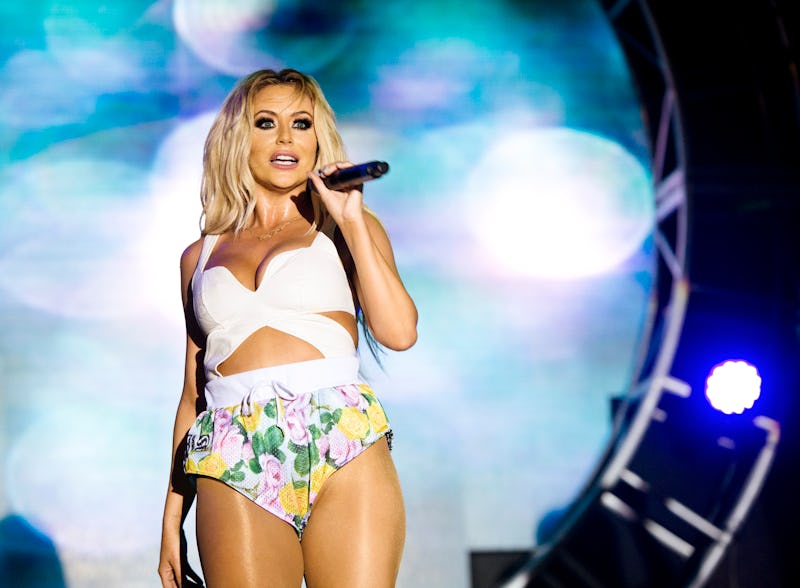 Chelsea Guglielmino/Getty Images Entertainment/Getty Images
Soon after Page Six published a report claiming Donald Trump Jr. and a former Danity Kane member had an affair in 2011 while he was married to Vanessa Trump, people have been scouring the singer's social media posts for hints about a love affair. On Saturday, in particular, people wondered whether a recent Aubrey O'Day Instagram story was about Trump Jr. or not. For now, it's all speculation. Bustle has reached out to the Trump Organization for comment on the reported affair and O'Day's publicist has declined to comment.
O'Day's most recent Instagram story from Saturday first shows a white background with black-colored text that says, "You can't be committed to your bullsh*t and to your growth. It's one or the other." The next shot is another message with a black background and white text. "You cannot reason with a tiger when your head is in its mouth," O'Day's story says.
After those two messages, O'Day's Instagram story shows two black and white video recordings of what appears to be shredded jeans. In the bottom corner of the recordings, O'Day shares an Instagram sticker that says "mood" and then, perhaps for emphasis, "mood af" in the next shot.
During these two video clips, O'Day shares a dramatic song titled "Smaller Than My Mother" by Overcoats. The lyrics for the song portray helplessness and sad longing in lines like "He makes me smaller with every embrace that I ask for" and "[He] keeps every dollar he earns under his pillow while he sleeps; fits me in the palm of his hand and I'm restless oh; I keep on shrinking and he stays the same; I keep on shrinking and he stays the same."
This isn't the first time that O'Day's song selection sparked curiosity. In March, Us Weekly said that O'Day's cover of Gotye's "Somebody That I Used To know" was possibly about the reported affair with Trump Jr. Although O'Day never commented on the report, the lyrics for the remix received lots of attention.
In her remixed edition of the song, O'Day says, "Now and then I think of when we were together. Like when you told me that your marriage was a lie." She also sings, "You can get addicted to a certain kind of madness. You'd love to be a man; your life just won't allow. You said that was the reason for your pain." There's also a part where O'Day laments, "You didn't have to cut me off" and then she says, "But you were scared to ruin your family's name. Your wife's the only one glad we are over."
If O'Day's remix of Gotye's song and her Saturday night Instagram story aren't enough to peak your curiosity, one of her songs called "DJT" certainly will. Some people think it's about Trump Jr., since the song's title includes his initials. In this song, too, O'Day sings dramatic lines about love and loss. She goes,
I'll always want you and always wonder about it; But it doesn't matter because I have to stay here; What made you stop believing in our world? You know, I think probably the loss of the other world. I'm torn between two worlds both of which I wanted.
O'Day, who appeared on Celebrity Apprentice as a contestant and even sat in front of Trump Jr. during the fifth season of the television series, has not explained the meaning behind her Instagram story to her fans. And chances are, she won't. But it seems like the celebrity, who has almost 900,000 followers on Instagram, has people hooked on trying to piece this mystery together.