This 'Bachelorette' Alum Is Turning Into A Ninja (Sort Of)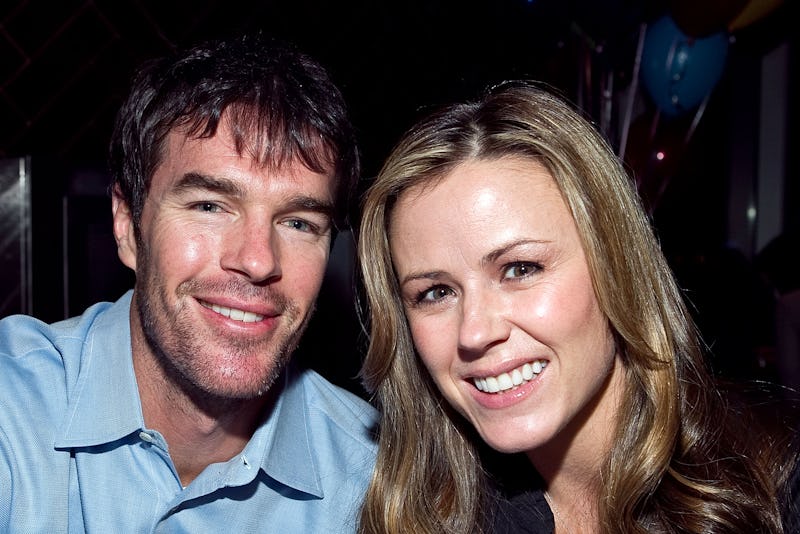 Paul Morigi/Getty Images Entertainment/Getty Images
Finding love in Bachelor Nation is tough, but it's nowhere near as exhausting as trying to make it up the Warped Wall. Don't worry, that's not going to stop Ryan Sutter from trying to do both. According to E! Online, Season 1 Bachelorette winner Sutter is set to appear on American Ninja Warrior during the Denver qualifiers. The man who won the heart of America's first Bachelorette, Trista, may seem like a strange pick to tackle the strenuous obstacle course, but his background in sports actually makes him a perfect fit for the athletic reality competition.
Sutter is a former NCAA football player, who has also competed in Ironmans and a Leadman Challenge. The 42-year-old clearly loves to stay active, and thanks to E!'s sneak preview of the Monday, July 17 episode, fans can see that his hard work seems to have paid off. Watching Sutter dominate the course is impressive on several levels. Not only is he older than the show's average twentysomething contestants, but this is his first time appearing on the show. Few newbies make it past the first couple of obstacles, never mind make a lasting impression on the course their first time around. Don't be surprised if he becomes just as famous for his Ninja skills as he is for having a Bachelor Nation relationship that has stood the test of time.
Even if you're not a regular viewer of American Ninja Warrior, you're going to want to tune in for Sutter's run. Seeing him conquer the difficult obstacles is just part of the appeal. Trista is also on the sidelines cheering on her husband every step of the way. As a couple, the Sutters have always been inspiring, but watching them show up to encourage each other as they face new challenges will never grow old.
Their adorable kids, Max and Blakesley, are in the stands rooting for their dad as well, making the evening a family affair. Keep your fingers crossed that Sutter will make it up the Warped Wall and move on to the next round of the competition. The more the world sees of Sutter's athletic prowess — and his adorable family — the better.