You Can Now Buy A Baileys Advent Calendar With Teensy Bottles Of Different Flavors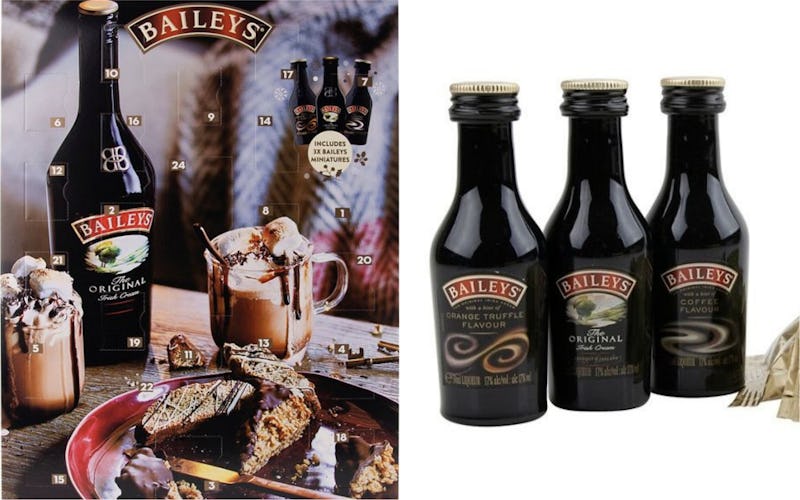 Debenham's
We're still… uh… hang on, let me consult my calendar… well, nearly two months away from the beginning of advent — but hey, guess what? We've already started spotting advent calendars for 2018 in the wild. None, of however, have been as exciting to me as this Baileys Irish Cream advent calendar, which UK department store Debenhams is carrying for the 2018 holiday season. Baileys is one of those things I adore, but only consume on very rare occasions; my goal in doing so is to keep it so that it always feels like a special treat when I drink it. However, the winter holiday season calls for a little indulgence, so, uh… I would feel perfectly OK working my way through this sucker throughout the month of December.
The calendar, which is currently available for purchase for £18.00 on Debenhams UK website, features 24 little doors — which, if you celebrate advent, can be used to mark the 24 days leading up to Christmas (that is, you'll open up the last door on Christmas Eve). For the first 21 days, you'll find a Baileys chocolate truffle behind each little door as you open them. On days 22, 23, and 24, however — the last three days leading up to Christmas, if that's what you're using the calendar to keep track of — you'll find not Baileys truffles, but actual Baileys. When opened, the doors corresponding to these three days each reveal a differently flavored, 5cl bottle of Baileys Irish Cream: One Original, one Coffee, and one Orange Truffle. (Yes, the flavor of the liqueur is Orange Truffle — not to be confused with an actual orange Baileys truffle, which may or may not be behind one of the first 21 doors. I know, I know — there's a lot going on here.)
There is, however, a bit of a problem for many of us: As far as I can see, the Baileys advent calendar is only available in the UK. It's currently making its way through many a UK-based tabloid and news outlet, from the Sun to the Irish Post; however, while it's easy to find on Debenhams UK website, it's sadly absent from the U.S. one.
Sigh.
The same, by the way, is true of the rest of Debenhams spectacular-looking selection of 2018 advent calendars for adults. Is Baileys not your thing? Try the Tanqueray calendar. Want a little bubbly to go with your gin? Pop A Bottle's calendar includes "bursting bubbles, shimmer bubbles, or drink shimmer" that are appropriate for "both gin and prosecco lovers." There's also a Green & Black's calendar full of fancy chocolate; a Famous Grouse calendar full of whisky; and a calendar for the coffee lovers in the house, too. Alas, though, like the Baileys calendar, these calendars appear only to be available on Debenhams UK site right now, so those of us across the pond may be out of luck.
Then again, it's always possible that these calendars might become available elsewhere later on; it's still only the beginning of October, after all. And even if they don't, we still have plenty of our own options to choose from, too. (Wine advent calendar, anyone?) If you are, however, lucky enough to be in the UK right now, you can grab a Baileys advent calendar from Debenhams for the low, low price of £18.00, or around $23.40. And may you have a very happy holiday season, indeed.
(After, y'know, Halloween ends. 'Cos that's still happening in, like, a month. One thing at a time.)