This Recipe For A Single Serving Of Banana Bread Is The Perfect No-Frills Dessert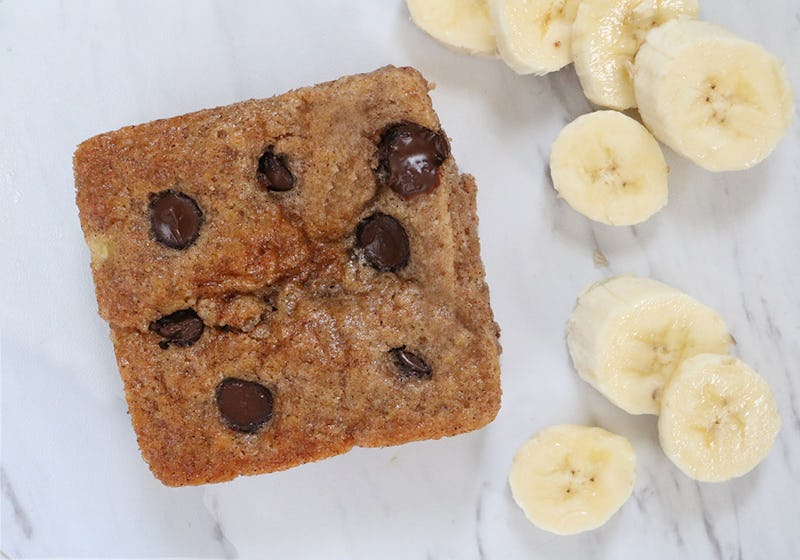 Kirsten Nunez
We've all been there before: You buy some bananas, and before you know it, they are suddenly way too ripe to enjoy. This is especially common during those insanely busy weeks when you forget they even exist, or those crazy hot months when everything ripens extra fast. Regardless of the reason, it's often solved by one solution: homemade banana bread. But what happens when you are a single person and don't want to make a full recipe that you definitely won't be able to finish by yourself? Bake a banana bread recipe designed for one person, of course.
One might argue that banana bread is a wonderful freezer-friendly food. And while this is certainly an option, things can get tricky when you only have a single overripe banana. (Most standard recipes call for two or three bananas.) The same goes if you are simply trying to use up the last of your flour, sugar, or milk. And then, there are also those days when you just want a taste of fresh, homemade banana bread, but you don't want to deal with the leftovers. I know I can't be the only one.
As always, don't be afraid to customize this recipe to your preferences or dietary needs. Use almond or coconut flour to make it gluten-free. If you eat a vegan diet, opt for non-dairy milk and olive oil. You can also toss in extra ingredients like chocolate chips, nuts, or fruit. Basically, this easy banana bread recipe is yours for the taking. Here's how to make it yourself:
Banana Bread For One
3 tablespoons whole wheat or all-purpose flour
2 tablespoons granulated or cane sugar
1 tablespoon milk or coffee
2 tablespoons ripe banana, mashed
1 tablespoon olive oil or melted butter
1 teaspoon pure vanilla extract
1/4 teaspoon baking powder
1/2 teaspoon ground cinnamon
If you haven't already, mash one banana in a bowl with a fork.
Pre-heat the oven to 350 degrees Fahrenheit.
1. In a bowl, combine the dry ingredients.
2. Mix well.
3. Add the mashed banana, oil, and milk. If you are adding extra ingredients like nut or fruit, mix them in now.
4. Mix well. Pour into a small oven-safe container greased with butter or oil of choice. For reference, the square container I used measures just under 4 inches wide. How adorable, right?
(At the last minute, I also threw in some chocolate chips, because chocolate.)
5. Bake for 10 to 12 minutes, or until a toothpick comes out clean.
Let cool then remove from the container. Or, I guess you can enjoy it right out of the dish once it's cooled enough. It is your banana bread, after all.
Thanks to the size of this classic treat, you can experiment with different ingredient combinations without having to make an entire loaf of bread. Here are some ideas for tasty variations:
Chocolate Chips
For the record, this recipe is insanely delicious with dark chocolate chips. You can also give it a go with vanilla or butterscotch chips. One tablespoon will do the trick.
Chopped Fruit
Take the sweetness up a notch with fresh blueberries, chopped apples, or dried cranberries. Check your refrigerator or fruit basket for produce!
Pumpkin Spice
Need I explain more? Apple pie spice would be amazing, too. Just one teaspoon is all you need.
Peanut Butter
Nothing beats a dollop of peanut butter mixed into banana bread. Other nut butters, like cashew or almond butters, work just as well. Use1 one tablespoon for this recipe.
However you decide to customize your single serving of banana bread, you can be sure that it's gonna be good.
Check out more Single Serving recipe ideas here for when your speed is less "entertaining my crew" and more "watching Netflix alone on my couch."