This 'Modern Family' Character Is Officially NOT Dying In Season 10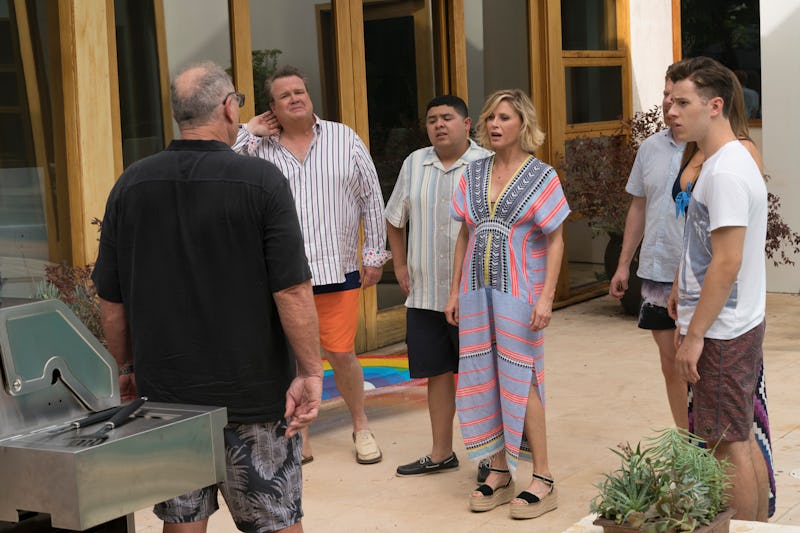 ABC/Ron Tom
There's bad news for any Modern Family fans who were hoping the upcoming death might not be a human Pritchett family member. The Modern Family death won't be Stella the dog, according to actor Jesse Tyler Ferguson. The star confirmed to E! News that the death will, indeed, be a human character.
"It's definitely a person, not the dog. I've been hearing rumors about the dog, it's not the dog," Ferguson told E! over the weekend. "It's no animal, it's a human being."
The outlet also asked Ferguson where he'd like to see his character, Mitchell Pritchett, end up when the show comes to a close. Ferguson said that he'd love to see Mitchell become a "better lawyer," which is a pretty good point. Even though he's clearly successful in his field, Mitch can get distracted easily, as fans saw in his recent spat with the court stenographer.
As for the death, though, Ferguson's comments are pretty disconcerting to fans. The idea that Stella might be the one dying was heartbreaking, but it did alleviate the feeling that a human member of the family could be leaving. It would still have a significant impact, at least on Jay and Gloria's family. There have been plenty of jokes about Jay loving the pet more than his human family members, and it would be a way to show the adults teaching young Joe about death. But it sounds like that lesson will be an even bigger one if the Pritchett family kids have to see a relative pass away.
News about the upcoming Season 10 death broke in September, when Modern Family co-creator Christopher Lloyd told Entertainment Weekly that the show will "deal with a death" this season. Since then, fan theories have speculated about just who might not make it to the end of the season.
Now that Stella is out of the discussion, there are a few human characters who might be facing their demise. In particular, there are a number of recurring characters whose losses would be felt on the show, but whose deaths would mean the main cast members are safe. For instance, there's DeDe, Claire and Mitchell's mom, as well as Phil's dad, Frank. Having a main character lose a parent would definitely affect the entire family.
Aside from DeDe and Frank, there are a few other recurring characters who might be killed off this season. There's Hayley's on-again, off-again boyfriend, Dylan, who recently made a new bid for Hayley's heart after her breakup with Arvin. And Andy, another of Hayley's significant exes, was important to Phil, too, so his death is definitely a possibility.
Personally, I'm leaning into the idea that the Modern Family death isn't a character we've seen on the show at all. The entire series has been a documentary-style sitcom, with the Pritchett family speaking into the camera the way The Office's characters did. We haven't seen the supposed producers and cameramen — but theoretically, these people have been working with the Pritchetts for many years. So if one of them died, it might reset the course of the show, and it could bring the family together to reconsider why they agreed to have their entire lives filmed in the first place. Of course, that could be too meta for this family-friendly sitcom, but stranger things have happened on TV.
Still, the saddest possibility for the impending death is that one of the younger children will pass away. Outliving one's children is incredibly painful for parents, so it's hard to imagine the show would take things somewhere that dark. Until the death is revealed, though, any guesses about the show's human characters are fair game.