This Boston Rally Moment Looked Like A 'Game Of Thrones' Scene & Twitter Totally Noticed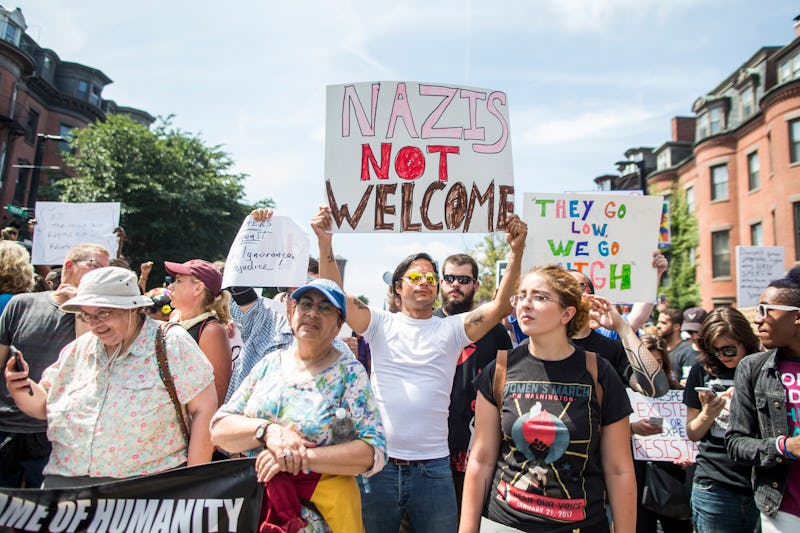 Scott Eisen/Getty Images News/Getty Images
Thousands of men and women gathered in Boston to protest a so-called "free speech" rally on Saturday. The original march was supposedly in favor of protecting free speech and civil liberties, but observers were wary after the far-right white supremacist violence that took place in Charlottesville, Virginia. Tensions soared high on Saturday, and there was a moment when it looked like a Game Of Thrones scene took place at the Boston rally. Naturally, Twitter took notice.
Apparently, a few minutes prior to a marcher delivering a speech in favor of "free speech," another man walked through a crowd of counter-protesters while wearing a "Make America Great Again" hat and was met with a chant that most TV viewers would associate with HBO's famous series, Game Of Thrones. Counter-protesters reportedly chanted "Shame!" repeatedly at the man while also yelling "Go home!" in unison.
Game Of Thrones had an eerily similar scene where (spoiler) the notorious Cersei Lannister was made to walk through the streets of King's Landing as part of her repentance for admitting several of her wrongdoings. As Cersei hung her head low, another character and religious figure in the show, Septa Unella, walked behind her while bellowing, "Shame."
So, it seemed a little surreal to hear the same haunting chant right in Boston.
The counter-protest rally in Boston was mostly peaceful with a few minor incidents of quarreling between protesters and counter-protesters along with several arrests. The mayor of Boston, Marty Walsh, issued strong statements on maintaining law and order in the city while the rally took place.
In a statement to the press on Friday, Walsh said:
Our job is to make sure that as the peace rally enters into Boston Common, that the folks that come in there feel safe, that we don't have an incident that happened like last week in Virginia
Even Donald Trump praised the Boston mayor's efforts.
Apart from the "Shame!" and "Go home!" chants that must have thrilled Game Of Throne fans, counter-protesters in Boston came up with some creative signs to counter hate, bigotry, and division from the original ostensible pro-free-speech rally.
From signs telling white supremacists to "pack a lunch because you're not welcome here" to a cake with "Nazis suck" icing, counter-protesters made sure their stance against white supremacy, hyper-nationalism, racism, and other forms of bias were not only loud and clear but also imaginative.