This Unexpected Connection Between Cazzie David & Ariana Grande Will Leave You So Shook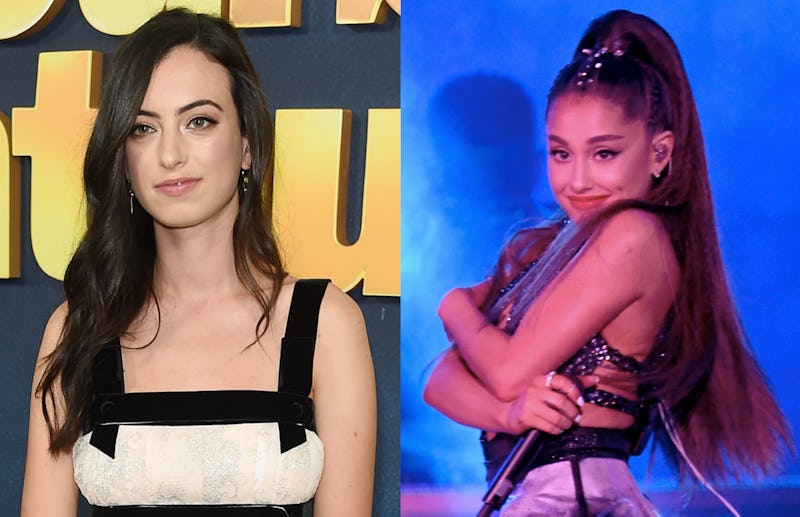 Jamie McCarthy/Getty Images Entertainment/Getty Images; Kevin Winter/Getty Images Entertainment/Getty Images
If Cazzie David's admirable capacity for keeping her cool is any indication, it seems safe to say she's rising above the whole Pete Davidson-Ariana Grande situation. Or some might say, she's 86-ing it. Interestingly enough, Eighty-Sixed was actually the title of David's 2017 web series. Even more interesting is the Cazzie David and Ariana Grande connection from the web series' inaugural episode, as discovered by Bustle's Associate Lifestyle Editor Tanya Ghahremani. Don't believe it? Just wait until you see this video.
For those not in the know, 86-ing is basically just a fancy way to say "getting rid of." When it comes to David's web series, the phrase seems to bear a sort of double meaning. The premise revolves pretty heavily around David's character, Remi, who's recently been dumped. So, on one hand, perhaps 86-ed refers to the feeling of having been cast aside by a romantic partner. On the other, the phrase feels sort of empowering. After watching Eighty-Sixed's first episode — quite appropriately titled, "Promise I'll Win" — it seems the term might just as easily refer to Remi, who from the get-go, seems pretty set on disposing of her post-breakup woes ASAP.
Though the series' first episode aired more than a year ago, it's interesting to watch in June 2018, given that, in some ways, real-life David is going through a pretty similar situation to Remi's fictional one. Pair that with a quick cameo by none other than Grande herself (well, sort of) and the episode becomes so wildly meta that its original air date is almost hard to believe.
The episode opens on David, leaning back against the headboard of her bed with a sort of solemn look on her face. Viewers quickly realize she's staring at her laptop screen — which is mostly to say, she's painstakingly clicking through snapshots of famous former celebrity couples on the internet. First up, Demi Lovato and Wilmer Valderrama. Click. Next, Kristen Stewart and Robert Pattinson. Click. Then, in an oddly coincidental turn of events, the next former celebrity pair actually ends up being Ariana Grande and Big Sean, who called it quits in real life back in 2015, after roughly eight months together.
After a quick scan through Grande and Big Sean's post-relationship writeup, David's character looks forlorn. Offering viewers a little more insight as to why on earth she's so keen on diving into the nitty gritty's of a whole medley of Hollywood break-up stories, the camera pans to Remi's Google search engine. "How is demi moore doing post ashton kutcher," she types, followed by a similar inquiry about WWE star Stacy Keibler.
Remi's break-up research is cut short when her friends, Lily and Owen, barge into the room. Before Remi has time to protest, Owen pulls a robust stick of sage out of his backpack and starts lighting the end. "What's happening?" Remi whines, to which Owen responds plainly, and with a grimace, "He was here. He slept in your bed." Both Lily and Owen proceed to wave their hands chaotically a few inches from Remi's face (ostensibly in an effort to douse their friend in the herb's cleansing powers), but she stops them after a few seconds. "Promise I'll win the breakup?" Remi asks. Her friends assure her that, of course, she will.
While it seems like Grande's brief appearance in David's web series was purely coincidental, it's still pretty staggering, given that the singer is now reportedly engaged to Davidson, not long after he and David broke up, ending what was a long-term relationship between them.
Not only that, but it seems pretty clear that, in navigating her own version of 86-ing a breakup, David's taking a note from her spunky web series character. Which is mostly to say, she's transcending the drama in real-life, too. Perhaps the "life imitates art" saying really is true after all.