Fans Are Convinced Pete Davidson's Ex's Just Responded To The Ariana Engagement Rumors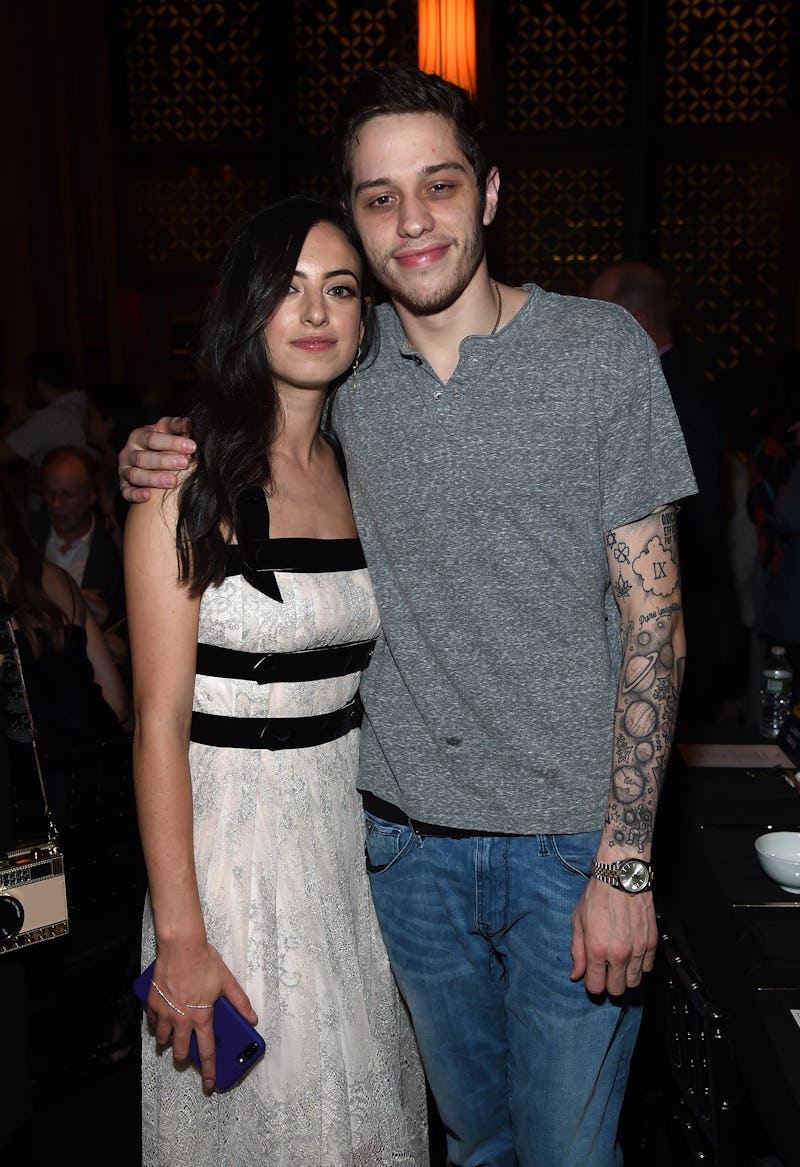 Jamie McCarthy/Getty Images Entertainment/Getty Images
It was a whirlwind of a Monday for Arianators, when Us Weekly reported Ariana Grande and Pete Davidson are engaged. There have been all kinds of responses to the rumors, including Davidson's ex-girlfriend. According to fans, Cazzie David reacted to Grande and Davidson's reported engagement — or that's what some are assuming. On June 11, David shared a selfie drinking wine in South Africa's Franschhoek Wine Valley on Instagram and captioned it: "Came here a person, leaving a human bottle of wine." Now many think this might be her way of commenting on the news surrounding her ex and Grande. (Bustle reached out to Grande and Davidson's reps about the engagement rumors, but did not receive an immediate response.)
It's unclear if David's Instagram is really her way of cryptically responding to her ex-boyfriend possibly being engaged to another woman after the two have only been dating for a short period of time — and after David and Davidson recently broke up. Or, another possibility is David was simply drinking wine and ended up documenting it for the 'gram, like so many of us do at a winery.
On May 16, while chatting with Complex's Open Late with Peter Rosenberg, Davidson confirmed his breakup with David after two years together. "We're not together anymore." He added, "Very talented girl, she'll be great and she'll be fine. Yeah, I think she'll be OK." It's unknown exactly when they split.
Before David (who is a writer, actor, and the daughter of comedian Larry David) and Davidson's split became public knowledge, Grande and Mac Miller confirmed their split on May 10. The Dangerous Woman artist revealed on her Instagram Story, "I respect and adore him endlessly, and am grateful to have him in my life in any form, at all times, regardless of how our relationship changes or what the universe holds for each of us!"
Not long after, Grande and Davidson couldn't escape dating rumors. On May 21, People reported the two were romantically involved. A source told the publication the relationship "just started" and it was "very casual". On May 30, they made their romance public when Davidson posted an Instagram of the two wearing Harry Potter robes. He captioned it: "the chamber of secrets has been opened ..."
Here they are 12 days later possibly engaged. So, yeah, fans are totally feeling for David. Here are just a few Twitter reactions about David, wine, and the rumored engagement.
Anyone Can Relate
Wine can get the job done.
Sending More Wine, Stat
It's the perfect gesture.
Wine Donations Are Accepted
Cases of wine are preferred.
This wouldn't be the first time fans thought David was reacting to news involving the "No Tears Left To Cry" and the Saturday Night Live star. On June 1, and two days after Grande and Davidson went public with their romance, David shared another Instagram selfie of just herself in Africa and wrote, "Been in Africa, what'd I miss ??" Many assumed this was her way of reacting to the two confirming their relationship. Again, the selfie could've been David's way of announcing she's traveling in Africa and is genuinely wondering if she's missed anything on the home front.
Who knows how David truly feels about the situation. It's also important to keep in mind the exact timeline of Grande and Miller's breakp, David and Davidson's split, and when Grande and Davidson formed a relationship aren't known. It all may sound complicated, not to mention shady, but until if or when details became clearer let's all take a note out of David's book and drink some wine.