This Decadent Cheesecake Recipe Requires NO Baking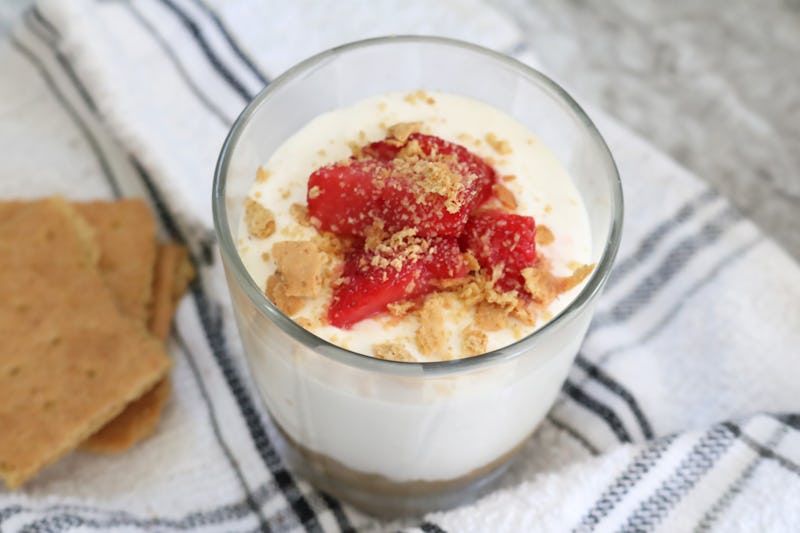 Kirsten Nunez
Ah, cheesecake. It's an understatement to say that I am head over heels for this rich and decadent dessert — but due to most recipes being fairly arduous processes, it's not really something that I'm able to have as frequently as I'd like. Plus, even when I do make a full-sized cheesecake, I end up with more leftovers than I know what to do with. That's why I set out to create a cheesecake recipe that's both ideal for one person, as well as easy to make — complete with a classic graham cracker crust, of course. After all, I know I can't be the only one who deals with these dessert woes.
For someone who lives alone, the resulting single-serving cheesecake recipe I cooked up is a game changer. It calls for very few ingredients and even less equipment: Everything is mixed in a small bowl, so you don't even need much space to make the magic happen. And since the finished product is chilled and served in a cup or jar, cleaning up the kitchen is a breeze. I'd call that a win. Even better, this no-bake cheesecake recipe calls for zero oven time, so even if you're not the most adept baker, you'll be able to master it in no time.
Ready to make a mini-cheesecake all for yourself? Here's what you need:
No-Bake Cheesecake For One Person
2 graham cracker sheets
2 tablespoons butter, melted
1/2 cup heavy cream
1/3 cup cream cheese, room temperature
1 teaspoon pure vanilla extract
1 tablespoon honey, maple syrup, or sugar
1/4 teaspoon lemon juice
If you haven't already, melt the butter. About 30 to 45 seconds in the microwave should do the trick, but do keep a close watch on it so that it doesn't overheat. Don't have a microwave? Melt the butter in a small saucepan over low heat.
1. Using a food processor or coffee grinder, pulverize the graham crackers into crumbs. If you don't want to use any equipment, you can also crush them by repeatedly pressing a small jar onto the crackers.
2. Add the melted butter to the bowl, and mix well.
3. Pack the graham cracker mixture into the bottom of a small cup or jar. Apply pressure until the mini-crust is leveled, and packed tightly. Then, place it in the refrigerator for 15 to 20 minutes.
4. In another small bowl, combine the heavy cream, cream cheese, honey, vanilla extract, and lemon juice.
5. Mix until totally combined. Do your best to smooth out the cream cheese lumps — you can either use an electric beater for this, or you can simply press and mix the batter until a majority of it is smooth. It will taste amazing either way, I promise.
6. Pour the batter on top of the graham cracker crust. Return it to the refrigerator, and chill it for 25 to 30 minutes, or until it's set. The batter will be creamier than it would be in a baked cheesecake, which, frankly, makes this more of a rich treat.
7. If you'd like, top off your dessert with chopped fruit, and another helping of graham cracker crumbs.
I can't get over how cute this is. And thanks to its small size, customizing this recipe is as easy as a piece of (cheese)cake. You can even make multiple variations for a dinner party or brunch. Here are a couple ideas to get you started:
Chocolate
There isn't much that can beat the decadent combo of chocolate and cheesecake. Try adding cocoa powder, chocolate chips, or even chocolate syrup to the cream cheese batter. All three of these ingredients work well as toppings, too.
Cookie Crust
Instead of traditional graham crackers, use your favorite cookies for the crust.
Vegan Ingredients
To give this recipe a vegan spin, try making it with tofu cream cheese and canned coconut milk, and use coconut oil instead of butter for the crust.
This, my friends, is what dreams are made of.
Check out more Single Serving recipe ideas here for when your speed is less "entertaining my crew" and more "watching Netflix alone on my couch."