These New 'Chilling Adventures Of Sabrina' Details Reveal So Much About The Main Character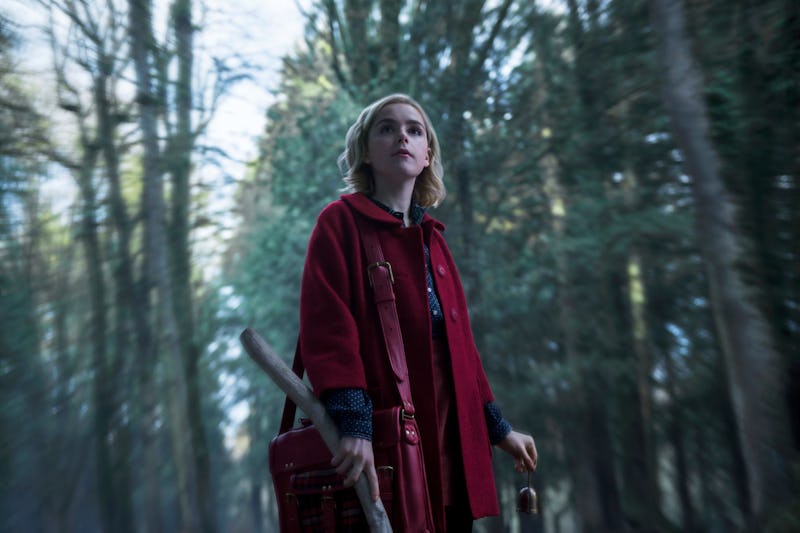 Diyah Pera/Netflix
Can you sense a fall chill in the air? It's probably just all the new Chilling Adventures of Sabrina details from Shipka's latest interview. The young actor talked to New York Magazine's Vulture about her role in the show in a conversation that explored the many ways in which the series will be darker and far more intense than its predecessors. In addition to "campy melodrama" and "teen intrigue," The Chilling Adventures of Sabrina promises devil worship, a love triangle, and a "feminist allegory" they aren't trying to hide — in other words, it sounds incredible.
They're not joking around about its darker side. The new show promises not just a Ouija board or a sleepover seance, but Aunts Hilda and Zelda welcoming Sabrina into their devil worshipping coven with a "dark baptism", which reportedly includes "[signing] your name in Satan's book and [pledging] eternal fealty to the Dark Lord." Not quite your average rites of passage. Also, it happens within the first two episodes of the series, according to the Vulture interview.
As Sabrina progresses through her mortal and witchy lives, she learns more about herself and the communities she's meant to embrace. However, she doesn't always like what she finds. Writer, showrunner and Archie Comics chief creative officer Roberto Aguirre‑Sacasa told Vulture, "It's sort of like The Sopranos, as if you were telling it from Meadow's point of view." Dang.
Apparently, there are "ugly truths" that will reveal themselves to Sabrina as she begins to learn about her non-mortal half. There's "a worldview she's expected to uphold" as a witch, and it's one best described as patriarchal in in the worst of ways. According to Vulture, Sabrina straight-up asks, "I have reservations about saving myself for the Dark Lord. Why does he get to decide what I do or don't do with my body?" It's not all like that, though; for example, Sabrina creates the "Women's Intersectional Cultural and Creative Association" at her high school. Yes, the abbreviation is WICCA. Yes, that has to be intentional.
In fact, the interview states that Shipka was instantly drawn to the more feminist aspects of the show, and that — as she was cast with just one episode written — she was able to work alongside Aguirre-Sacasa on how feminism functions within the series. The way it all comes together has Vulture suggesting that that the upcoming Sabrina series may finally unseat Sally Draper of Mad Men as the actor's most distinct role.
Though it can't be easy to have a longtime series to separate yourself from in the public eye by the time you're 18, Shipka's star status — she and Ross Lynch, who plays boyfriend Harvey Kinkle, were both child actors — is what encouraged the showrunner to cast her in the first place. "Sometimes you need an icon to play an icon," Aguirre‑Sacasa, told the magazine. "[Shipka] was more than ready to be Number 1 on the call sheet."
That's slightly different from his approach to Riverdale, which almost exclusively cast unknowns. Actor Cole Sprouse, who plays Jughead, did grow up in front of the camera, but he's 26 and had a few years off from the industry. Shipka is just 18, and already has a career-defining role in her back pocket that she's looking to break free from. Meanwhile, a role as legendary as Sabrina Spellman now gets a brand-new Netflix series with an equally legendary person worthy of basing its show around. Is it October 26 yet?