Use This Genius Recipe To Make A Mini Chocolate Cake That Fits In The Palm Of Your Hand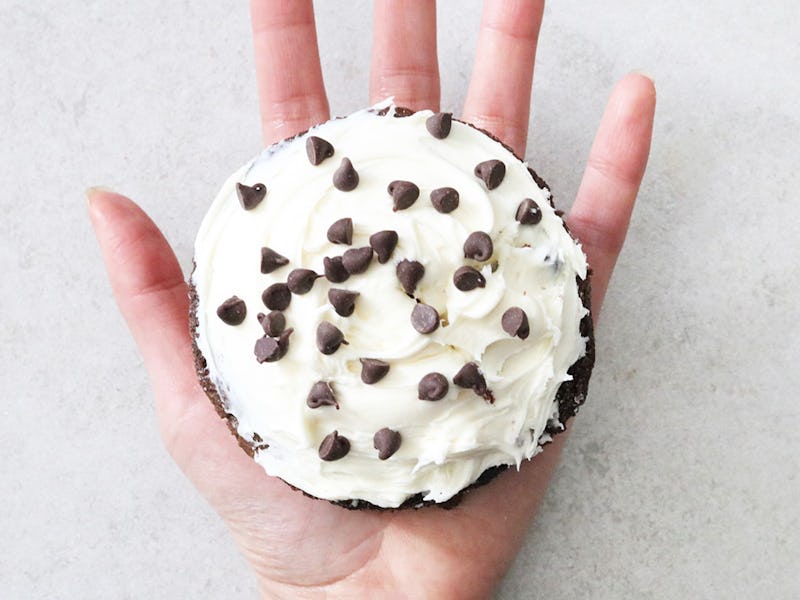 Kirsten Nunez/Bustle
You can literally never go wrong with chocolate cake. It's literally the best treat there is — decadent, rich, sweet, delicious... did I mention decadent? But, when every recipe for chocolate cake out there is meant to be shared by more than one person, it can be difficult to figure out what to do when you just want to make enough for one serving. That's where this chocolate cake recipe for one person I created comes in: It's like eating a fresh slice each and every time you make it.
This recipe doesn't just have to be for yourself, of course! Perhaps you just want to make something cute for someone. A tiny cake is also charming and delicious as a birthday gift, especially if the recipient is a foodie — it won't take up tons of space in their fridge, and they'll appreciate a little treat meant just for themselves on a day that's meant to celebrate them. (You can even make two if you want one for yourself, too!)
The coolest part of this single serving chocolate cake recipe is that it's baked in a empty tuna can. I know that sounds weird, but trust me — it's a great way to avoid having to buy a tiny baking dish just for making miniature cakes, and it also has the perfect amount of space for all of the necessary ingredients. Just goes to show how a little creativity can go a long way! I can guarantee that after making this recipe, you'll never look at canned tuna the same way again.
So, without further ado...
Chocolate Cake For One
1/4 cup all-purpose flour
2 tablespoons vegetable or canola oil
1/4 cup sugar
1 tablespoon cocoa powder
1/4 teaspoon pure vanilla extract
1/4 teaspoon baking soda
1 egg
Pinch of salt
Oil or butter for greasing
Pre-heat the oven to 350 degreses Fahrenheit.
Clean and wash an empty tuna can with soap and water. Make sure the lid is completely removed, and double check the rim for any sharp edges.
Remove the label. Most papers will peel right off, but if you're having a hard time, dip the can in warm water and castile soap for a few minutes to help loosen it. Scrape off any leftover adhesive, too.
1. In a bowl, combine all of the dry ingredients.
2. Mix well, and don't forget to add a pinch or two of salt.
3. In a separate container, mix the egg, oil, and vanilla together until thoroughly combined.
4. Add the wet ingredients to the dry ingredients, and mix well.
5. Grease the empty tuna can with oil or butter. Fill with chocolate batter, stopping halfway — keep in mind that the cake will rise, so it's important not to fill the tuna can to the top. (If you're left with extra batter, you can save it and make a second mini cake to place on top of this one after it's done baking.)
6. Bake in a pre-heated oven for 25 to 30 minutes, or until you're able to stick a toothpick in the center and remove it with no batter sticking to it.
7. Once cooled, pop your delicious tiny creation out of the tuna can. How cute, right?
8. If you'd like, add a generous layer of frosting (dealer's choice) and your favorite toppings. What a beautiful sight.
This mini cake recipe has so much room for customization, and it's an awesome way to experiment with extra ingredients that'll help you end up with a different cake every time. Here are some ideas to get you started:
Pumpkin Puree
For a vegan-friendly version, replace with egg with 1/4 cup canned pumpkin puree. This will taste great with a dash of cinnamon and nutmeg, too.
Banana
Another option is to substitute the egg with 1/4 cup mashed ripe banana.
Applesauce
If you're all about applesauce, swap the egg for 1/4 cup.
Chocolate Chips
Make an extra chocolatey cake by tossing chocolate chips into the batter. With every bite, you'll get tons of gooey goodness.
Homemade Frosting
Don't have frosting on hand? Instead of buying a jar, make a single serving of frosting for your single serving cake.
Seriously, have you ever seen anything cuter? Enjoy!